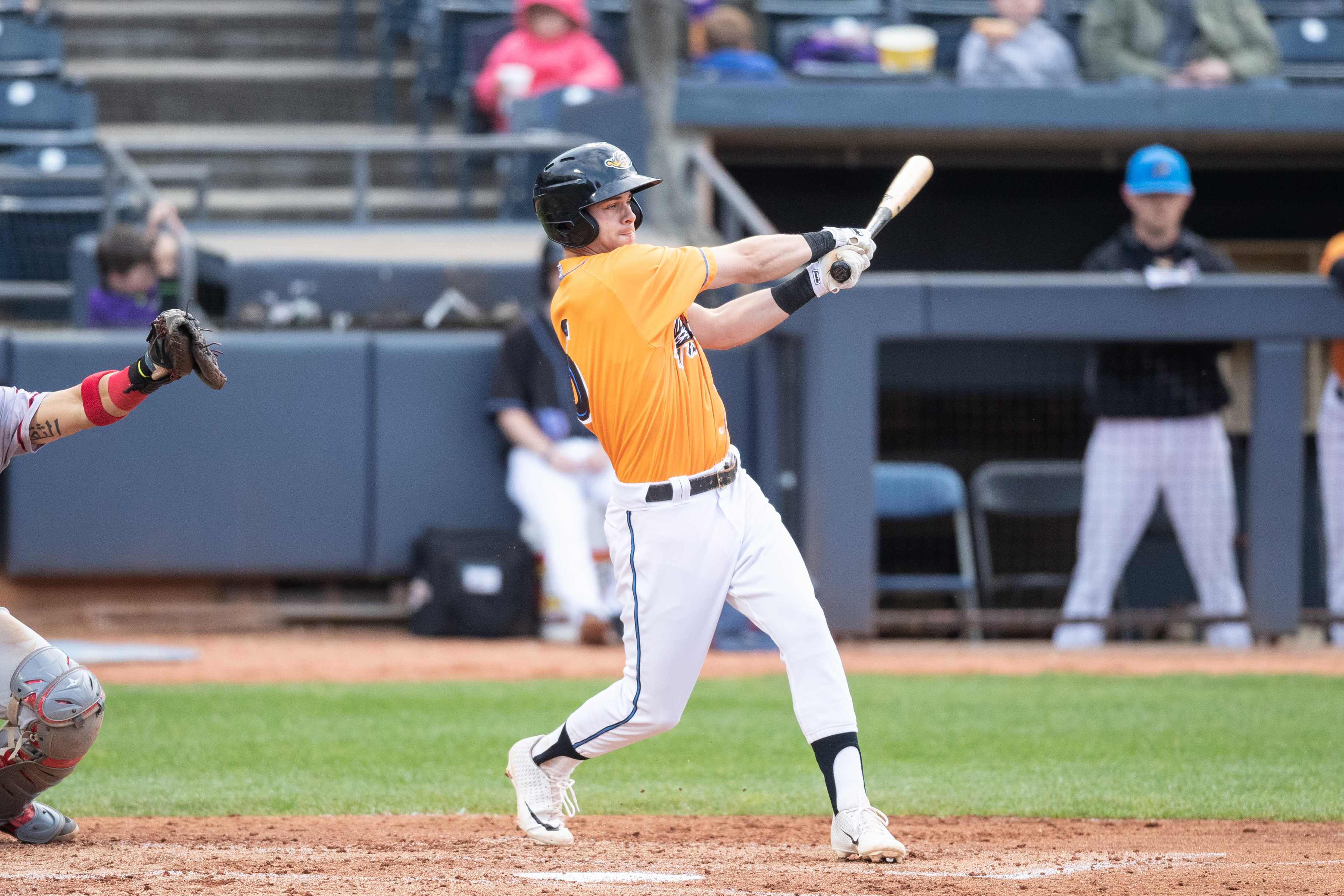 By BILLY HEYEN
BINGHAMTON, N.Y. — On the Fourth of July, Ernie Clement took to Twitter, as he does often, and pointed his phone camera directly at his face.
"Hello America, and happy birthday," Clement started. "It's an absolutely gorgeous day for baseball, and let me tell you, we are gonna hit absolute bombs tonight. There are gonna be some fireworks and it's the Ducks' offense absolutely lighting it up. You heard it here first. How's that for a birthday present, U.S.A.?"
Some say the founding fathers were the first to hit BOMBS on the 4th of July ???????????????????????? @AkronRubberDuck pic.twitter.com/ShwHDAgz6A

— Ernie Clement (@Ernieclem) July 4, 2019
It's a voice Clement turns to often in Double-A Akron's clubhouse, prompting teammate Adam Scott to call Clement one of the funniest guys he's ever been around. It's one way Clement keeps the mood light during the grind of minor league baseball.
"Probably one of the best clubhouse guys," Scott added. "Just the normal day goofing off and hanging out and enjoying each other's time."
The Brighton High School and University of Virginia alumnus was selected in the fourth round of the 2017 MLB Draft by the Cleveland Indians. He's worked his way up the system to Akron, where he's teammates with fellow Section V alumnus Scott. Clement has embraced who he is on and off the field en route to a strong first half for the Rubberducks. He's in the midst of a 10-game hitting streak with a .293 average that ranks fifth in the Eastern League.
"I've always just had an incredible passion and love for baseball," Clement said. "So I think that hasn't changed. I'll never take a second out on the field for granted."
When Clement was at Brighton, he was approached by one pro scout during his senior year. But professional baseball wasn't really in his vision, even as he went to baseball powerhouse Virginia. Clement didn't expect to start there as a freshman. He wanted to embrace educational opportunities provided to him at UVA.
But then Clement worked his way into the starting second base job as a freshman. That Cavaliers team won the 2015 national championship. A year later, when Clement lit the Cape Cod League on fire during the summer after his sophomore season, he was firmly on pro scouts' radars. 
"I was lucky enough to get some opportunities (at Virginia) and then the opportunity kind of presented itself after I had a pretty good summer in Cape Cod," Clement said. "And then everything else kind of worked out."
Clement has always been able to put the ball in play. As a high schooler, he faced his current teammate Scott, who just remembers that it seemed like Clement "never missed."
That's carried over into professional baseball. The right-handed hitting Clement has struck out in just 8.4 percent of his minor league at bats. Equipped with solid speed and a nose for the barrel, Clement gives himself a lot of chances to reach base. 
"He always had such good feel for the zone and he always managed to get his barrel to the baseball," Scott said. "… He hits for a stupidly high average and plays incredible defense."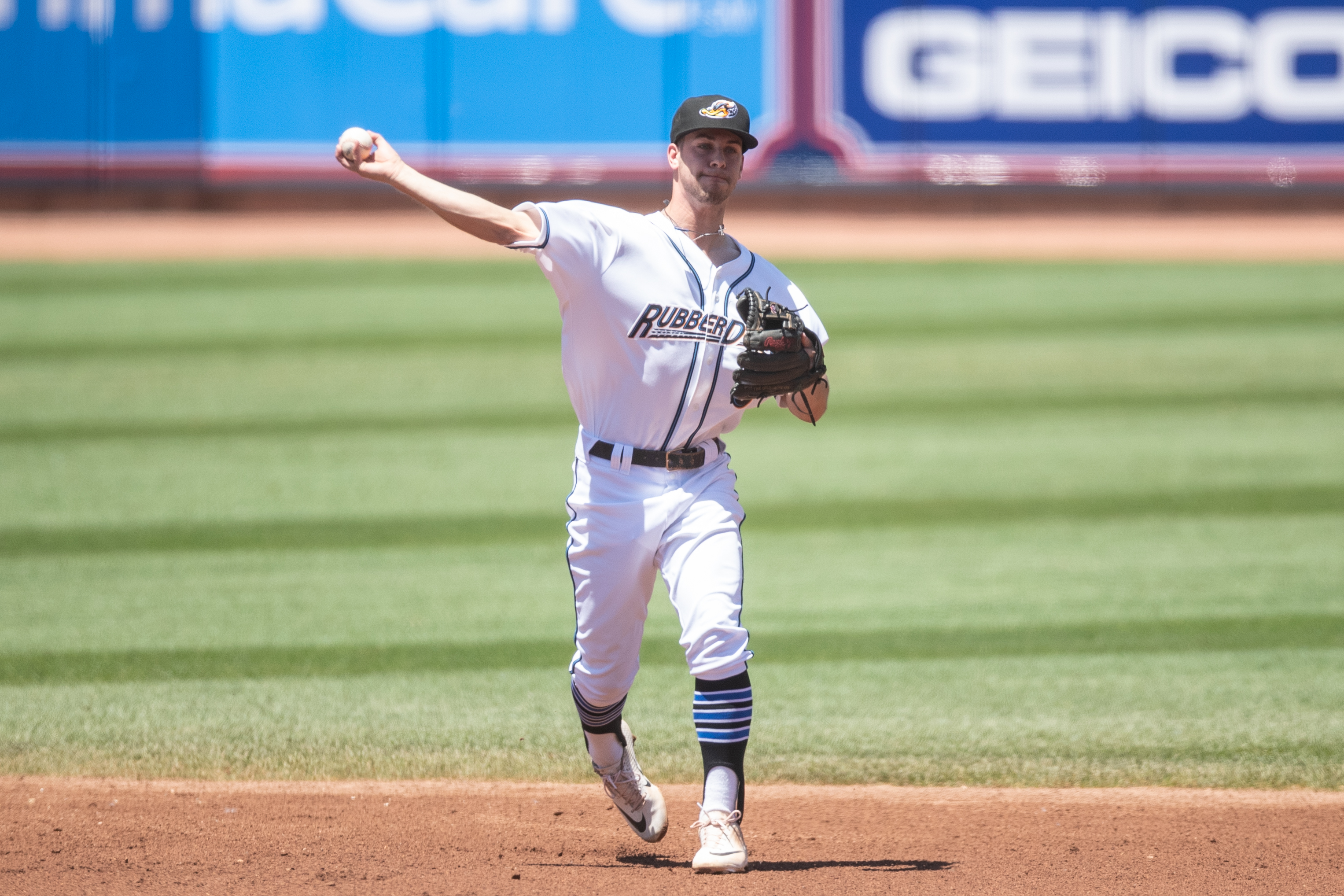 During spring training, Clement spent a large portion of March in big league camp. The Indians were working through a number of middle infield options with star shortstop Francisco Lindor injured, and Clement played in 14 MLB spring games, earning 29 at bats.
Not playing in every inning of every game allowed Clement to focus on the things going on around him. He saw how much big leaguers hustled and competed in each and every at bat, he said. It's something Clement has brought with him back to the minor leagues, a desire to do the same. 
"I take pride in playing the game the right way and playing the game hard, and it shows up in the major league level," Clement said. "If you can play hard and be consistent every single day, that's the biggest thing."
Clement has never been a power hitter; he's hit just three home runs in three pro seasons. But he hasn't had to be. His hot hitting of late is as simple as making hard contact. 
All Clement wants to do is set the table for the guys behind him. As Akron's usual leadoff hitter, he's done that a lot of late during his 10-game hitting streak.
"I'm just trying to keep it simple, trying to get on base for those guys behind me," Clement said. "That's usually my approach, so I'm just gonna keep trying to get that done."
On Saturday afternoon in Binghamton, in the midst of his hitting streak, Clement only wanted to stay in the moment, not worrying about big league dreams or further aspirations. Moments before, he'd had to concern himself with a torrential downpour as he entered the ballpark. Clement had come prepared, in a bucket hat, UVA coat and rain boots. 
As Clement attempts to climb the final few steps to the majors, he's armed with the right tools, too: The contact bat, the good glove, even the funny clubhouse and Twitter presence. 
"I gotta take care of business here and play well and help this team get wins," Clement said, "and everything else will take care of itself."