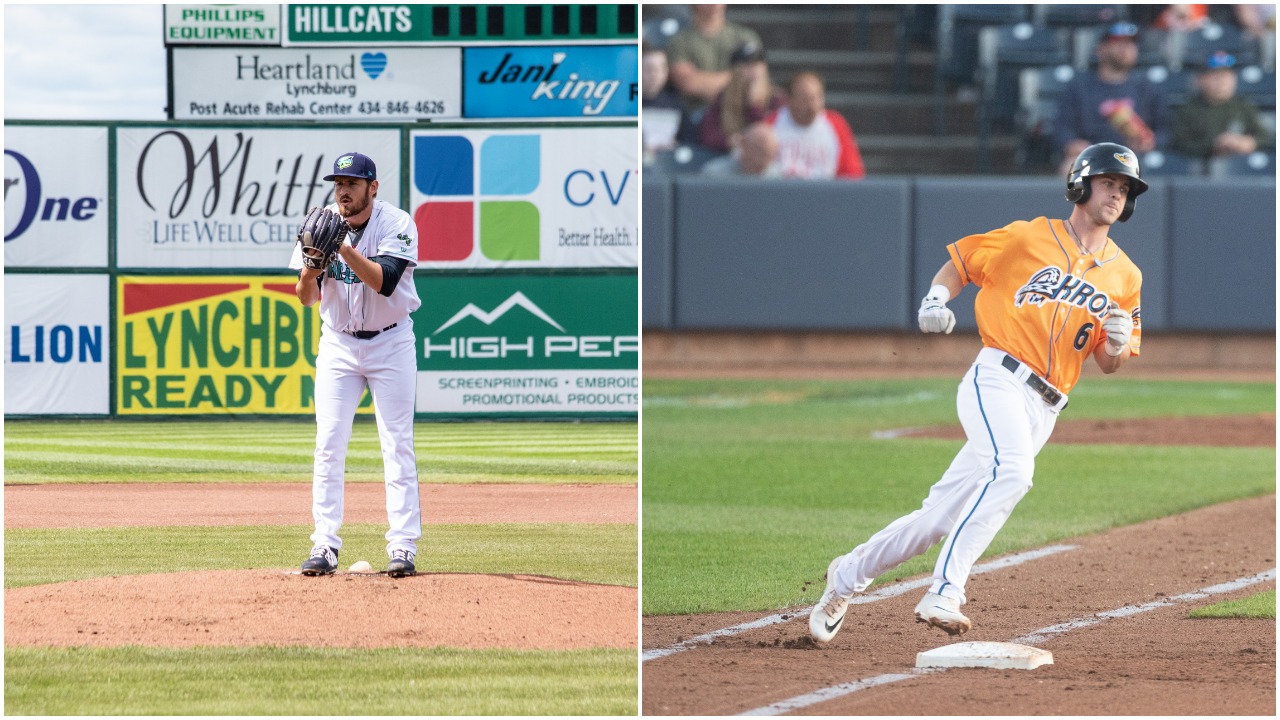 By BILLY HEYEN
BINGHAMTON, N.Y. — Adam Scott and Ernie Clement have joked with each other about their concurrent 2014 senior years in recent weeks. Canandaigua's Scott no-hit Brighton and Clement in one meeting, but Scott recalls Clement turning on his changeup for a double in their other meeting. 
Most seared into Scott's mind is the hit he gave up. Clement remembers most the dominance of Scott. Regardless, they're both happy about one thing in particular: Now that they're teammates, they don't have to face each other.
"It's definitely kind of a pretty cool, surreal thing," Scott said. "To be able to sit back and the guy you grew up against, wanting to compete against and beat… and now I'm playing on the same team as him."
Scott and Clement are both members of the Double-A Akron Rubberducks in the Cleveland Indians organization. Both members of the 2014 All-Greater Rochester team, they were fourth-round picks of the Indians from college in consecutive years — Clement in 2017 out of Virginia and Scott in 2018 out of Wofford. The two are the first pair of Section V alumni as teammates in affiliated baseball in at least a couple decades.
Both have been hot of late for Akron. Scott's thrown 19.1 consecutive scoreless innings. Clement's on a nine-game hitting streak to raise his season average to .298. It's already remarkable that two Section V baseball alumni are professional baseball teammates. But with the way they're playing, the story might become even crazier two stops down the road.
"When I heard that (Scott) got drafted, I just thought that was the coolest thing and that we were gonna be in the same organization and potentially on the same team at some point," Clement said. "It's just been really cool to see his career progress, and it's gonna be cool to see him make it to the big leagues."
Not only were Canandaigua and Brighton opponents within Section V, but when Scott and Clement were in high school, they were Monroe County Division III opposition. The Barons were stacked that year with a strong senior class. That meant that Scott twice got the ball to oppose them. 
When the Braves played host in early April, Brighton didn't tally a hit. It was in the second meeting that Clement ripped a double on his home diamond. But in general, a strong Barons team couldn't muster much of anything against Scott, who earned the 'W' both outings.
"We had a really good team my senior year," Clement said, "and he just absolutely shut us down."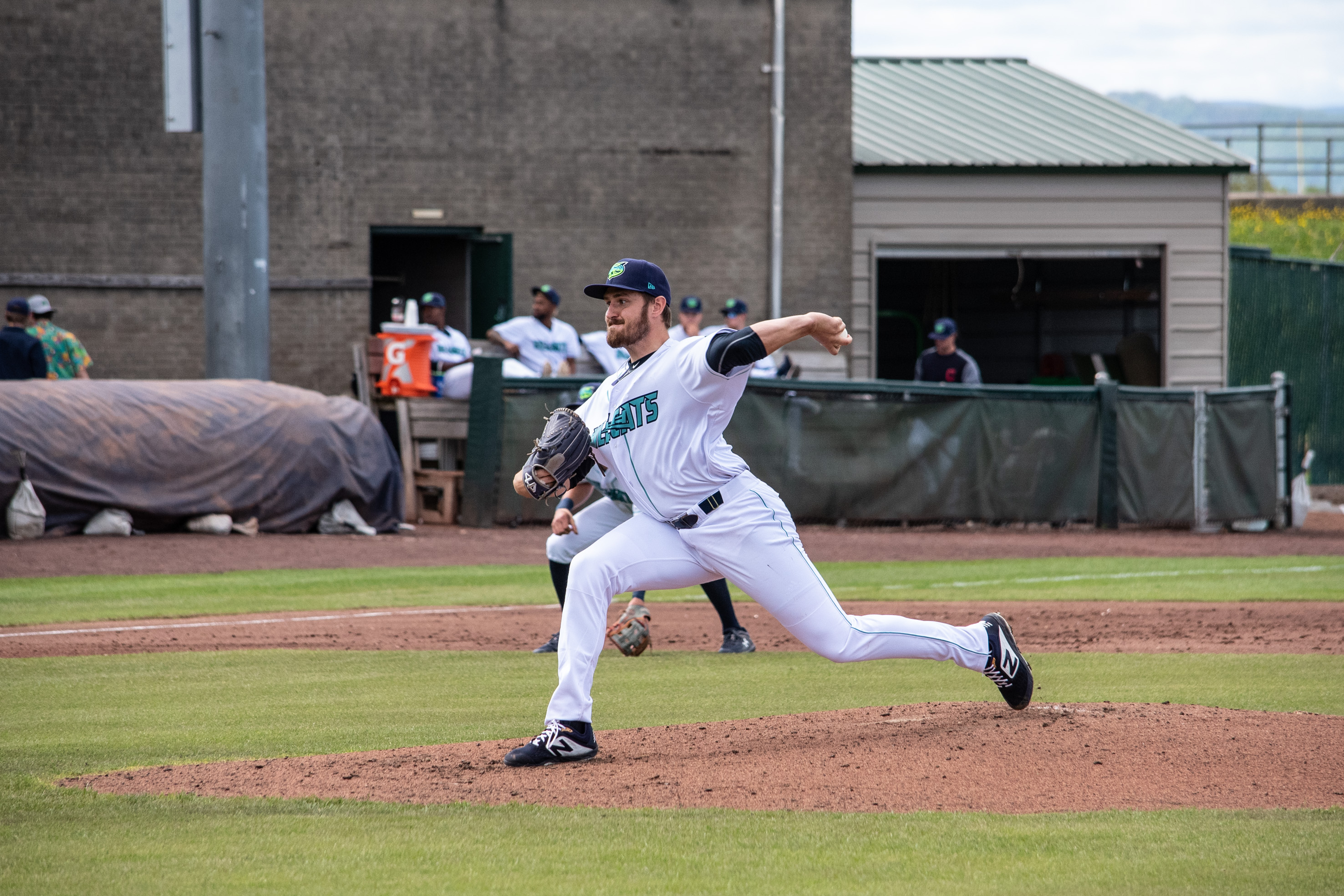 Each felt that the other was the best they faced that final high school season. It seemed like Clement "never missed," Scott said. It's a trait the infielder has carried over as a professional, rarely striking out. 
In those days, lots of people struggled against Scott, a tall lefty throwing in the high-80s then with a good slider. But it was obvious to him that Clement, the UVA-commit, was special. Scott was the best pitcher Clement faced that year, though, as the Brighton star wasn't going to find anyone else in upstate New York with that stuff as a southpaw, he said. 
"We talk a little bit about it," Scott said. "Just the friendly banter back and forth, I remember him getting me, he remembers me getting him kind of thing. We've definitely had a chance to talk about it."
Scott and Clement are two of eight current Section V alumni under contract with MLB organizations, and thinking back, Scott knows why he's a part of that group. It was guys like Clement. The lefty never felt like he was the best in the area; to him, that was the Brighton star. That meant there was always someone to catch up with. 
"Playing against a kid like him, I wanted to be better and I wanted to compete with him," Scott said. "So he would naturally, without even knowing, he would make me elevate my game because I would want to play against the best, and he was the best there."
Clement agreed. He played American Legion baseball with Danny Mendick, currently a Triple-A farmhand of the Chicago White Sox. When the guy next to you in the middle infield is that talented and a couple years older, it creates the same type of motivating factor Scott described. 
"Definitely if you're around those guys more often, it actually is easier for you to want that same thing," Scott added. "It elevates everybody around you."
After high school, the duo went their separate ways. Clement surprised himself by winning a starting job as a Virginia freshman and playing a key role on the 2015 national champions. Scott pitched in relative obscurity at the much-smaller Wofford in South Carolina. But each kept up with the other's successes, they said. 
Clement was first to pro ball, parlaying a big Cape Cod League summer before his junior year into the 2017 selection after his third season at Virginia. Scott followed a year later, and Clement saw the news almost immediately. And as Scott emphasized Clement is very good at, the infielder tweeted.
"Welcome to the land!!" Clement tweeted on June 5, 2018. "Glad you're joining us cus i sure as hell couldn't hit you back in the day. Congrats brotha (Scott)"
Welcome to the land!! Glad you're joining us cus i sure as hell couldn't hit you back in the day. Congrats brotha @Adam_Scott13 https://t.co/78FYKv4F3e

— Ernie Clement (@Ernieclem) June 5, 2018
It crossed their minds then how cool the prospect of playing with a fellow Section V alum in pro ball would be. But they had their own seasons to complete, both of them moving up the ladder before the year was done. 
They caught up in spring training this year, really the first time they'd spoken at length. A few weeks ago, when Scott received the call-up to Akron, Clement was "pumped."
"I'm glad I don't have to face him anymore," Clement added. "I get to be on the other side and make some plays behind him."
Since they've been teammates in Rubberducks' uniforms, the pair have reminisced about those matchups back in the day. But they've also tried to appreciate who they are now as players.
Both said the other is a similar version to their high school self, just amplified. Scott throws harder and has a tighter slider, Clement said. Clement still reminds Scott of that high schooler who couldn't miss.
"(Clement) was a high-school version of what he is now," Scott said. "He continued to perfect his craft and continued to get better and better. He hits for a stupidly high average and plays incredible defense. It was the same exact thing (at Brighton)."
"It's pretty similar," Clement said of Scott. "I know he throws a little bit harder now, everything's a little bit sharper obviously, he's gotten a lot better. But it's the same deal, and he's still shutting everybody down."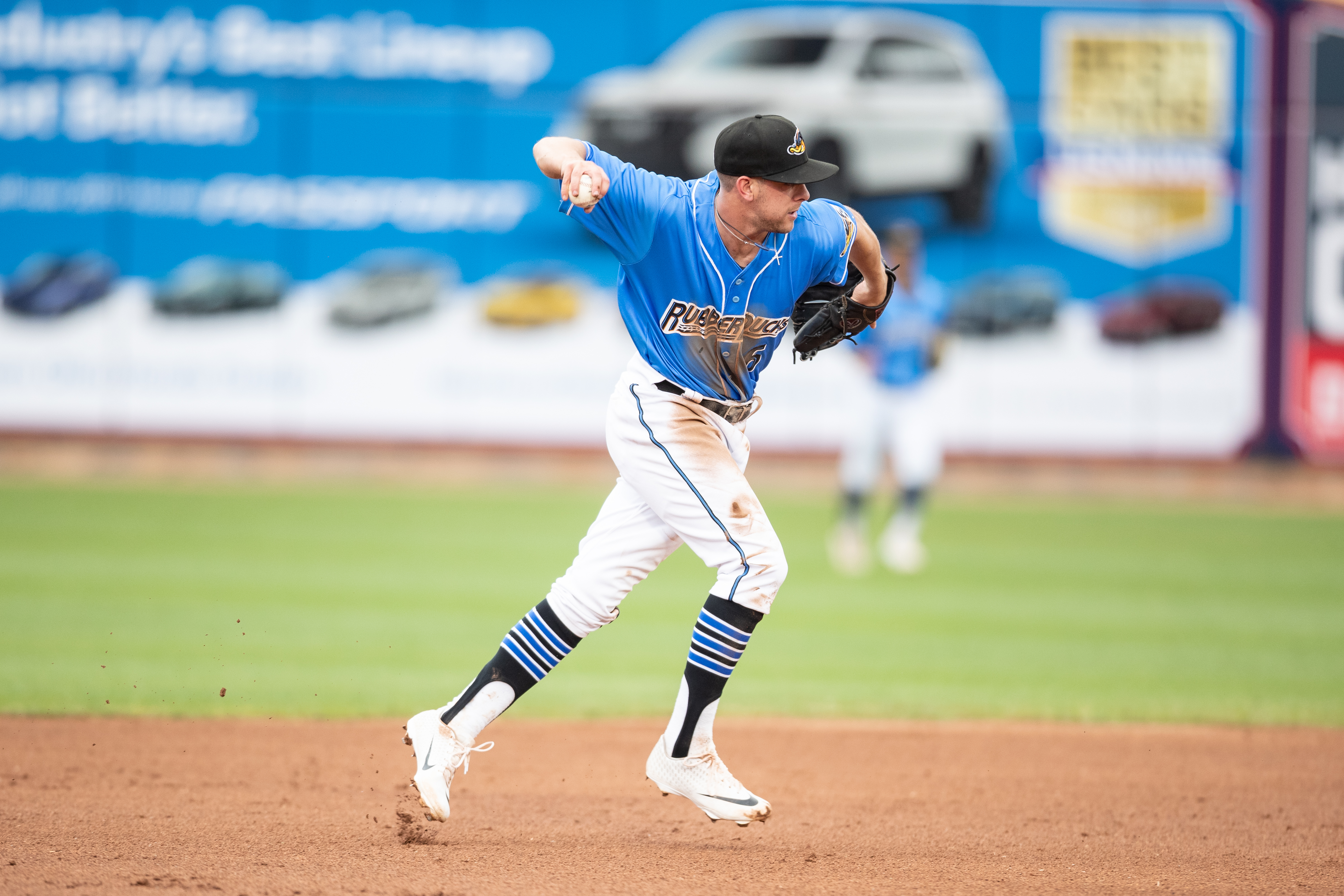 In the grind of a baseball season, with limited off days and lots of repetition, there's both a lot of time for thought and very little. The idea that two kids who played high school ball about half an hour apart are on the same pro ball club isn't lost on Scott and Clement. But there's only so much time to think about the bigger picture.
There are grounders to field and breaking balls to sharpen and numbers to crunch. There are bus rides and cramped Double-A locker rooms and the occasional bad weather day. There are jokes and tweets and laughs. 
But sometimes, Clement said he and Scott discuss the spot they're in together. And considering the number of minor league teams there are and the rarity of Section V alumni making it to professional baseball, it's hard to exaggerate this situation.
"We kind of take a step back every once in a while and just laugh," Clement said. "It's just so cool, for everything to line up like that. It's just the craziest thing ever."