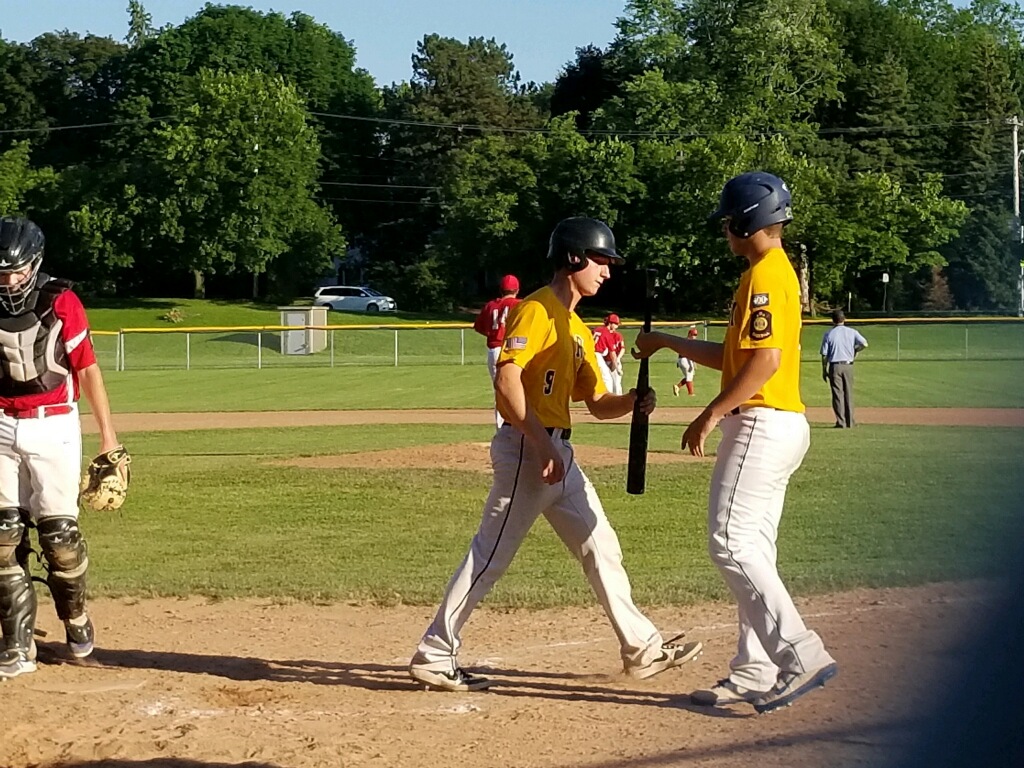 By JOHN LIKANJE
PITTSFORD, N.Y. – As Maxx Countryman rounded the bases, Wednesday evening, after homering for the second straight game, a Rayson Miller player exclaimed, "Never switch to wood again! From now on, you're always using metal!" The rest of the team agreed in unison and congratulated Countryman at home plate.
During Monday's 4-0 victory over Greece Post, Countryman broke his wooden bat on a base hit. For Tuesday evening's rematch, the former Avon star utilized a metal bat. In Rayson Miller's first seven games, Countryman was 4-for-18 (.222 batting average) with zero extra-base hits and one RBI.
"That was kind of my lowest point. I was like 'Alright, you know, I got to do something here,'" Countryman, who is a pitcher at Finger Lakes Community College (FLCC), said. "That something was just forgetting everything."
"My biggest misconception was whenever I had something going wrong with me, I thought I had to change something. Baseball's not that kind of a sport. You go through low points. They say it's a game based on failure. I was getting too much in my head about changing everything too quickly."
"Obviously, I want the at-bat to go his way," Lukas Haefner, who is teammates with Countryman at FLCC, said. "When it doesn't and he comes in and he's upset, I just try and calm him down. You're not going to go up every game and go 4-for-4, 5-for-5. I told him just keep working, keep sticking to it, stay loose and they're going to start falling."
In his second plate appearance of Tuesday's game, Countryman hustled for an infield single to short.
"I'm going home every night, working on my mechanics, trying to figure out what I'm doing wrong," Countryman explained. "It was taking me further and further away from who I am as a player."
In his third at-bat, Countryman launched a two-run homer just over the left field fence, his first extra-base hit of the summer. He collected his first RBI since June 19 in a 7-2 victory over James Cooke as well. Countryman capped off his night with a run-scoring single to left center.
"I was like 'You know what? I'm going to do my thing,"' the FLCC pitcher said. "I'm going to go up there, forget the bat. I'm just going to swing the way I did. I forgot everything and it felt natural at that point."
Since breaking his bat, Countryman is 5-for-7 with a double, two home runs and six RBI. The former Avon star has reached base in his last eight plate appearances as well.
"Getting loose," Countryman explained about his streak. "Being loose, staying loose physically and mentally. Just going up there, trusting it, doing my thing. Lot of things I got to work out, but we're getting there."
"He seems a lot more loose," Haefner said. "Especially at the start of Legion, he just seemed way too uptight. Every time he got out, he was in his head, just talking to himself, negative things. I think he just realized it's a game. You got to take deep breaths and just have fun."
"Right between his ears, he's attacking the ball," Sapienza said about Countryman after Wednesday's 12-2 win over Brooks Shepard. "I think he's come alive now and I think he likes hitting the baseball."
Swinging with a wooden bat had been Countryman's bread and butter since he was 13 years old. Although he did not get an opportunity during his freshman year at FLCC, Countryman regained his form at the right time. After getting swept in a doubleheader by division leader, James Cooke, on Sunday, Rayson Miller has won three straight games and outscored their opponents by a combined score of 28-3.
"We know what it's like to lose in the big game," Haefner said. "We lost last year in the championship at states. Especially us guys that have been here two, three years. We're hungry and we want to go back. Whoever comes in our way, they're going to have a problem."
Countryman and Rayson Miller will look to keep their bats hot Thursday evening against Doud Post at Gates-Chili Middle School.