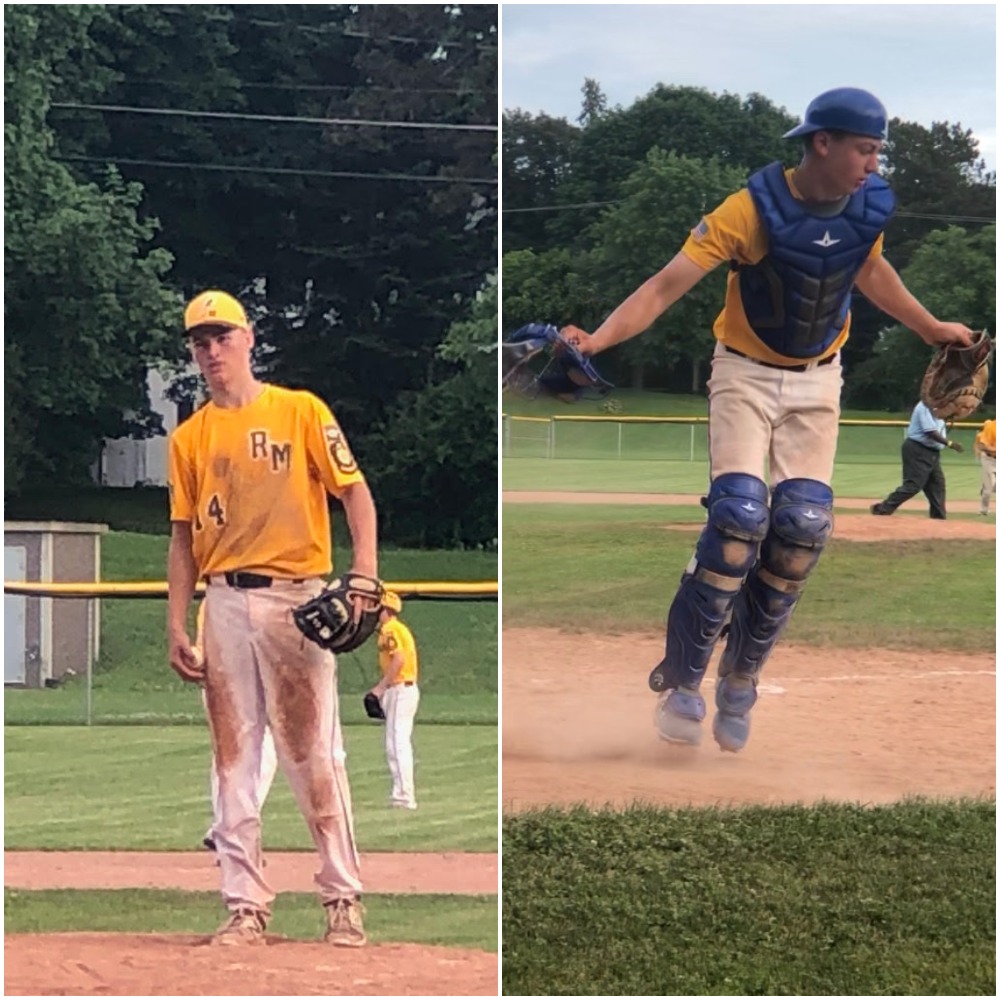 By BILLY HEYEN
PITTSFORD, N.Y. — Owen VanNewkirk had caught for Hayden Smith at Honeoye Falls-Lima in 2018, and the battery was scheduled to be reunited for Rayson Miller Post on Monday. First, VanNewkirk had to pick Smith up to drive him to the game.
VanNewkirk was running late from work, though, and Smith had to catch a ride with his sister. Once they both arrived at Pittsford Sutherland High School for Monday's game, it was like the pair had never been apart.
"As a sophomore, I knew he was gonna be good," VanNewkirk said of Smith. "As soon as we lost last year, it was like, that's the guy I knew from HF-L was gonna be a dude."
Smith threw six shutout innings, allowing one hit and striking out eight, to get the win in a 4-0 Rayson Miller victory over Greece Post. After Rayson Miller lost twice on Sunday at James Cooke, Smith wanted to help right the ship. And with an effective fastball and curveball right from the outset, he did that.
"I was hungry," Smith said. "The whole team's hungry. You could see that, everyone was making plays."
VanNewkirk graduated HF-L last year, while Smith still has another year with the Cougars. After considering their time apart, VanNewkirk decided he wanted to test out Smith's stuff early. And it seemed every pitch VanNewkirk called for, the righty-throwing Smith delivered.
Fastball down and away or up and in, popping the glove in the low-80s. Curveball for a strike or in the dirt, snapping in where VanNewkirk wanted it. Smith set a strong tone early, striking out five of the first six hitters he faced, including punching out the side in the second.
"All the guys on the other team were like, 'Damn that's dirty, man,'" VanNewkirk said. "You go fastball, fastball away and then wipeout curveball, they ain't touching it. He struck out five of the first six guys, and out of the gate, they knew they weren't gonna get anything from him."
Hayden Smith (@hflcsdathletics) struck out the side in the second. A few pitches ago, Tom Sapienza yelled out, "They're all working today." Yup. 5 Ks through two. @PickinSplinters @jml5798 pic.twitter.com/grF3Y3GpFk

— Billy Heyen (@Wheyen3) June 24, 2019
To start the third, Smith broke off another nasty curveball that buckled the hitter's knees for strike three. He walked the nine-hitter with two outs in the third but picked him off to face the minimum through three. 
Smith helped his own cause with the game's first RBI in the bottom of four. With the squeeze on, Grant Rodriguez broke from third and the lefty-hitting Smith laid down a soft bunt toward the third-base side. Greece pitcher Zach Wright charged and tried to get Rodriguez at the plate, but with a headfirst slide and a cloud of dust, Smith had scored Rodriguez to get the only run he needed.
"I had the squeeze call," Smith said, "and I saw Grant, and he was running halfway down and right when I lay it down, Grant had stopped. So I ran over, and it sounded like a close play from behind."
I made Grant Rodriguez's slide into a gif, because who doesn't want to watch this loop infinitely? @PickinSplinters @jml5798 @rhvbaseball @rushathletics pic.twitter.com/Zvi8N2GA8v

— Billy Heyen (@Wheyen3) June 25, 2019
It wasn't until the fifth that Smith allowed his lone hit, and it didn't even leave the infield. Jake Wamser, a lefty hitter, was jammed and fisted a ball into the hole between shortstop and third base. Lukas Haefner ranged to his backhand side but the ball didn't get on him quick enough to fire across in time. 
VanNewkirk ended any threat that inning two pitches later, when he smothered a ball in the dirt and pounced to throw out a runner attempting to advance to third.
"He says curveball in the dirt, and I throw curveball in the dirt," Smith said of VanNewkirk. "I'm confident that he's gonna block it, which he did today."
Owen VanNewkirk stifles one and throws a runner out to end top five. Hayden Smith has allowed one out and K'd 8 through five. Rayson Miller leads 2-0 heading bottom five. @PickinSplinters @jml5798 @hflcsdathletics pic.twitter.com/rRKdTDeMyM

— Billy Heyen (@Wheyen3) June 24, 2019
Smith struggled with his command a bit in the sixth, walking two hitters but using a double play to escape some trouble. With his pitch count up near 90, Rayson Miller turned to Joey Kench to pitch the seventh. Kench finished the game without a problem.
The final out was a snowcone catch in leftfield from Rodriguez, and Smith laughed about it in the dugout before physically replaying it himself during Rayson Miller's postgame huddle. It was a big shift from Sunday, when the defending state runners-up dropped both games of a doubleheader to fellow contenders James Cooke. 
Instead of a quiet huddle, there was laughter and smiling just more than 24 hours later. And because of his gem on the mound, Smith could be right at the center of it.
"It's always a good feeling to joke around," VanNewkirk said. "We've got a good team and know what we can do. We just need to get it done. And we did it today."