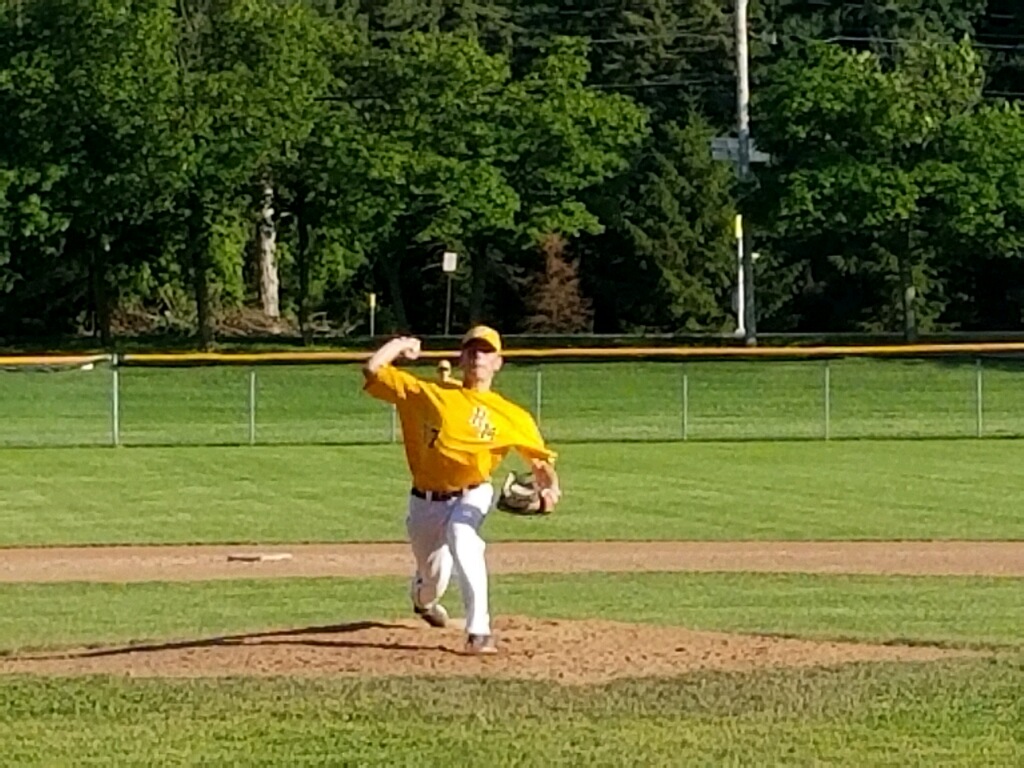 By JOHN LIKANJE
PITTSFORD, N.Y. – The Rayson Miller baseball team got off to a fast start and did not take their foot off the gas pedal, scoring 12 runs for the second straight game in a 12-2 victory over Brooks Shepard.
"I'd like to think that the team knows that every game we play is important," Rayson Miller head coach Tom Sapienza said. "Fortunately, our guys stayed the course. The kids were focused and we put some good swings on the ball."
Rayson Miller (8-2) pounced for four runs in the opening frame. First baseman Owen VanNewkirk (Misericordia University) reached second on a throwing error. Catcher Andrew Sanchez (Rush-Henrietta/Mercyhurst College) took a 1-0 pitch up the middle for a run-scoring single.
Third baseman Peyton Parmeter (Corning Community College) doubled to left center. With a pair of runners in scoring position and one out, Maxx Countryman (Finger Lakes Community College) homered for the second consecutive night, a three-run shot to left field for a quick 4-0 lead.
Rayson Miller added another run in the second, four more in the third and one apiece in the fourth through sixth innings to end the game in a mercy rule.
Tom Sapienza's squad had four players drive in at least two runs: Countryman, Haefner, Sanchez and VanNewkirk. Along with his homer, Countryman doubled and reached on a pair of throwing errors.
"Right between his ears, he's attacking the ball," Sapienza explained about Countryman. "I think he's come alive now and I think he likes hitting the baseball."
Sanchez singled twice, doubled, stole a base and scored a run. Haefner and VanNewkirk both went 2-for-4 at the dish. VanNewkirk crossed the plate twice and Haefner once.
Hayden Smith (Honeoye Falls-Lima) was 2-for-4 with an RBI, a stolen base and two runs scored. The second baseman singled up the middle and brought in Countryman to extend the lead to 6-1 in the third inning. Center fielder Zach Ochs (Rush-Henrietta) singled and scored a run.
Starting pitcher Donny Varrenti doubled, drew a walk and crossed the plate once. On the mound, the right-hander hurled four innings of one-run ball on 40 pitches. Varrenti did not allow a hit, gave up one walk and struck out a batter. The right-hander's first seven outs came on the ground. In total, Varrenti induced eight outs on the ground and two in the air.
"His fastball just naturally moves," Haefner explained about his teammate. "He was living low. When you do that, you're going to get a bunch of groundballs and fortunately, our infield, we're just good at groundballs. When you keep it on the ground and keep balls from being hit hard, it's pretty easy and he made it look easy today."
"We saw a lot of fastballs," Sapienza said about Varrenti. "It's still a great pitch when it's well placed and Andrew Sanchez gives him good targets in and out, up and down. He was effective."
For Brooks Shepard (1-7), Derek Goselin doubled to dead center field for the team's lone hit. Perry Wheeler was hit by a pitch, drew a walk and scored a run. Danny Bowman, Matt Terzo and Derek Watson all had one walk. Bowman scored a run and Watson swiped a pair of bases.
Rayson Miller will play Doud Post tomorrow at 6:00 p.m. at Gates-Chili Middle School.