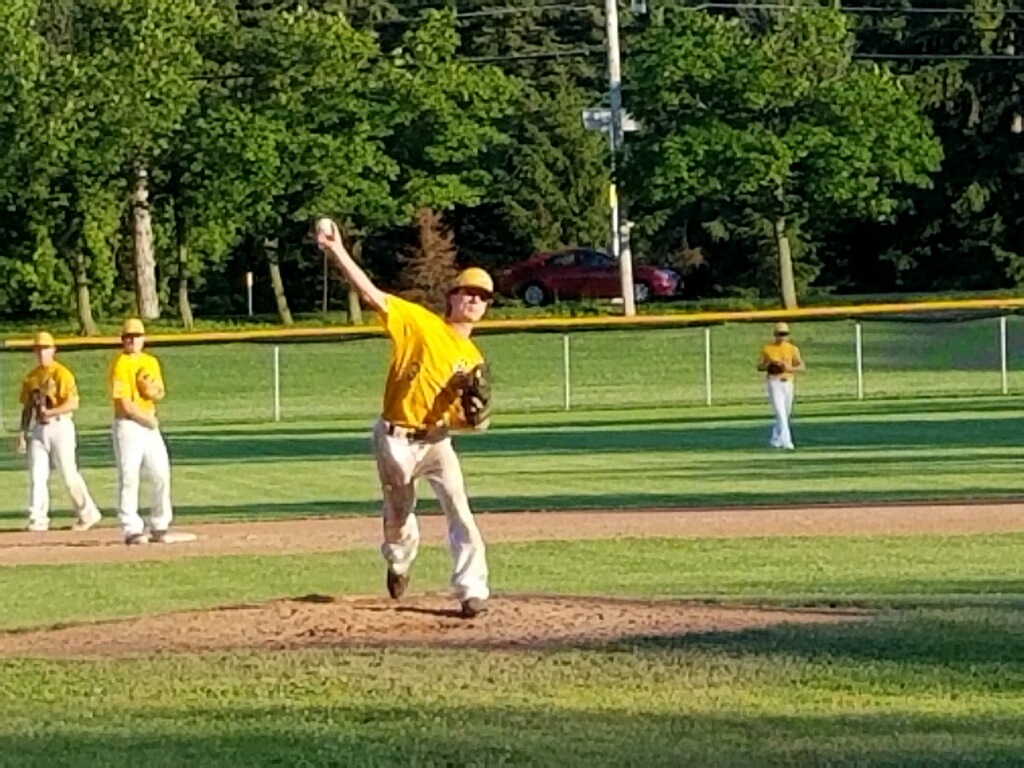 By JOHN LIKANJE
PITTSFORD, N.Y. – The Rayson Miller baseball team was not affected by the field soaking up water from rain the night before. When the umpire ushered both teams onto the diamond for the Pledge of Allegiance, Tom Sapienza's squad celebrated, pumped and ready to play. Although it took three innings, Rayson Miller's bats eventually woke up and broke out for a season-high 12 runs in a 12-1 win over Greece Post, Tuesday evening, at Pittsford Sutherland High School.
"Our guys were pretty anxious tonight and eager, trying to hit five-run homers and so forth," Sapienza said after notching his 777th career American Legion victory. "They finally calmed down a little bit and they started to hit what was pitched. It made a difference and I guess I'd say by the fourth inning, everything seemed to line up for us."
Leading 2-1 in the top of the fourth inning, Rayson Miller sent 12 men to the plate and exploded for eight runs on eight hits.
Ian Read (Avon) led off the frame with a single through the left side of the infield. Lukas Haefner (Finger Lakes Community College) and Zach Ochs (Rush-Henrietta) both hustled for bunt hits to load the bases with nobody out. First baseman Owen VanNewkirk (Misericordia College) lined a two-run single down the left field line to score Ochs and Read.
Catcher Andrew Sanchez (Rush-Henrietta) cracked a two-run double to the right center field fence, bringing in Haefner and VanNewkirk for a 6-1 lead.
Third baseman Peyton Parmeter (Corning Community College) doubled in Sanchez and gave Rayson Miller a 7-1 lead. Grant Rodriguez (Rush-Henrietta) beat out an infield single to third base, allowing Parmeter to cross the plate. Maxx Countryman (Finger Lakes Community College) capped off the inning with a two-run blast to left field as Rayson Miller took a commanding 10-1 advantage.
"These are pretty good baseball players," Sapienza said about his squad's offensive outburst. "Our hitters were attacking the ball and they got some balls to hit."
Haefner took it from there on the mound, going six up and six down to conclude the contest. Despite throwing 25 pitches in the first inning, the right-hander settled down and finished with a complete game on 82 pitches.
"Most kids in the first inning, I was starting off with my fastball and I didn't have command of it early, so I started working my slider first pitch, my curveball first pitch," Haefner explained about his adjustments. "I was getting ahead of people and then working in my fastball."
Haefner allowed one hit, an unearned run, three walks and fanned 10 batters – six swinging and four looking. The right-hander retired the last eight hitters he faced, induced four outs on the ground and one in the air.
"I felt good on my slider early," Haefner explained. "My offspeed (pitches) were all on today. When that stuff's on, your fastball's just that much harder, so I just worked everything in and I have a great defense behind me, so it worked out for me tonight."
"He's got a terrific arm," Sapienza said about his right-hander. "I think, as with any pitcher, that they just got to get comfortable. He gets very fired up and once he kind of calms down, a little equilibrium, he can be very difficult."
American Legion Baseball – Rayson Miller vs. @greecepostball: Lukas Haefner strikes out the side. Final score: Rayson Miller 12 Greece 1. Haefner – 5 IP, 1 H, 1 R, 3 BB, 10 K, 82 pitches. @PickinSplinters @Wheyen3 pic.twitter.com/l2JZc6Ufus

— John Mitchell Likanje Junior (@jml5798) June 25, 2019
Rayson Miller had five players drive in two runs: Countryman, Parmeter, Rodriguez, Sanchez and VanNewkirk. Countryman and Rodrigez both led the charge, going 3-for-3 apiece. Along with his homer, Countryman singled twice and drew a walk. Rodriguez stole a base and scored a run. VanNewkirk had a pair of walks.
At the plate, Haefner singled twice, reached on an error, stole three bases and scored two runs.
"I noticed he (Greece Post starting pitcher Kyle Blum) was throwing a lot of offspeed, especially to righties, early," Haefner explained on his approach at the plate. "Almost every batter, he would start off with a curveball, so I knew it was only a matter of time before we caught on. We're hitters. We hit fastballs, so we made him throw more fastballs and we started barreling balls up."
For Greece Post (3-5), Joey Alphonse (Greece Olympia) had the team's lone base knock of the game. Mike Ruta (Greece Athena) drew a pair of walks and scored the first run of the game on a fielding error in the opening frame. Justin Augustine (Greece Arcadia) had a walk as well.
Blum (Greece Arcadia) pitched three frames and struck out two batters. Jake Wamser (Greece Athena) hurled an inning of relief.
Rayson Miller (7-2) will host Doud Post tomorrow at 6:00 p.m. at Pittsford Sutherland High School.