What: New York State Section V Class C Regional Qualifiers
Who: Class C1 champion Gananda Blue Panthers vs. Class C2 champion Bolivar-Richburg Wolverines
When: Tuesday, June 4 at 5:00 p.m.
Where: Dwyer Stadium
How they got here
Gananda: No. 2 seed Gananda beat Avon (3-2), Cuba-Rushford (9-2) and Warsaw (5-0) to win their first sectional title since 1999.
Bolivar-Richburg: No. 7 seed Bolivar-Richburg beat Campbell-Savona (5-4), South Seneca (4-1), Geneseo (13-2) and Lyndonville (1-0) to win their second straight sectional title and fifth in the seventh years.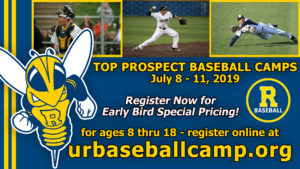 Trends
Gananda: The Blue Panthers have won six straight games.
Bolivar-Richburg: The Wolverines have won four games in a row.
By the numbers
Gananda: .327 batting average / 0.73 earned run average
Bolivar-Richburg: .274 batting average / 1.93 earned run average
Players to watch
Gananda: Tim McClare Sr. SS, P, C .500 batting average, 13 doubles, 24 RBI, 6-2 record, 0.69 earned run average, 99 strikeouts; Zach Ciprich Sr. RHP, UTIL .500 batting average, 28 hits, 37 runs scored, 4-1 record, 1.14 earned run average, 55 strikeouts; Luke Ciprich Fr. 2B, C, OF .396 batting average, 12 RBI, 19 hits
Bolivar-Richburg: Camden Graves Jr. C, OF .491 batting average, 23 RBI, 26 hits; Hudson Evingham So. C .345 batting average, 17 RBI, 20 hits; Logan Bess So. P 4-4 record, 1.26 earned run average, 73 strikeouts
What's at stake
Winner clinches a spot in the New York State Class C Far West Regional against Section VI Class C champion Falconer.