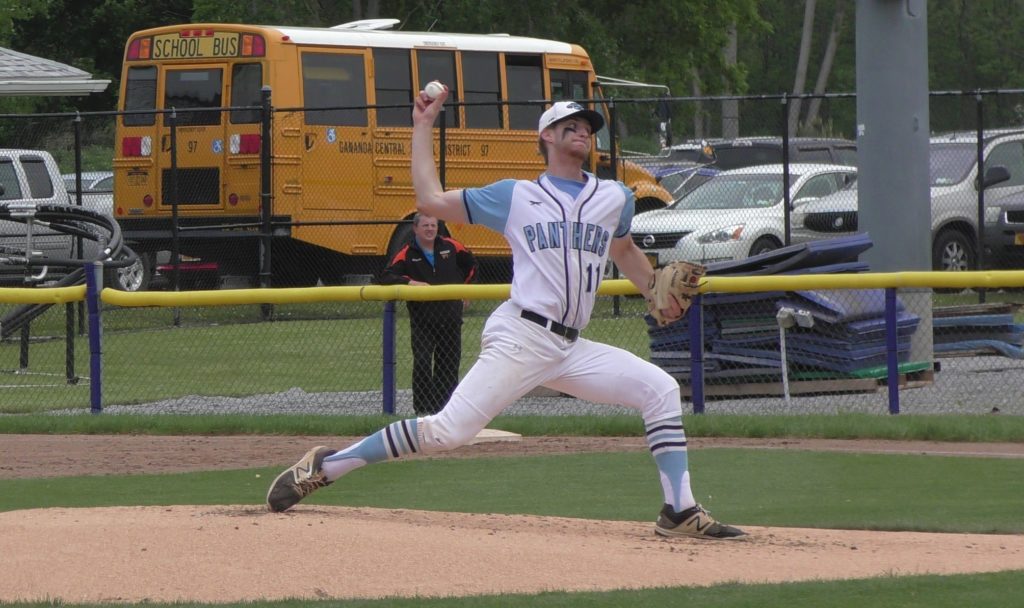 By JOHN LIKANJE
BATAVIA, N.Y. – Tim McClare dominated on the pitcher's mound and in the batter's box and led the Gananda Blue Panthers to their first sectional title since 1999.
"So happy for the Gananda community, the school, these guys," Blue Panthers head coach Bill McClare said after the 5-0 victory over the Warsaw Tigers."What a great job. These guys put in all the work."
Despite allowing three hits, three walks and seven baserunners, McClare battled to throw a complete game and fanned 10 hitters – eight swinging and two looking. The senior right-hander struck out a batter in every inning. McClare induced five outs in the air and five on the ground as well.
"He's always out there battling," coach McClare said. "Throws strikes. He's a tough kid to catch up on. He's got a great breaking ball. I told him at the beginning that I wanted to hold him under 90 and he wouldn't let me take the ball from his hands."
"His breaking ball was really working later in the game," the head coach continued. "Early in the game, he was getting under it and it was staying up. Later in the game, he was able to get for strikes and guys swinging and missing, so that was a big pitch for him."
"I utilized my curveball a lot more than I did before and I knew my fastball could beat them, so I just tried to get that right by them," McClare explained.
"Tim pitched an amazing game," senior catcher Jayden Castrechini said about his battery mate. "I told him to throw more curveballs because he was rising his fastball a little bit and that helped him straighten out his fastball and it got us a W."
"He called a great game," McClare said about Castrechini. "I just relied on him and shook him off maybe once the entire game. I just threw the pitches he chose and went with it."
.@baseballsectv C1 Final- @gtownbsbl vs. @wcstigernation: Tim McClare's 10th strikeout of the game clinches Gananda's 1st sectional title since 1999. Final score: Gananda 5 Warsaw 0. @PickinSplinters @Wheyen3 @GHSAthletics1 @GanandaSports @WeAreGananda pic.twitter.com/ESBpcnwhvG

— John Mitchell Likanje Junior (@jml5798) June 1, 2019
McClare went 2-for-3 with an intentional walk and scored a pair of runs. The senior pitcher drove in Zach Ciprich with a groundout in the first inning and roped a two-run double down the left field line in the third. McClare ran home on a passed ball to cap off a three-run third and give the Blue Panthers a 4-0 lead.
"We tried to put the bat on the ball, see the ball and read the pitches he was going to throw," McClare explained.
"He was just seeing the ball," Castrechini said. "The pitcher was throwing a hanging curveball and that's his sweet spot and he drilled it."
"He's a confident kid," coach McClare said. "He gets into the batter's box and he feels that no one's going to beat him. Today, he showed that. Couple of times, he got down to two strikes and he just fought everything off until he got a fastball he could handle."
McClare singled to left field to lead off the fifth inning. Patrick Walsh beat out an infield single and Zach Dier drew a walk to load the bases with nobody out. Luke Ciprich grounded out to second base, which allowed McClare to cross the plate for a 5-0 advantage.
Zach Ciprich singled three times, was hit by a pitch, stole a pair of bases and scored two runs. Luke Ciprich, Shane Pickering and Walsh all connected for a base-knock. Castrechini, Dier and Zach Valetta all drew a walk. Castrechini scored one run. Valetta swiped a bag.
"We came out in January and we weren't sure we were gonna have a team because we didn't know who was playing," coach McClare said. "We picked up a couple of guys, they really bought in. Our senior leaders really led us through the season and I can't be more happy for these guys, happy for the school and happy for the community."
For the Tigers, Mike James hurled a complete game and fanned 10 batters – eight swinging and two looking. The senior right-hander struck out a hitter in every inning as well. James connected for two of the Tigers' three hits.
Senior first baseman Kenny Huffer singled and was hit by a pitch. Sophomore shortstop Eddie Stores, Jr. drew a pair of walks. Junior designated hitter Mike Baker had a walk as well.
Gananda advances to play Class C2 champion Bolivar-Richburg in the New York State Far West Regional Qualifiers. The Bolivar-Richburg Wolverines shut out the Lyndonville Tigers, 1-0, to win their second straight sectional title. Game will be played on Tuesday at Dwyer Stadium in Batavia.