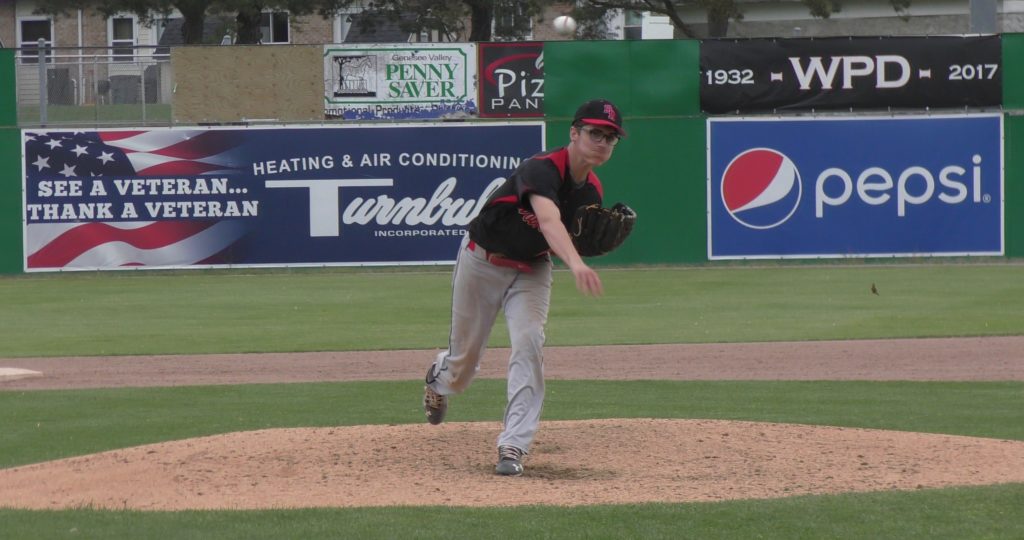 By PAUL GOTHAM
BATAVIA, N.Y. — One year after taking the Section V Class D1 title, Dustin Allen's Bolivar-Richburg baseball team opened the Class C2 tournament as the No. 7 seed.
Saturday afternoon, Allen's Wolverines celebrated their second straight sectional championship.
"Everybody was like 'you got to be disappointed; you're a seven seed,'" Allen said. "I told them the other day 'no one expects you guys to win. Go out there and have fun. Play the game the way you can play and good things are going to happen."
Sophomore starter Logan Bess struck out 17, and Bolivar-Richburg scratched across a run in the top of the seventh for a 1-o victory over top-seeded Lyndonville.
"We faced some adversity throughout the year," Allen said of the Wolverines which dropped three of four to end the regular season. "Once the regular season ended we had a change of mentality. We made some changes and these guys have caught fire. One-nothing's not catching fire, but when you have Logan pitching the way he pitched today, he's going to keep us in games."
The right-hander faced the minimum in two separate innings scattering two hits, five walks and two hit batsmen. He stranded runners on second and third in the third inning and left the bases loaded in the fifth using his slider to end the frame with a swinging strike.
Logan Bess goes with the slider to leave runners on second and third. Right-hander has 9 Ks through three innings. Going to the 4th Class C2 finals: Bolivar-Richburg 0 Lyndonville 0 pic.twitter.com/tXa290Cxwk

— Paul Gotham (@PickinSplinters) June 1, 2019
"That's a sophomore hitting his spots, perfectly," Allen noted. "He hit every spot we wanted for the most part today. Obviously a couple of hit batters and walks, but even with bases loaded, he was able to bear down and go at 'em. That's a strong mentality for a sophomore. Tough spot to be in with bases loaded in a championship game and get yourself out of it."
Logan Bess collects strike out No. 15. This one with bases loaded. Going to the sixth: Bolivar-Richburg 0 Lyndonville 0 pic.twitter.com/WQqmTv2SfO

— Paul Gotham (@PickinSplinters) June 1, 2019
Riley McDonald scored the game's only run. The senior first baseman connected on a one-out single. Landon Danaher followed with a base hit through the vacated spot on the right side of the infield when McDonald moved with the pitch. Wayne Karnuth and Camden Graves worked back-to-back walks with Graves getting credit for the RBI.
Lyndonville starter Zach Johnson struck out 13 over 6.2 innings. The senior left-hander walked five and allowed three hits. He faced the minimum through the first three innings and did not allow a hit until a leadoff single in the fourth.
Zach Johnson gives up a leadoff single (his first hit allowed of the day) and then retires the next three. Going to the bottom of the fourth: Bolivar-Richburg 0 Lyndonville 0 pic.twitter.com/A9jxUHkptt

— Paul Gotham (@PickinSplinters) June 1, 2019
B-R opened sectionals with a win over Campbell-Savona, a team with which they split a pair of games during the regular season including a 12-2 loss. They followed with a 4-1 win over No. 2 seed South Seneca before beating third-seeded Geneseo to reach Saturday's matchup No. 1 seed Lyndonville.
Bess improved to 4-4 on the season and lowered his ERA to 1.26. He is tied for the team lead with 12 appearances on the mound.
FINAL Class C2 Championship: Bolivar-Richburg 1 Lyndonville 0. Logan Bess fans 17 and gets the final three put outs. pic.twitter.com/cQmFryW0gb

— Paul Gotham (@PickinSplinters) June 1, 2019
"I was surprised how well I did today," Bess said. "Coming into this game I heard that Lyndonville was loud and that they try to get inside the pitcher's head. Before the game, I was just trying to prepare mentally before the game and to shut everything out."
B-R advanced to Tuesday's Class C Far West Regional when they will meet Gananda. The time and location are TBD.
"I feel great for the kids and the community," Allen said. "This was just as exciting as the first one. It's incredible for these kids."