ROCHESTER, N.Y. — The Gananda Blue Panthers sought vengeance for last season's Section V Class C1 final loss in Tuesday's quarterfinal matchup against No. 7 Avon, the reigning Class C NYS Champions. This time Gananda came out cheering.
Luke Ciprich knocked in Tim McClare from third in Gananda's sixth inning rally to break the 2-2 tie. McClare led off the inning with a base hit to center. Pat Walsh followed his lead, finding a gap in right. With the two on first and second, Zach Valetta hit into a fielder's choice for the first out of the inning. A productive out, however, as McClare stood 90 feet away from regaining a lead, one he's wanted since last May. Luke Ciprich hit a ground ball to an infield playing in and McClare hustled home to make the game 3-2.
Coach Bill McClare walked off the field and said called the game "a classic high school baseball game." Both teams forced errors, took advantage of them, and kept the game tight.
Zach Ciprich led off the game with a single, moving around the bases on an error and a passed ball. The senior scored on a passed ball to make the game 1-0, where it stood until the fifth.
In the fifth, McClare allowed walks to Ian Read and Jessie Countryman. Ryan Younger's two-out pop fly to centerfield landed in what was ruled an error by Gananda's Valetta. Both Read and Countryman scored to give the Braves a 2-1 lead. McClare snagged a line drive to keep Avon from tacking on any more.

It was time for redemption.
Andrew Gleason lifted Gananda's spirits almost immediately with a hard ground ball through the right side. A wild pitch moved him to second, and then third. Shane Pickering's grounder to second was enough to plate Gleason and tie the game at two.
Pat Walsh relieved McClare on the mound in the top of the sixth. The sophomore was lights out. In his first inning of work, he struck out two in a row and forced a grounder to escape an Avon retaliation. The bottom of that inning is where the Blue Panthers capitalized.
The final out. Pat Walsh with the save. @gtownbsbl advances.@PickinSplinters pic.twitter.com/lUUh5nYx2s

— Cait ☼ (@CaitMcClare) May 28, 2019
"We don't win right there without Valetta's final at bat," said Coach McClare. He was down about the two-run error, allowing it to effect his next two at bats, but Coach McClare reminded him before the sixth: "You still have another." In that, his productive out moved the winning run 90 feet away.
His in-game redemption gave Gananda what its been waiting for.
McClare finished his day on the mound in five innings, allowing one hit, two runs, and six walks. He struck out 12. Walsh's two scoreless innings secured the game while the offense went to work, earning the win. He struck out three of the six batters he faced. The two combined for a one-hitter.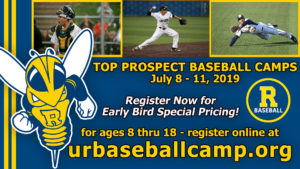 Zach Ciprich collected two hits, scored one run, and one stolen base. McClare and Gleason each recorded a hit and scored a run. Valetta hit a double early in the game and stole two bases.
Nick Rowland started for Avon, allowing four hits, two runs, one earned, and one walk. In his 4.2 innings, he struck out five. Read was the only Brave to get a hit. He led his offense with two walks and a run scored.
Gananda is set to face the winner of No. 3 Cuba-Rushford and No. 6 Red Jacket, which was postponed to Wednesday at 5 p.m.