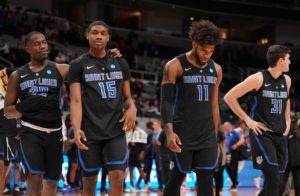 By CHUCKIE MAGGIO
The Atlantic 10's NCAA Tournament games on Friday night symbolized the conference's entire season: a poor start with a late run at respectability.
This year's league was never meant to feature two participants in the big dance. The A-10 was 12th in conference RPI, trailing groups like the Ivy League, Mid-American Conference (MAC) and Southern Conference. Nine league teams combined to go 0-15 against the Associated Press Top 25. The conference's overall .509 winning percentage tied last season for its lowest win percentage since a .468 mark in 2004-05.
After 11 consecutive years of being a three-bid league or better, two teams danced this season. The "one-bid" label was avoided when Saint Louis caught momentum and took advantage of an injury-riddled VCU team's elimination, but this was a harsh reality for a conference that boasted six NCAA Tourney representatives just five March Madnesses ago. Neither VCU or Saint Louis had much of a chance on Friday as they each muddled through one of their worst performances of the year.
As the A-10 is looking to re-establish itself as one of the best mid-major conferences, however, the good news is that most of the pieces are already in place. Young talent is abundant and everyone except Saint Louis welcomes back a wealth of production.
Percentage of 2018-19 scoring returning next year- top eight A-10 teams (as of March 24, 2019):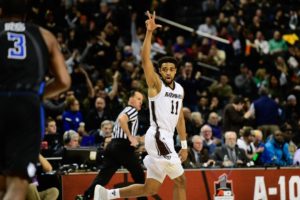 1. Duquesne- 97.2 percent (Mike Lewis II left before conference play)
2. Davidson- 96.3 percent (graduates Dusan Kovacevic and Nathan Ekwu)
3. VCU- 96.1 percent (graduates Michael Gilmore)
4. Rhode Island- 95 percent (Ryan Preston and walk-on Will Leviton graduate, Omar Silviero is leaving the program)
5. Dayton- 82.5 percent (graduates Josh Cunningham and walk-on Jack Westerfield)
6. George Mason- 78.6 percent (graduates Otis Livingston II and Jaire Grayer)
7. St. Bonaventure- 61.3 percent (graduates Courtney Stockard, LaDarien Griffin and Nelson Kaputo)
8. Saint Louis- 42.9 percent (graduates Javon Bess, Tramaine Isabell, D.J. Foreman, Dion Wiley and Elliott Welmer)
Now that this wrap-up is back in a positive direction, here are some of the best moments from the A-10 this season:
Best win: St. Joe's wins one for "Pops" Martelli. The Hawks had another trying season and won just six A-10 games, which eventually led to SJU deciding to move on from Philadelphia institution Phil Martelli. But on Feb. 8 the Hawks used some divine intervention to defeat Saint Louis by 30 for their grieving coach, whose father Phil Sr. died two days prior. Joe's couldn't miss, putting up 91 points on 56 percent shooting from the field.
Players from both teams hugged Martelli after a pregame video tribute. Martelli thanked the fans after the game, tweeting that his father "loved all HAWKS."
Best game: Rhode Island defeats VCU 75-70 in A-10 quarterfinals. This game arguably changed the entire A-10 Tournament. Marcus Evans's injury stunned the Barclays Center, but Marcus Santos-Silva kept the black and gold in it with 26 points and 22 rebounds. The play of the game, and possibly the season, was Rhody guard Jeff Dowtin's off-balance, Marcus Paige-esque three-pointer to give his team a 73-67 lead with 2:13 to play. VCU made just one more field goal as URI advanced to the semifinals and sent the prohibitive favorite home packing.
Best individual performance: Jon Axel Gudmundsson's triple-double. If there was still any doubt over who the A-10 Player of the Year was, Gudmundsson sealed the award with 20 points, 10 rebounds and 10 assists in a Feb. 22 win at Rhody. The performance was far from Gudmundsson's scoring high, but it was the first Davidson triple-double since 1973. Gudmundsson was an all-around star all season.
Two bold 2019-20 predictions, eight-plus months in advance: Dayton forward Obi Toppin will be Dayton's first-ever A-10 Player of the Year. St. Bonaventure will make a second straight appearance in the A-10 Championship Game.