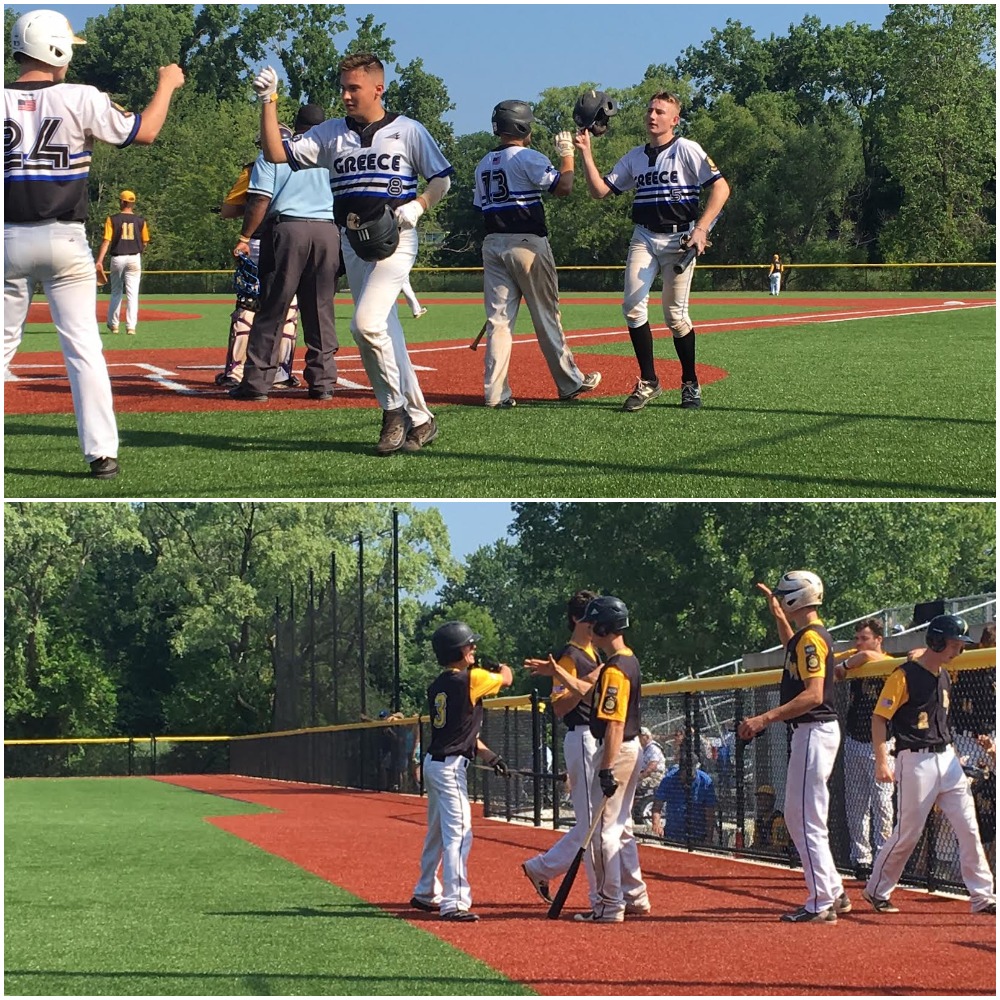 By BILLY HEYEN
Top-seeded Rayson Miller expected to win both games Sunday, said head coach Tom Sapienza. But Greece Post was able to pull out the first game of the doubleheader, 6-5. Rayson Miller controlled most of game two, eventually winning 11-7. That forced a decisive third game to decide whether the one or the four seed heads to the championship series. Irondequoit Post awaits for a series that will start Thursday after sweeping James Cooke on Sunday.
Here's a preview of game three between Rayson Miller and Greece Post.
Where: 
Eastridge High School
When: 
Tuesday, July 17 at 5:30 p.m.
Who: 
No. 1 seed Rayson Miller (19-4) vs. No. 4 seed Greece Post (14-10)
Previous matchups: 
Rayson Miller made easy work of Greece Post in the regular season, winning all three games by at least five runs. But Sunday, Greece Post put up six runs in the first three innings and held off a comeback to win game one. Rayson Miller's bats really showed up in game two, but Greece Post fought back late to lose by four instead of what had been a nine-run deficit at one point.
By the numbers:
Rayson Miller: .324/.481/.425 (BA/OBP/SLG); 2.07 ERA, 1.28 WHIP
Greece Post: .279/.429/.376 (BA/OBP/SLG); 3.73 ERA, 1.55 WHIP
Probable starters:
Rayson Miller: Maxx Countryman (2-1, 1.05 ERA, 30 SO in 20 IP)
Greece Post: TBD
Big bats:
Rayson Miller
SS/P Lukas Haefner: .419 batting average; five doubles, two triples, 13 steals
OF Jason Bocklage: .418 batting average; 11 doubles, three triples, one HR, 24 RBI, 10 steals
1B/C Owen VanNewkirk: .407 batting average; four doubles, one HR
OF Colin Smith: .319 batting average; six doubles, seven steals
IF/P Maxx Countryman: .282 batting average; three doubles, one triple, two HR
Greece Post
SS/C Victor Torres: .373 batting average; two doubles, three triples, two HR; 23 stolen bases in 25 attempts
OF Isaac Yorkey: Team-high .395 batting average
3B/SS James Sciortino: .353 batting average; five doubles; team-leading .583 on-base percentage
C Ryan Ballard: .254 batting average; four doubles, two HR, team-high 18 RBI
What they're saying:
Rayson Miller outfielder Jason Bocklage: "We don't have any more to waste. We've got to do our thing. We've got to do what we did to them the whole season. We've just got to do our thing and shut them down."
Rayson Miller head coach Tom Sapienza: "

I think this group feels they can hit and we're all interested to see what they're gonna throw at us on Tuesday. And we've got Countryman going. He's rested. I've got Shep in the hole, he's rested. Hopefully we bring our bats and win a ballgame."

Greece Post head coach Dan Ford: "

I'm hoping we get a little more healthier. I'm not really sure who we're gonna throw yet. It depends on who's healthy and who's gonna be there. I think we're gonna have the similar type lineup and if we just keep putting the ball in play and focus on line drives instead of flyballs, we'll give ourselves a shot."