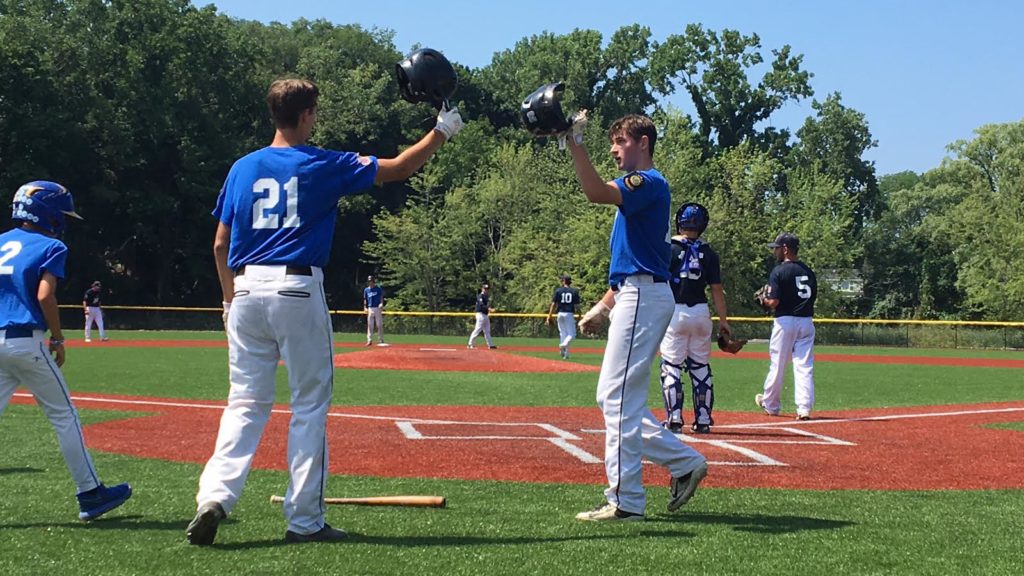 By BILLY HEYEN
EAST IRONDEQUOIT, N.Y. — Chris Butler started game two for Irondequoit Post on the mound Sunday, after his team had won the first game. Another win would put them through to the championship series, and he cruised early on the mound. But his outing turned rough in its latter stages and James Cooke got back into the game.
When Irondequoit Post head coach Joey Kuhn removed Butler from the mound, Kuhn put Butler at third and had to scratch his designated hitter. That meant Butler would get to hit, his next time up the first time he'd hit in game two.
And when he led off the bottom of the sixth, he didn't waste any time crushing one deep to left for a solo homer and what turned out to be the decisive fifth run to send Irondequoit Post to the District 7 finals.
"I knew when I got subbed in to hit, I knew I had to help out the team somehow," Butler said. "Get the lead back or help get the lead a little bit bigger."
It had been an easy go of it in a 12-2 win for Irondequoit Post over James Cooke in game one, caused mostly by walks and errors by James Cooke. But the two-seed Irondequoit Post was able to pull out a tight one, too, 5-4 in game two over the three-seed James Cooke. That meant a sweep of the best-of-three semifinal for Irondequoit Post and a spot in the championship series, which will start Thursday against the winner of game three between Rayson Miller and Greece Post.
"Whoever we're playing, Greece or Rayson Miller, it's gonna be a battle," said Irondequoit Post head coach Joey Kuhn.
In the first two innings of game one, Irondequoit Post tallied one hit. It was a bunt single for Shawn Brooks. That ball couldn't have traveled further than 20 feet. By the end of those first two innings, though, Irondequoit Post led 9-0. They'd worked seven walks and one hit by pitch. James Cooke committed three errors. With its ace on the mound in AJ Gartland, Irondequoit Post had the game well in hand.
The big early lead benefited the two seed because it allowed for Gartland to come out of the game. He was kept under 80 pitches, which keeps him eligible for Thursday's championship opener.
"Once we took (a lead) with AJ out there, I thought why not keep him under 80 pitches and have him available Thursday," Kuhn said. "We went out here today and nobody threw over 80, so we've got everybody on our staff available for Thursday, and that feels good going into that series with everybody ready to go."
There wasn't a lot of suspense the rest of the way in game one. Irondequoit Post activated the run-rule by taking a ten-run lead in the bottom of the sixth, so the game was called an inning early.
Kuhn called the first game an "anomaly." He knew Irondequoit Post and James Cooke had played tight all year. Game two would be different, he figured. And it was.
Butler put up three zeros to start it off, and then Irondequoit scored two in the bottom of the third. Brooks led off with a bunt single. Caleb Delly followed with a bunt hit of his own. Jayden Fayad moved them up with a sacrifice bunt. And an error brought two runs home for the early lead.
Butler would be charged with three runs in the top of the fifth after a few more half-innings of zeros, though. Carson Rucker led off for James Cooke with an opposite-field double down the left-field line. Two batters later, Tommy Ryan drove him in with a double to left-center. Owen Delforte traded places with Ryan with a double of his own. And against a reliever, Hudson Pavia blooped one in to bring in the third run charged to Butler.
"Second game was more how our our competitions have been," Kuhn said of the back and forth.
James Cooke wouldn't hold the lead long. Irondequoit Post answered with two of its own in the bottom of the fifth. Fayad doubled to right-center. AJ Gartland singled up the middle to score him, and then Anthony Quinones doubled over the leftfielder to drive home Gartland.
Who says he's a pitcher only? @ajgartland22 with the RBI knock to tie this at three. @PickinSplinters pic.twitter.com/YKSQjoJ2Zx

— Billy Heyen (@Wheyen3) July 15, 2018
Butler's sixth-inning homer proved crucial, because James Cooke got one run back in the top of the seventh. But Quinones got a strikeout to strand runners and send Irondequoit Post to the championship series.
After winning both Sunday, Irondequoit Post won't have to play a third game Tuesday, which its championship opponent will have to do. Kuhn feels that's an advantage for his team. He doesn't want to worry about a third game in the championship, either.
"We got our whole staff ready," Kuhn said. "We go play, and we try to take two in-a-row again."