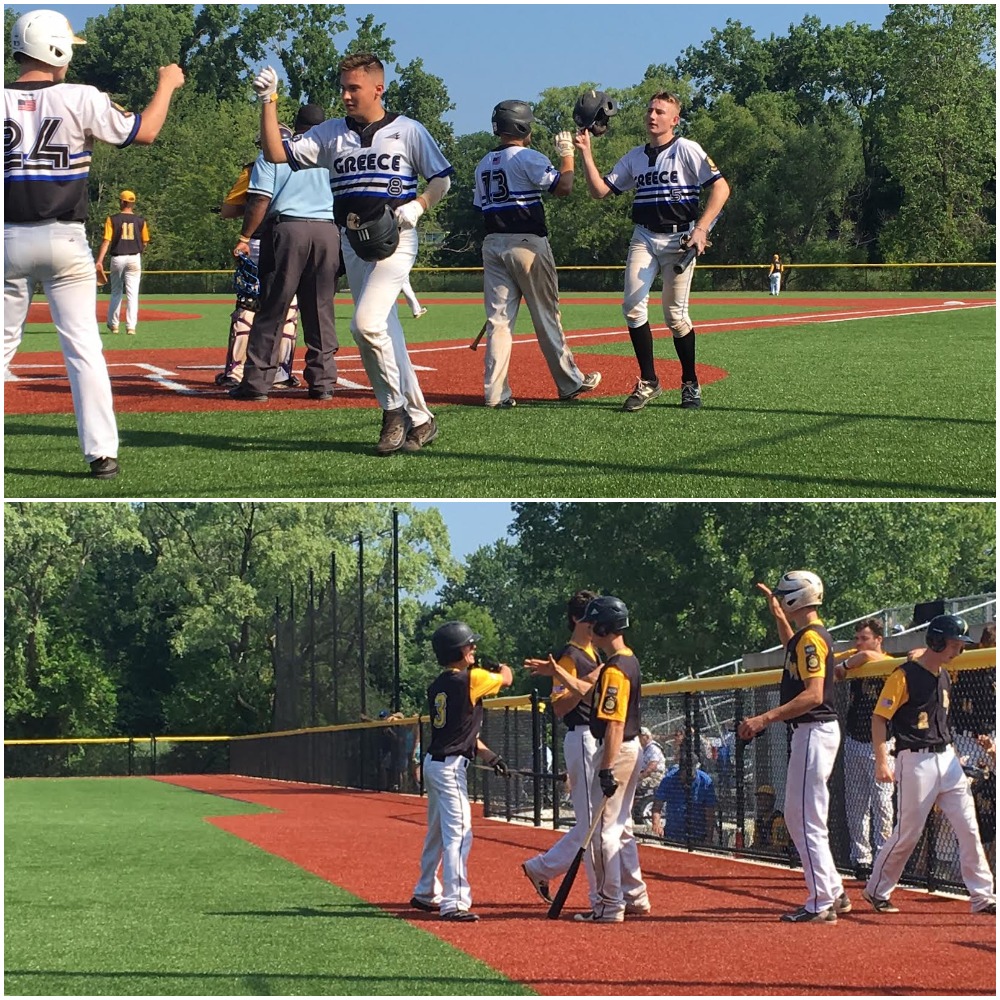 By BILLY HEYEN
EAST IRONDEQUOIT, N.Y. — Baseball is a game of inches. Greece Post, the four-seed and underdog against top-seeded Rayson Miller, will get to play a deciding third game of a best-of-three semifinal in part because of the last few inches of Michael Mule's glove.
With two outs in the bottom of the seventh in game one, Rayson Miller got runners on first and second. Colin Smith ripped a line drive to center that Mule had to sprint in on. At the last second, he dove and just reached the ball. He held on to get Greece Post the upset win.
"Smitty hits just a scorcher and their centerfielder, do-or-die," said Rayson Miller coach Tom Sapienza. "If it gets by him, 418 (feet to the fence) and we win."
What a play! Michael Mule dives in center to preserve the upset. @greecepostball wins 6-5. Rayson Miller needs to win the second one here to stay alive. Four seed GP would move on to the championship with another win. @PickinSplinters pic.twitter.com/P73DrHBXXV

— Billy Heyen (@Wheyen3) July 15, 2018
That 6-5 win for Greece Post in game one forced Rayson Miller to win game two to stay alive. The top seed did just that with an 11-7 victory to even the series at one. Jason Bocklage continued his monster season at the plate for Rayson Miller after not playing baseball for a year and helped force the decisive game. The teams will meet again on Tuesday at Eastridge, the site of Sunday's doubleheader, at 5:30 to decide which club moves on to the championship series against Irondequoit Post.
"We've got (Maxx) Countryman going," Sapienza said. "He's rested. I've got (Kevin Sheppard) in the hole, he's rested. Hopefully we bring our bats and win a ballgame."
Greece Post couldn't have started game one much better. Behind a Thomas Finnerty single, two walks and a sacrifice fly, the four-seed scored two in the top of the first. Rayson Miller answered with two in the bottom, though, behind doubles from Bocklage and Maxx Countryman and a single from Owen VanNewkirk.
The underdog put up four more runs in the third behind three walks, a hit by pitch and two singles, with the exclamation point coming on a two-run hit from Michael Mule.
"He was struggling," said Greece Post head coach Dan Ford of Mule, "but the swings were good. It was just the timing of it. I think everything just clicked at once and it came at the right time for us."
Michael Mule just lined this into left to make it 6-2 @greecepostball after two and a half. McMullen with some cushion against the top seed. @PickinSplinters pic.twitter.com/QN2bdgWGo6

— Billy Heyen (@Wheyen3) July 15, 2018
Rayson Miller pulled back within one via a three-run fifth, which featured a two-run Bocklage triple. It was the last the top seed could manage against Greece Post's Neale McMullen, who worked the complete game win. The late runs in game one may have helped Rayson Miller in game two, though, Sapienza thought.
Oddly enough, Greece Post scored in the top of the first of game two, as well. Finnerty reached on an error, Ryan Ballard walked, Isaac Yorkey singled and Jack Berbert grounded out to bring a run home. From that point on, though, Rayson Miller took over.
Two runs came for the top seed in the bottom of the second, with Jourdan Plaisted singling to drive in a run and AJ Nestler laying down a squeeze for another. The game was blown open in the third, as Rayson Miller scored six more. Lukas Haefner and Countryman both doubled as Rayson Miller put up a crooked number.
Haefner mostly held Greece Post in check on the mound in game two, allowing two runs in five innings of work. The four-seed looked to mount a rally in the sixth with Haefner out of the game, with Ballard hitting a grand slam to bring Greece Post within four runs. The door was shut in the seventh, though, and the teams would face game three on Tuesday.
When presented with the idea that winning the second game of the split might bring better momentum into Tuesday, Sapienza agreed, but said he hadn't thought about it before the games.
"We thought we'd win both," Sapienza said.
Rayson Miller didn't win both, but the star of the day was Bocklage. The short, stocky lefthanded batter finished the day 3-for-6 with a double, a triple, two runs, two RBI, two walks and a steal. He entered the day as Rayson Miller's average leader, hovering right around .400. But he spent the last year at Stony Brook playing rugby, not baseball, after graduating from Rush-Henrietta.
Jason Bocklage laces one to left center, brings home two, and GP now leads RM 6-5. @PickinSplinters pic.twitter.com/w18Su8harG

— Billy Heyen (@Wheyen3) July 15, 2018
He learned of a spot on Rayson Miller about a week before the season started, and said he'd love to be in a dugout again. There was rust to shake off, he said, but it came off faster than he expected. Now, he's one of the most dangerous players in District 7 and was a big part of why Rayson Miller went 18-3 in the regular season and gets a chance to advance to the championship in a decisive game three Tuesday. Bocklage's baseball career's continuation might hinge on a Tuesday win.
"We don't have any more to waste," Bocklage said. "We've got to do our thing. We've got to do what we did to them the whole season. We've just got to do our thing and shut them down."