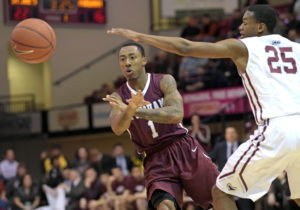 Wednesday night's Atlantic 10 men's basketball results in 140 characters or less.
Compiled by Anthony Sambrotto
La Salle 87 Duquesne 72
Price leads aerial attack for Explorers who shoot 48% from field.
Davidson 65 George Washington 63
Barham's 15 second half points lead Wildcats to narrow victory.
Fordham 80 George Mason 68
Rams destroy Patriots 19-7 down stretch behind Thomas' 25 and 17-19 at the line.
Rhode Island 75 UMass 59
 Martin's double-double helps Rams convert 35-27 edge on boards. 
Richmond 65 St. Bonaventure 54
ShawnDre' Jones leads 5 Spiders in double figures with 17 points.
Video courtesy of St. Bonaventure Athletics.