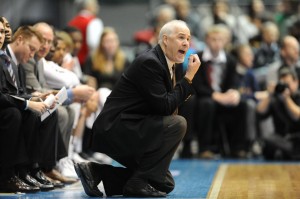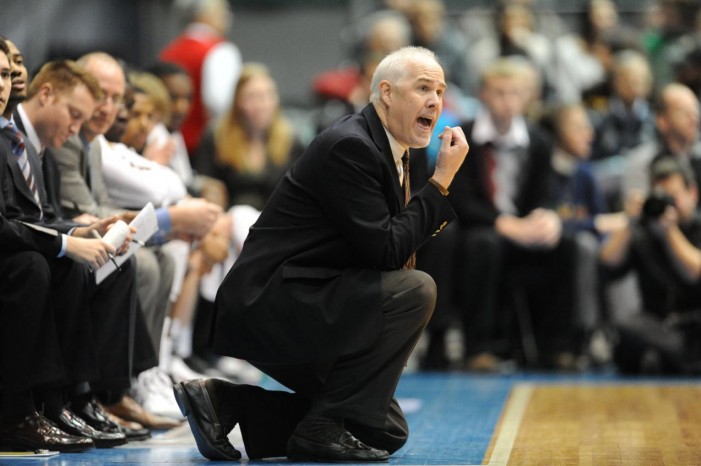 By Paul Gotham
ST. BONAVENTURE, NY — American Heritage defines momentum as the motion of a body equal to the product of its mass and velocity.
In basketball parlance that is equivalent to a pair of 30-point victories, exactly what Mark Schmidt and his St. Bonaventure Bonnies (7-3) take with them as they head south for a date with the nationally-ranked North Carolina State Wolfpack (8-2).
The Bonnies tattooed The Citadel and Cleveland State in a manner not see around these parts since Bob Lanier and his prodigious Chuck Taylors graced the hardwood of the Reilly Center.
Five Bonnies scored in double figures en route to a 97-57 thrashing of The Citadel, Wednesday night.  This followed SBU's 87-53 victory over Cleveland State four days prior.
"It gives us momentum," Schmidt said after Wednesday's win. "It makes our guys feel good about themselves."
The Bonnies posted season highs in field goal percentage (56.5 percent 35-for-62), three-point percentage (55.6 10-of-18), assists (26), steals (13), points and field goals made (35) in the win over The Citadel in front of 3,400 fans.
"It was a good victory against a team that we were picked to beat," Schmidt added. "We're playing well. We're sharing the ball. We're defending. It's easy to play at home, but it gives our guys confidence."
The Brown and White will trade the friendly confines for the PNC Arena in Raleigh, North Carolina.
"They (the players) know we're stepping up in levels, Schmidt continued. "We know we're going into an arena with 20,000 people, and it's all going to be red. We know they're very talented.  We're going to be the underdog on Saturday. Let's go and test ourselves. That's why our guys came to Bonaventure. Let's see where we stand."
NC State stunned the Bonnies last year at Rochester's Blue Cross Arena. C.J. Leslie took a full-court pass and scored at the buzzer for 67-65.  The Wolfpack eventually advanced to the Sweet Sixteen of the NCAA Tournament before losing to Kansas, 60-57.
This year, NC State has won their last four including an 80-63 win at home over Cleveland State. Most recently, they have defeated Stanford (88-79), Norfolk State (84-62) and UConn (69-65). They lost to then no. 3 Michigan (79-72) and Oklahoma State (76-56).
The Bonnies are 1-3 on the road with their only win coming at Cornell. 72-68.
"When you're on the road, no matter who you're playing, a win is a great win.  We're in no-lose situation. Let's play and see where it goes."
Pegged 11th in the pre-season Atlantic 10 conference poll, many expected the Bonnies to struggle after the graduation of NBA first-round draft pick, Andrew Nicholson.
SBU has responded with a balanced effort. Three Bonnies (Demitrius Conger, Chris Johnson and Eric Mosley) have taken turns with game-high points. Conger, Marquise Simmons, Youssou Ndoye and Dion Wright have either led or shared the lead in rebounding on an individual night.
"We have a long way to go. We're not playing perfect."
SBU put together 30-point triumphs in consecutive games for the first time since the 1969-70.  Hall-of-Famer Bob Lanier paced the Bonnies to wins over Baldwin-Wallace (96-63) and Loyola, Md. (96-52). Ironically, Lanier and Bona beat NC State, 80-68 in the second round of the 1970 NCAA Tournament. The Bonnies advanced to the Final Four that year.