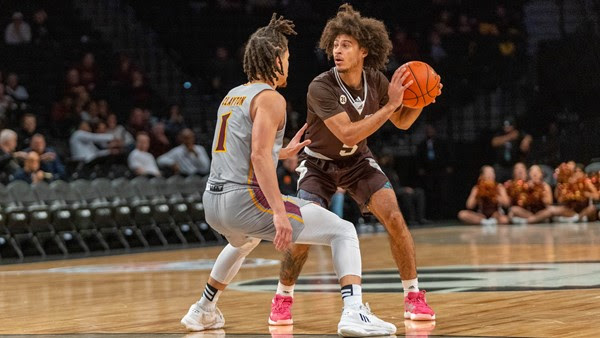 By KEVIN L. SMITH
The St. Bonaventure men's basketball team kicks off its 2023-24 campaign at home against non-league foe Longwood on Monday.
It's the first time the Bonnies and Lancers will square off in the respective programs' histories. It's also only the second time that Bonas will face a Big South opponent, with the first one a 79-72 win over Presbyterian at a 2007 tournament in New Mexico.
The Bonnies are 51-5 in home openers since the Reilly Center opened in 1966. The team has won its last two home openers, which came after a three-game skid. Prior to that, Bonas won 12-straight home openers between 2004 and 2016.
St. Bonaventure and Longwood will tip off at 7 p.m. later tonight. The game will be televised on ESPN+. Fans can also listen for free on the Bonnies Online Network.
Further details on Monday's contest between the Bonnies and Lancers can be found here.
ST. BONAVENTURE
The Bonnies are coming off a 2022-23 season that included a 14-18 record and a first-round exit from the Atlantic 10 tournament at the hands of Davidson.
With a stacked roster of returnees and transfers, Bonas looks to make some noise in the A-10 this season.
The team has been projected to finished in the top two or three of the conference this season. Bonas is also one of Andy Katz's top 10 underrated teams.
Bonaventure's roster has a trio of fifth-year starters with 1,000-career points, including newcomer Charles Pride (1,528 points), and returnees Daryl Banks III (1,382) and Moses Flowers (1,143). Mike Adams-Woods, also a newcomer, is close to 1,000 career points (955).
LONGWOOD
The Lancers went 20-12 (12-6 in conference play) last season, and received a high seed for the Big South tournament that included a first-round bye. Longwood, however, was quickly eliminated by Campbell in the next round.
This season, the Lancers were projected to finish fifth in the Big South preseason poll. Longwood returned seniors Walyn Napper (9.4 points-per-game) and DA Houston (7.2 PPG), but lost prolific scorers Isaiah Wilkins and DeShaun Wade to graduation.
One of the Lancers' biggest additions to their roster this season was Johnathan Massie from the transfer portal. The 2022 Southland Freshman of the Year is now with Longwood after spending two seasons at McNeese State. Massie averaged 10.5 points and 4.6 rebounds-per-game for the Cowboys last season.