By BILLY HEYEN
Pittsford Mendon capped an undefeated, 15-0 regular season by defeating Irondequoit on Saturday to claim the Section V Class A1 boys basketball championship. The Vikings were led by Charleston Southern-bound Jacob Shadders along with Jackson Green and Luke Hoyser.
Due to COVID-19, Section V couldn't name all-tournament teams for sectionals. Instead, this is the Pickin' Splinters all-tournament team for Class A1, starting with the MVP, Shadders.
MORE: Pittsford Mendon completes undefeated season
MVP: Jacob Shadders, Pittsford Mendon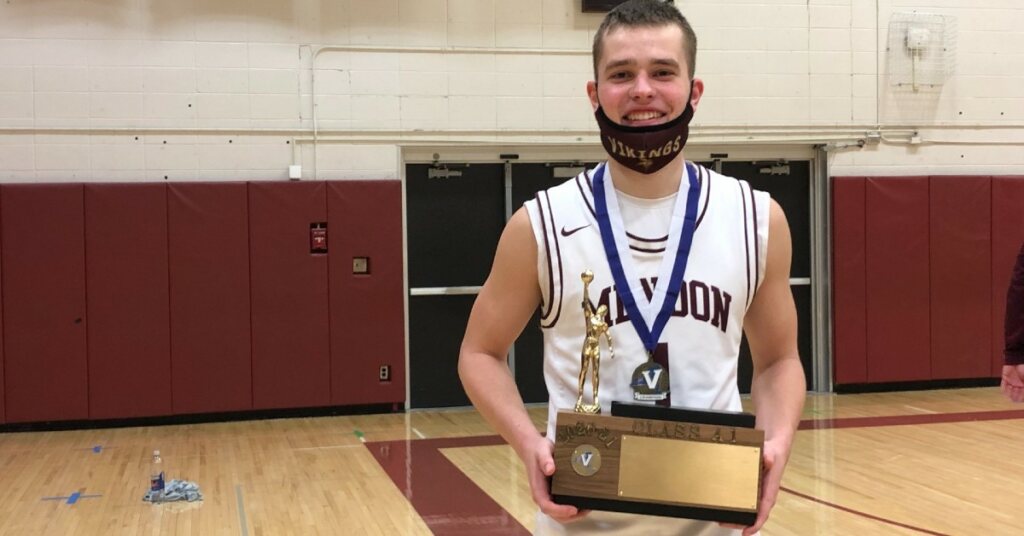 Shadders capped off his Mendon career with 16 points, 10 rebounds and seven assists to claim the sectional title. He came out firing with nine early points, hit two deep 3-pointers in the third quarter and dished out three back-breaking assists in the fourth while drawing two charges, too.
Mendon's point guard was also the key to the Vikings' lockdown defense, with Shadders getting the Mo McKinney assignment in the semifinal and sometimes guarding Irondequoit point guard Ryan Heath in the final. Both struggled to find open looks when guarded by Shadders.
Shadders finishes his Mendon career with 1,333 career points, second in school history behind former Syracuse University player Greg Monroe.
"He's meant everything to this program," Mendon's Luke Hoyser said.
MORE: Jacob Shadders caps career with second sectional title
Jackson Green, Pittsford Mendon
Green, a sophomore, entered Saturday looking to match his senior sister Lexi's sectional title from the night before. A 17-point outing later and the younger Green had done just that.
In the quarterfinal round against Churchville-Chili, Green also scored 17 points, and in the win over Leadership in the semifinal, Green dropped 18.
Green's regarded as "the future" at Mendon, and with Shadders' career now done, Green's going to see an even bigger role moving forward.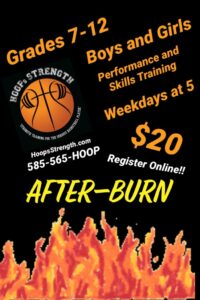 Luke Hoyser, Pittsford Mendon
Earlier in the year, Mendon head coach Bob Nally said he was glad this season could take place at all because he usually has one senior who steps up in a big way. In 2021, that was Hoyser.
The forward, Shadders' real-life best friend, was a huge component to Mendon's pick-and-roll game all year. He scored 19 in the quarterfinal, 11 in the semifinal and nine points in the final, all in a hot start in the first half.
"It was super special," Hoyser said after the title game. "Never take anything for granted. I knew it was gonna be a good season. I didn't know it was gonna end like this, but it's a great feeling."
Keenan Robertson, Irondequoit
Robertson missed time during the season, but he was back to full dominance in time for his final sectional run. He scored 15 points with nine rebounds against Mendon to close out a strong high school career.
Dunk for Keenan Robertson brings @WIEagles @itownhoops within 15-12 in the first. @PickinSplinters pic.twitter.com/hqUhJ5KQx1

— Billy Heyen (@BillyHeyen) March 13, 2021
In the semifinal, Robertson scored 20, and that came after a season-high 31 points in the quarterfinal against Brighton.
Jackson Kulik, Webster Thomas
Kulik led Webster Thomas with 22 points in the sectional semifinal loss to Irondequoit. That came after 25 points in the opening-round win over Brockport.
The Titans entered the year having lost their all-time leading scorer, Andrew Mason, to graduation and a spot on Division II NCAA Tournament team Daemen's roster. But the 6-foot-6 Kulik played big all year to lead Webster Thomas to the No. 2 seed in Class A1, and he had a memorable game-winner against Penfield during the year to achieve such a seed.
Other notables
Rowan McGwin, Irondequoit: A University of Buffalo football commit, McGwin scored 14 points in the sectional final, second only on his team to Robertson's 15.
Maurice McKinney Jr., Leadership: McKinney scored 22 points in the quarterfinal and another 18 in the semifinal loss to Mendon.
Sean Smith, Leadership: Smith hit nine 3-pointers in the quarterfinal en route to 30 points.
Jaleel Davis, Irondequoit: In addition to shutdown defense, Davis averaged 11.3 points per game in the Eagles' three sectional contests.
Caleb Lewis, Pittsford Mendon: Lewis scored 15 points on his 16th birthday in Mendon's semifinal win over Leadership, and he added the game-sealing free throws in the final.
Andrew Quinn, Webster Thomas: Quinn scored 16 first-half points in the Titans' quarterfinal win.
Aiden Lazenby, Brighton: 17 points from Lazenby weren't enough in the quarterfinal against Irondequoit.