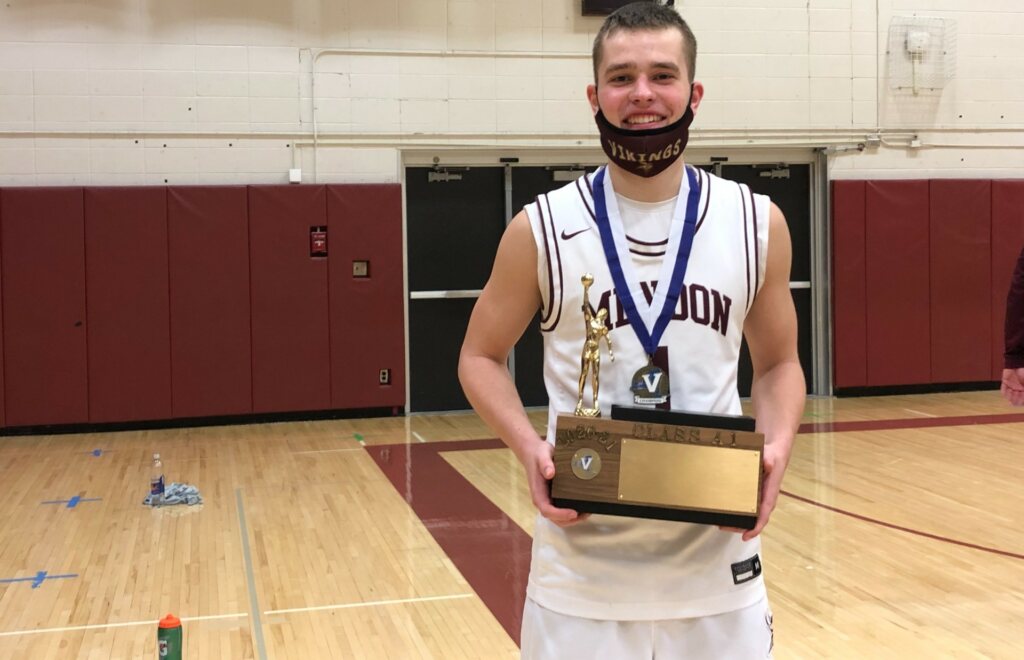 By BILLY HEYEN
PITTSFORD, N.Y. — Jacob Shadders was 14, a high-school freshman, when in his words, Pittsford Mendon "gave him the keys to the car."
Vikings head coach Bob Nally said he would've given Shadders the keys when he was 12, if he could've.
"I knew (at 12) he was gonna be really, really special," Nally said. "Honestly, before that. He's mature beyond his years. He's a great leader. He's just the total package."
Shadders drove Mendon as well as anyone in program history, and he capped his career off with 16 points, 10 rebounds, seven assists and a Class A1 Section V championship Saturday night. It makes Shadders the only player in Pittsford Mendon history to win two sectional titles in boys basketball, and he'll finish as the Vikings' second all-time leading scorer (behind Greg Monroe) and third all-time assists leader.
MORE: 'Nothing that turned into something': Mendon boys win Class A1
Basketball will continue for Shadders next year at Division I Charleston Southern University, but when it comes to Pittsford Mendon, Shadders' legacy is secure.
"He's meant everything to this program," Shadders' classmate and teammate Luke Hoyser said. "Probably the best player to come through this program. The best player I've ever played with. He's incredible."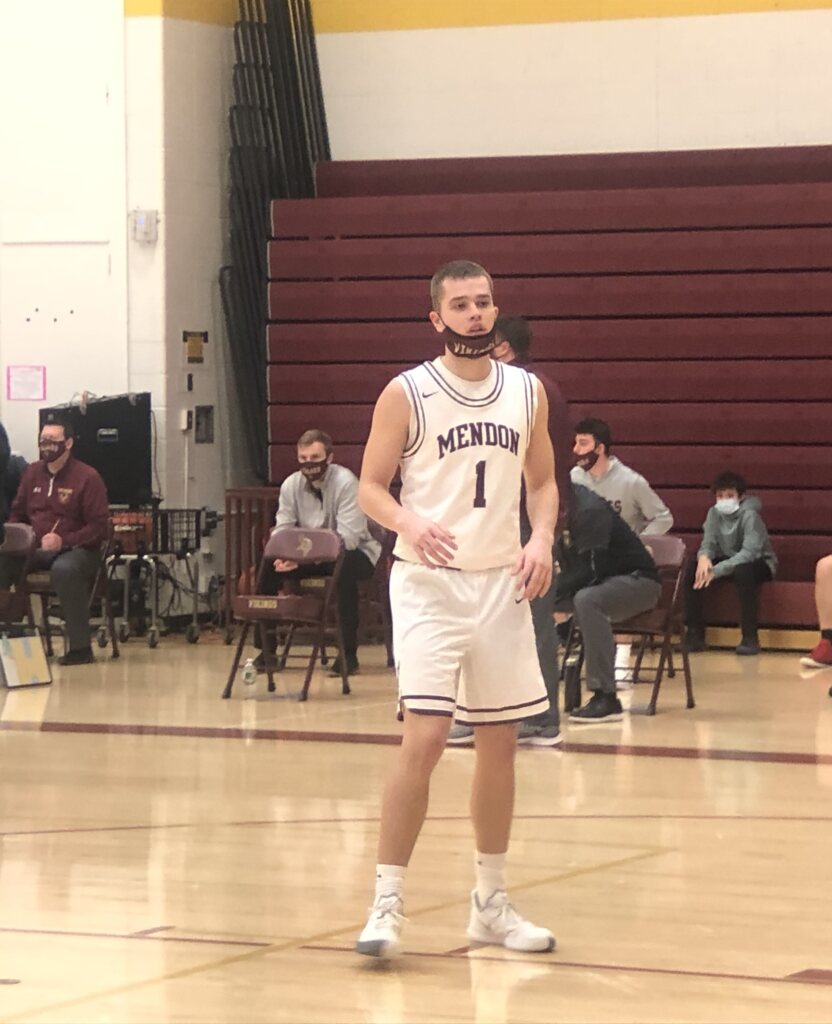 Nally knew Shadders was special in middle school, so by the time the point guard made it to the Mendon varsity as a freshman, Nally's coaching staff was ready. They changed the whole system because of Shadders.
No longer did they have to micromanage the offense. Instead, Mendon freed its players to play to their fullest potential.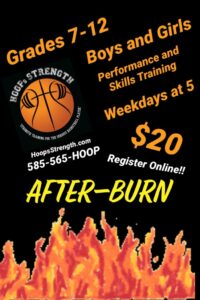 "We knew we had the IQ and the kids coming up through and the other pieces that we could let these guys run the show," Nally said. "… When you get a guy like him, it makes coaching easy."
Shadders was a key piece of the Mendon team that made it to the state finals in 2018-19, but his junior year was the breakout season that put the rest of Section V on notice, as Shadders averaged 22.9 points, 7.5 rebounds and 6.9 assists per game and made All-Greater Rochester.
That season ended in disappointment for Shadders and the Vikings, though, with a last-second heave in the sectional semifinal against Irondequoit barely missing the mark from halfcourt. COVID-19 changed the sporting landscape only days after that loss, but Mendon kept working for one more chance.
"I had the full confidence in this group, and I know they had the confidence in this success as well," Shadders said. "That's why we showed up every day in the offseason. That's why guys put in the work, because they knew that this could be the outcome."
Saturday, Shadders would play the final game of his high school career no matter what since the state tournament was canceled due to the pandemic. He didn't waste any time, scoring or assisting on seven of the Vikings' first eight points.
In the first half, Shadders nailed a right-wing 3, cut backdoor for a layup, drove left for another and nailed a floater.
"We have the utmost confidence in him," Nally said. "That feeds into the rest of the team. They know that we've been trusting him for four years, so there is no doubt in anyone's mind that he is in charge. When you come into sectionals and you feel like you have the best player in Rochester, you're confident."
Floater for @jacob_shadders , who has 9. @mendonbball @pickinsplinters pic.twitter.com/ErYe9OshUD

— Billy Heyen (@BillyHeyen) March 13, 2021
Shadders made just two shots in the second half, but both were deep, statement-making 3s in the third quarter. The first came off a handoff from Jackson Green to put the Vikings up 38-32, and then the second expanded the lead to 43-35. Immediately after that top of the key triple, Shadders slid his feet to draw a charge on Irondequoit star Keenan Robertson.
In the fourth, Shadders was only called upon to make one foul shot. Instead, he distributed the ball, handing out three assists, including on Brady Miller's dagger 3.
"He's such a great facilitator and he knows how to move the ball around," Green said. "Even more important, he knows how to win."
Shadders to @Brady_Miller23 , 53-47 @mendonbball with a minute left. @PickinSplinters pic.twitter.com/bgSgGxvl1r

— Billy Heyen (@BillyHeyen) March 13, 2021
After the final buzzer, after Shadders had chest-bumped his best friend Hoyser and hugged everyone on the Mendon sideline one-by-one, he cried. Mendon's point guard didn't try to hide his tears. 
For four years, Shadders worked every day to take Mendon to its desired destination. One final time, Shadders proved Nally had handed the keys to exactly the right player.
"Everything that I've put into this program, everything that this program's given to me," Shadders said of what brought on the tears. "… Just all the guys that I got to play with, all the success that I've had in this program. It's just everything that went into it, and it's really, really an incredible experience."
Pittsford Mendon All-Time Leading Scorers
Greg Monroe – 1,473
Jacob Shadders – 1,333
Chris Shalvoy – 1,236
Vaughn Boler – 1,125
Jerry Maxwell – 1,055
Dan Cook – 1,019
Shun Bassett – 988
Nick Billow – 963
Harold Davis – 872
Travis Saunders – 795