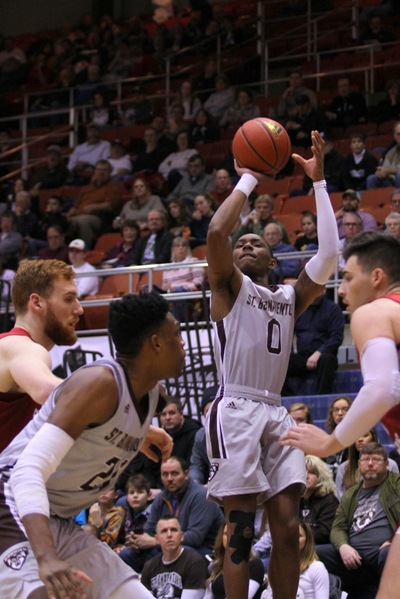 By CHUCKIE MAGGIO
Jalen Adaway was still in full uniform when he decided his night on Bob Lanier Court wasn't finished. He started at the free throw line and shot for a bit before moving to the opposite 3-point arc, shooting jumpers from the exact spot he'd missed a buzzer-beating overtime bid 45 minutes prior.
Adaway led all scorers during one of St. Bonaventure's most frustrating nights of its sterling regular season, but the last shot stayed with him. He counted the consecutive makes out loud, sinking 11 straight from the place Dayton handed Bonaventure its first home loss of the season, 55-52, snapping Bona's three-game win streak.
SBU's league-leading defense did enough to secure a halftime lead over the Flyers, as Bona swiped six steals as part of Dayton's 11-turnover frame. But the Bonnies missed 24 of their 31 second half field goal attempts, unable to complete the comeback after Flyer star Jalen Crutcher fouled out with 3:51 remaining.
"I just thought we were sluggish," Bonnies coach Mark Schmidt remarked. "Didn't have a lot of energy, but we need some rest and hopefully we can bounce back on Friday."
Bona held a 27-22 lead with 1:32 remaining in the first half but was held scoreless for 4:15 of game action, during which the Flyers opened an 11-0 run to take a six-point lead. Dayton made eight field goals in the first 10 minutes of the second half to Bona's three, leading by as much as 12 points.
Bona shot a season-worst 30 percent (18-of-60) from the field and scored a season-low 52 points. The last time Bona shot 30 percent or worse was the 2020 regular season finale at Saint Louis.
"You don't wanna make any excuses. We're not in this business to make excuses," Schmidt said. "Our job is to go out there and play as well as we can… I thought we played really hard; we just didn't do a good job executing, making shots, and like I said, we were sluggish. It seemed like we were heavy-legged. Four games in nine days, that's a lot to ask. But at the same time, give Dayton credit; they played well enough to beat us."
Neither team handled the ball crisply, as Dayton committed 10 second-half turnovers and managed six points in the last 6:15. An Adaway 3-pointer with 4:50 remaining cut Bona's deficit to four, while Dom Welch's corner 3 with 3:05 to play made it 52-50.
Dayton guard Ibi Watson furthered Bona's opening by splitting a pair of free throws after the sides traded baskets, giving the Bonnies two chances at overtime in the final minute.
Adaway took both tries, the first an off-balance look off an inbound under the basket that rimmed out and the second a wing attempt that bounced off the iron.
"I thought we had a great look… We run those special plays," Schmidt assessed. "In terms of getting an open look, I thought we got the look that we wanted. They knew we needed to hit a 3 so it's always hard to get really open looks, but I thought that was a really good look and he made a good stroke on it and just missed it."
Adaway scored 17 points on 7-of-15 shooting, including 3-of-7 3-point shooting. Osunniyi was the only teammate to join him in double figures, scoring 10 points in addition to his 15 rebounds. Kyle Lofton was held to nine points, Dom Welch eight. Jaren Holmes went scoreless.
The Bonnies, of course, retained the No. 1 seed in this week's Atlantic 10 Tournament and will play the winner of Thursday's second round game between No. 8 Richmond and No. 9 Duquesne in Friday morning's quarterfinal at VCU's Siegel Center.
Schmidt said Bona will have Tuesday mostly off, reviewing film and focusing on its mistakes. The current priority, he mentioned, is rest.
"We've been down before and we've come back," Schmidt noted. "We were down 12… we had a shot at the end to tie the game. I just thought that they did a good job keeping us out of the paint, and at times we took quick shots. But it was hard to get it into the paint and drive and kick. They beat us in the paint 24-20, which is usually the other way around.
"We couldn't make any shots. We had some open looks, and as you know in basketball, you make a couple and then the rim looks a little bit bigger. You start missing, the rim shrinks a little bit. We were sluggish and seemed like we were tired."