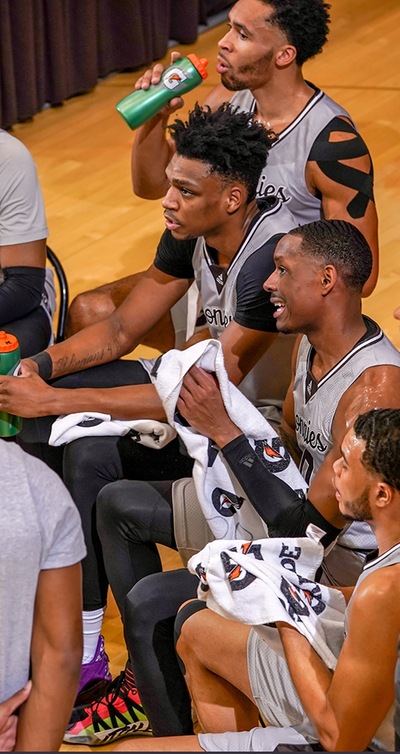 By CHUCKIE MAGGIO
Dominick Welch cracked a smile, knowing the question was coming: What is it, exactly, that causes him to have some of his most prolific games against George Mason? If he knows, he's not revealing any secrets.
"I don't really think it matters what the team is. We just go out there and try to play to the best of our abilities," Welch remarked. "But it just seems that every time we play this team, me and (Kyle Lofton) always have good games and have good success. I don't really know."
Welch had more success on Saturday afternoon, making his first eight shots as St. Bonaventure stormed to a 48-28 lead with 18:26 remaining at the Reilly Center. The Bonnies shot 68 percent in the first half with the help of Welch's four 3-pointers, posting 44 points before halftime.
George Mason got its offense together in the second half, actually outscoring Bona in the period, but never closed within 10. Bonaventure won 84-67, staying in first place in the Atlantic 10 and improving to 9-1 for the first time since 1969-70.
Bona sprinted to an 11-3 lead over the first 5:35, GMU's only points coming on Javon Greene's desperation bank shot on the Patriots' first possession.
Welch had 12 of the Bonnies' first 30 points, with three layups and two 3-pointers. Jaren Holmes was the only other Bonnie to hit a 3 but the brown and white made up for that by dominating inside. Osun Osunniyi was a rebound away from a first half double-double, hitting four of his six field goals and both free throws that period to kickstart an 18-point, 15-rebound day.
The Bonnies were more physical than a physical Patriots team, outrebounding them 38-27 and doubling them up 48-24 in the paint.
"'Shoon really was the catalyst in the first half," Bonnies coach Mark Schmidt said. "We made an emphasis to get the ball to 'Shoon early and often. He played really well. He's a confidence type of guy offensively and when he started going, made some moves and up-and-unders, he was rebounding the ball."
The Patriots, largely deterred in the paint, made seven 3-point tries in the final 20 minutes. Tyler Kolek and Jordan Miller were a combined 5-of-9 from long range and trailed by just 12 points with 10:25 left.
"Going into the game we knew they had good players, they had a good inside game," Schmidt noted. "We have to double down, and I think we relaxed a little bit. They got some penetration and, I say it all the time, it's easier to shoot threes stepping in. We allowed too much dribble penetration and that's something that we need to work on."
While the Bonnies wavered defensively, their offense stayed on course. Kyle Lofton reached 20 points for the second time in four games, while Holmes supplied a quiet 14. Holmes answered a Kolek 3-pointer with a 3-pointer himself on the next possession, then hit two foul shots on the following trip to extend the Bona lead back to 16.
"I thought we played harder and better defensively in the second half," Patriots coach Dave Paulsen said, "but then they made some timely buckets and offensive rebounds and stuff like that."
It was SBU's first 80-point showing since Jan. 6 against St. Joseph's, a sign that even when the opposition shoots the ball well, its offense can match.
"The game was won in the first half," Schmidt assessed. "Our offense got a little better today. It's still not clicking the way we need it to click, but we got the ball inside, we got the ball to the basket… We try to own the paint with the dribble or the pass. We're getting better at it. We've gotta continue to work at it."
Schmidt acknowledged that he wasn't aware of the significance a 9-1 start carries at Bonaventure but said being the first to accomplish something in a half-century is something the Bonnies will eventually cherish.
"I'm not really part of that stuff, but it's a credit to our players," Schmidt said. "Bonaventure basketball has rich tradition and great teams, great coaches. And for our team to have the best record in the history of the program up to whatever this is… that's a credit to the guys.
"It's still early; we've gotta continue to work. We can't get satisfied. But it's something to look back on. When 'Shoon's 55 years old or 58, looking like me, it's something he can look back on and appreciate. But right now as you go through the season, what we're worried about right now is St. Joe's."