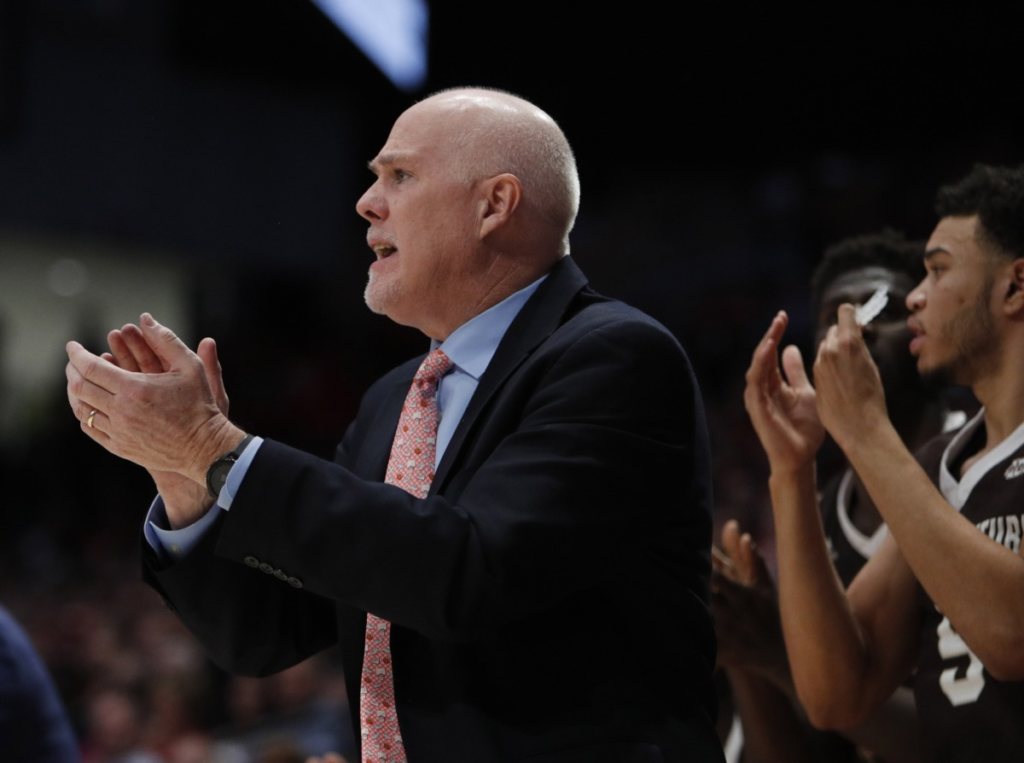 By CHUCKIE MAGGIO
It was another Steel City escapade for the St. Bonaventure men's basketball team on Saturday night.
For the fourth straight road game at Duquesne, the Bonnies found themselves in a one-possession matchup in the final minute. For the fourth straight time, and fifth consecutive trip overall, they left Pittsburgh winners.
The Bonnies, down a point at halftime, outscored the Dukes 34-29 in the second half to secure a 65-61 victory at La Roche University. The win, their sixth in a row after a loss in the Atlantic 10 opener, improved their record to 8-1.
It was a streaky performance from the start, as the Bonnies answered an early 12-4 deficit with a 17-0 run over the next 6:51 and led 21-12 with 7:22 remaining in the first half. Dominick Welch, well past a two-week shooting slump, started the run with a 3-pointer and capped it with a jumper as well.
The Bonnies conducted that run, in which Duquesne missed five 3-pointers, without Osun Osunniyi; Osunniyi was whistled for two fouls in the first 1:41, sidelining him for the rest of the half. Jalen Shaw, who'd played just 35 minutes in seven games, scored a career-high seven points and grabbed three rebounds in an impactful relief effort.
Duquesne, however, answered as it's known to. The Dukes scored the next five, endured an 8-2 surge that extended SBU's lead to 10 and scored 13 of the last 15 points before halftime. Kyle Lofton had been charged with a second foul with 5:08 remaining, sitting him down near Osunniyi, and the Dukes took advantage by making all four of their shots in his absence.
Point guard Tavian Dunn-Martin drew a foul while attempting a 3-pointer with two seconds left in the frame and made all three shots, snagging a 32-31 lead entering the locker room.
"We dealt with adversity," Bonnies coach Mark Schmidt remarked to the Olean Times Herald's J.P. Butler. "It was a physical game, a lot of pushing and shoving. It's typical Atlantic 10; it was just hard-fought."
Unlike Wednesday's contest against VCU, when the Bonnies stormed out of the break and ran away with a double-digit win, the adversity didn't end after the first 20 minutes. Neither side led by more than six in the choppy conclusion, which included 18 personal fouls and 3-of-19 combined 3-point shooting.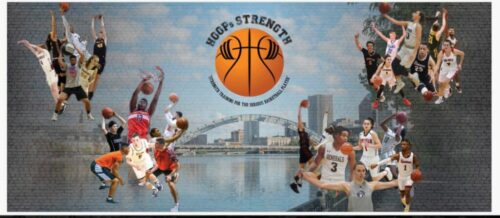 Duquesne didn't lead after Bona tied the game with 10:29 to play, but the Dukes didn't go away. The teams each shot under 40 percent, separated by just decimal points (37.9 percent for Bona, 37.5 for Duquesne). Duquesne grabbed just one more rebound and committed just one more turnover.
The difference? Bona forward Jalen Adaway. Adaway, who didn't start the game after battling a migraine and fatigue, was under the weather and didn't attend morning shootaround but still found his familiar spot above the rim.
The junior first broke a tie at the 2:13 mark by finishing a close jumper over Dukes big Marcus Weathers and drawing a blocking foul, converting a traditional 3-point play on the free throw. He then followed a missed Lofton leaner with a tip-in dunk, much to the chagrin of opposing coach Keith Dambrot, who argued for a goaltend call to no avail.
Adaway blocked Dunn-Martin's jumper on the ensuing possession and chased down Ryan Murphy for another swat with 36.5 seconds left. Duquesne cut Bonaventure's advantage back to two with 23 seconds on the clock, but two perfect free throw trips by Adaway and Lofton, along with a defensive stop on Murphy's 3-point attempt, sealed the game for Bona.
"We just knew it was crunch time," Adaway said, "and I just tried to do what I could to help us come out with the win, whether it was just grabbing a couple rebounds or making those foul shots. I just wanted to win and we all just wanted to win, so I tried to do whatever it took."
Despite coming off the bench for the first time this season, Adaway played 36 of a possible 40 minutes and recorded a 12-point, 10-rebound double-double. He acknowledged after that he was still not feeling his best, but once again earned the respect of his coaches and teammates.
"He's a gamer," Schmidt commented. "We wouldn't have won without him. He was questionable, he wasn't feeling well and he just showed some character, showed some toughness and made those plays at the end. Made some foul shots and grabbed the rebound. He played really well for us. Like I said, we wouldn't have won without him."
The Bonnies overcame not only Lofton and Osunniyi's foul trouble and Adaway's ailments but a 22-of-56 shooting night. Jaren Holmes was an uncharacteristic 3-of-14, while Adaway missed seven of his 11 attempts and Alejandro Vasquez missed his three field goal tries in 14 minutes.
Bona showed its defensive mettle again, holding the Dukes to 36 percent shooting including just five 3-point makes in 23 opportunities. The brown and white won the board battle 42-35, collected five blocks and five steals and forced Duquesne into a negative assist-to-turnover ratio (10 assists, 12 giveaways).
"That's the formula," Schmidt noted. "We didn't shoot the ball great… but you defend, you rebound, we did a decent job especially in the second half taking care of the basketball. That's the formula. Hopefully our offense gets going, our shooting gets going, but you still win. The staple of any good program is defense and rebounding, and that's what we've been doing thus far. We need to continue to do that."
Lofton led the Bonnies with 17 points on 6-of-14 shooting, joined in double-figures by Welch, who contributed 14, and Adaway, who scored 12. Holmes grabbed 10 rebounds, a basket away from a double-double.
The Bonnies have compiled their best start since 2000-01 and their best A-10 start since 1982-83. They have two games on second place UMass in the win column; the Minutemen play Sunday.
"We made the plays when we needed to make the plays," Schmidt said. "We showed some toughness, mental and physical toughness. It was good.
"It wasn't a pretty game on either end for both teams, but we found a way to win. That shows a lot of character, shows a lot of competitiveness. And the guys, we've got some tough guys that when the offense isn't going well they're defending, they're rebounding. That's what you've got to do in this league to win."