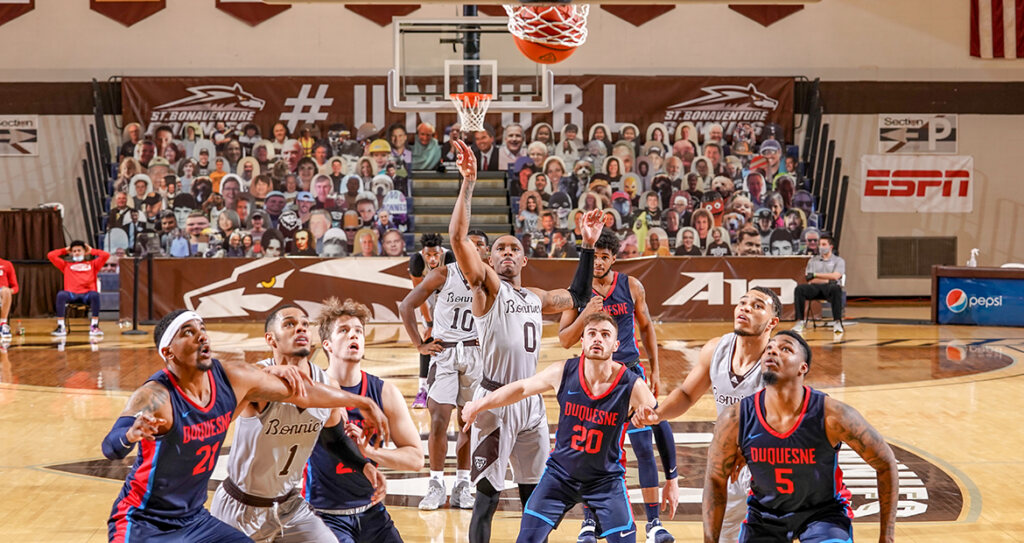 By CHUCKIE MAGGIO
The St. Bonaventure Bonnies scored just 62 points on Friday night against Duquesne, yet Kyle Lofton was two points shy of 30.
Jaren Holmes entered the nationally televised clash with the Dukes with one of the hottest hands in college basketball, but the Bonnies' fourth consecutive win was Lofton's chance to remind his team he could still take over a game.
Lofton made eight of his 16 field goal attempts, seven of his makes coming in a 23-point second half, to lead all scorers. The junior captain smashed his previous season high by 11, made and took the most free throws (12-of-14) of his career and recorded 20-plus points for the first time since Feb. 11, 2020 at St. Joseph's.
St. Bonaventure shot just 36.4 percent from the field, made two of their 16 3-point attempts and saw junior guard Dominick Welch go scoreless in 23 minutes. The Bonnies still won 62-48, improving their record to 6-1 (4-1 in the Atlantic 10) and grabbing sole possession of the league lead.
Bona relied on its defense in a pedestrian first half. It scored just six points over the last 5:30 before halftime but, guided by two Alejandro Vasquez 3-pointers and its ability to hold the Dukes scoreless for over five and a half minutes in the middle of the period, led 27-23 at the break.
Bonnies coach Mark Schmidt expected a physical test from the Duquesne frontcourt, anchored by power forward Marcus Weathers and center Michael Hughes.
The Weathers-Hughes duo combined for 10 first half points, with point guard Tavian Dunn-Martin matching Weathers' six-point stanza. But the Dukes failed to get to the foul line for 25:05 of game time, while Bonnies center Osun Osunniyi blocked three of his first four shots in the first.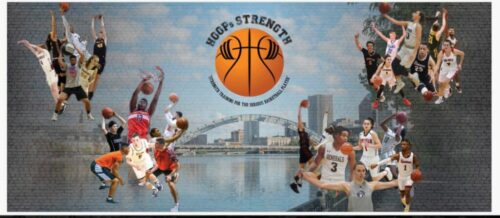 The Bonnies collected two fewer rebounds but crashed the glass to the tune of 14 offensive boards and made more use of those extra possessions, scoring 16 second chance points- 13 more than Duquesne (3-5) tallied.
"We challenged our guys," Schmidt remarked. "It's like, (Rhode Island) got us, now we have a second test and we've gotta past that test. And I thought we did."
"You want to be physical, but you can't be stupid," Schmidt added. "You've got to be physical but you've got to play within the rules. I thought we did a really good job. They shoot nine foul shots for the entire game and I thought our guys played hard, but they played legally. They took charges. That's good to see.
"You can easily get into a wrestling match and get those cheap fouls but I thought our guys did a really good job of playing the game legally."
Lofton led the team in scoring twice before Friday night, but averaged 14.5 points in those outings. He emphatically led the offense against Duquesne's "D," attacking the basket for three layups and eight trips to the line, including two and-ones. He made seven of Bona's 11 baskets in the second half of the third-best scoring performance of his career.
The Hillside, N.J. native controlled the game when Bona sorely needed it.
"Lately I haven't been playing the best basketball," Lofton acknowledged, "but I tell myself every day, 'I put in the work; I put in the effort.' Trying to just stay confident and just keep attacking. My team leans on me and I'm gonna just keep doing my best to just help them win."
Vasquez, for the first time in a quiet start to the season, was a significant factor with his shot. The sophomore, who entered the contest with just 22 total points in 87 minutes, scored 11 points between swishing two 3-pointers and making five of his six free throws.
Vasquez was a third scorer the Bonnies welcomed. Osunniyi contributed eight points along with 12 rebounds, but Adaway uncharacteristically missed five of his seven field goal tries and Welch missed all three of his. Anthony Roberts missed his second consecutive game due to personal reasons, so Schmidt was glad to see Vasquez, whose season high was six at Rhode Island, play a scoring role.
"He gave us a lift in the first half," Schmidt commented. "We wouldn't have the lead going into (halftime) if it wasn't for A.J. He hit two big shots. We need those guys, coming off the bench and giving us a lift. It doesn't necessarily have to be scoring all the time, but those guys have to come in and give us a lift. A.J. was that guy tonight."
VCU and UMass have opportunities for wins this weekend, facing Dayton and Fordham respectively, but the Bonnies have an outright conference lead for at least one evening. Though their offense left plenty on the table on national television, the team heads into a murky stretch (will the Bonnies play Richmond and Saint Louis, both currently on COVID-19 pause, next week?) with another win under its belt.
"I thought Kyle was tremendous. I thought 'Shoon really got his legs back; he had some bounce, his rebounding he was a foot over everyone else. He had four blocks," Schmidt recalled. "We were really active. To hold that team to 48 points, 35 percent field goal percentage, to hold Martin to… six points, it was a tremendous defensive game.
"Offensively it was a struggle, but thank goodness we had Kyle and he hit some big shots for us."