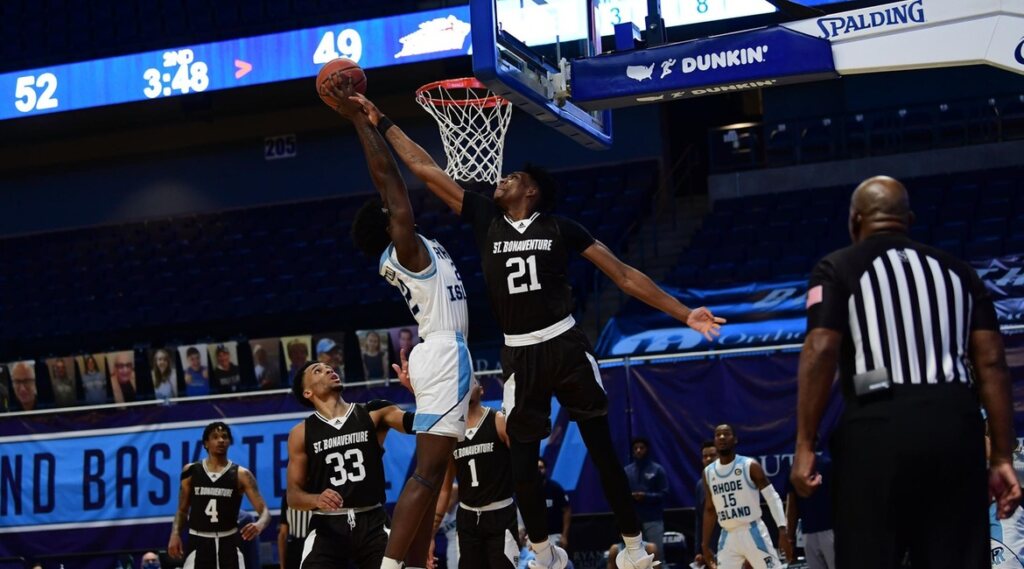 By CHUCKIE MAGGIO
Kyle Lofton stayed down in the Ryan Center paint an extra moment or two, lamenting his second turnover in 75 seconds. Mark Schmidt stood on the sidelines crestfallen, watching his team's Atlantic 10 opener against Rhode Island slip away with a flurry of miscues and missed layups. 
The Bonnies faced adversity during their 11-day layoff from game action, with sophomore forward Justin Winston informing the team after its Christmas break that he was leaving the program and junior guard Jaren Holmes sidelined with an ailing back. They fought through the shorthandedness, however, to grab a halftime lead and survive an 11-0 URI run to start the second half.
Bona found itself in a tie game with 5:24 remaining but committed four turnovers after that point, allowing Rhody to go on a game-defining 7-2 run and notch a 63-57 victory on Wednesday evening. Rhode Island improved to 1-1 in A-10 play while Bonaventure lost its conference opener for just the third time in the last 10 seasons.
"It looked like we had two weeks off," Bonnies coach Mark Schmidt told the Olean Times Herald in a phone interview. "It was sloppy."
Holmes started the game and played for 1:29 before being substituted for Alejandro Vasquez and not returning. But the Bonnies, who welcomed junior transfer Anthony Roberts for an eight-point debut and received an SBU-high 12 points from junior captain Jalen Adaway, overcame a unkempt first half that included nine turnovers and 36.4 percent shooting to lead 29-27 at halftime.
Defensively, the Bonnies held leading Rams scorer Fatts Russell without a basket for the first 13:28 and kept URI scoreless altogether for the last 2:54 of the first half. Rhody committed 13 turnovers in 33 possessions, made just one 3-pointer and missed five of its nine free throw attempts.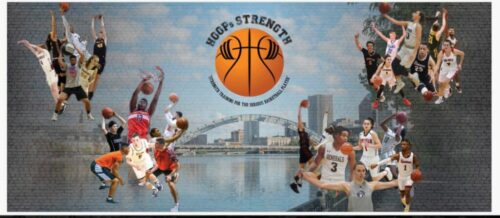 Offensively, Kyle Lofton scored 11 of his 13 points in the first half and Adaway dished three first-half assists to go along with six points in each period. The Bonnies were sharing the ball, albeit not always crisply, assisting on eight of their 12 made field goals in the opening stanza.
If Bona could clean up its turnovers, rebound better (the Rams corralled nine offensive rebounds in the first) and get a scoreless Dominick Welch going, it figured to have a strong chance of a road victory. The Bonnies didn't truly accomplish any of those tasks.
Bonaventure turned the ball over four times in the first five minutes of the second half, didn't score for 5:28 and allowed URI to rip off an 11-0 run. The Bonnies recovered, answering the Rams' burst with a 10-0 run of their own, but Rhody regained the lead and made five of its next six field goals, including an Antwan Walker 3-pointer. 
"They pressured us, but we had a lot of unforced turnovers," Schmidt remarked. "It just looked like we were a step slow. We got heavy-legged at times, we missed a lot of bunnies. We didn't take the ball to the basket hard enough; we only got to the foul line 10 times. I think we're rusty; you can tell. There was no flow to our offense, and our guys struggled. And so did Rhode Island… it's tough."
Walker's three-pointer preceded a crushing blow for Bona, when junior center Osun Osunniyi fouled out with 3:47 remaining and the Bonnies down three.
Osunniyi was whistled for just one foul over the first 17:58 before he was charged with an offensive foul with 2:11 to play in the first half. He picked up another offensive foul just 56 seconds into the second half, his third personal, but stayed in the game until his fourth foul with 15:21 remaining. He had returned to action for just over four minutes before his fifth and disqualifying foul.
The 6-foot-10 Osunniyi finished with eight points and four rebounds in 27 minutes, the first single-digit scoring performance and lowest rebound total of his season. Jalen Shaw made both of his field goal attempts, grabbed three boards and had an assist in 13 minutes in Osunniyi's absence.
The Bonnies hung around, cutting the deficit back to three on Shaw's layup with 2:41 to play and using a Welch 3-pointer to narrow the advantage to four points with 18 seconds left. But Russell and Jeremy Sheppard combined to make seven of eight foul shots over the final 1:07 to secure the victory.
Lofton and Adaway teamed up to score 25 points on 11-of-21 shooting. The rest of the Bonnies shot 32.5 percent (13 of 40).
The road trip doesn't get easier for the Bonnies, who play Richmond on Saturday.
"I thought the kids fought," Schmidt commented. "It's gonna be a difficult year and we all understand that. But there's no moral victories; you try to win every game. We just didn't have enough. We didn't play well enough to deserve to win today."