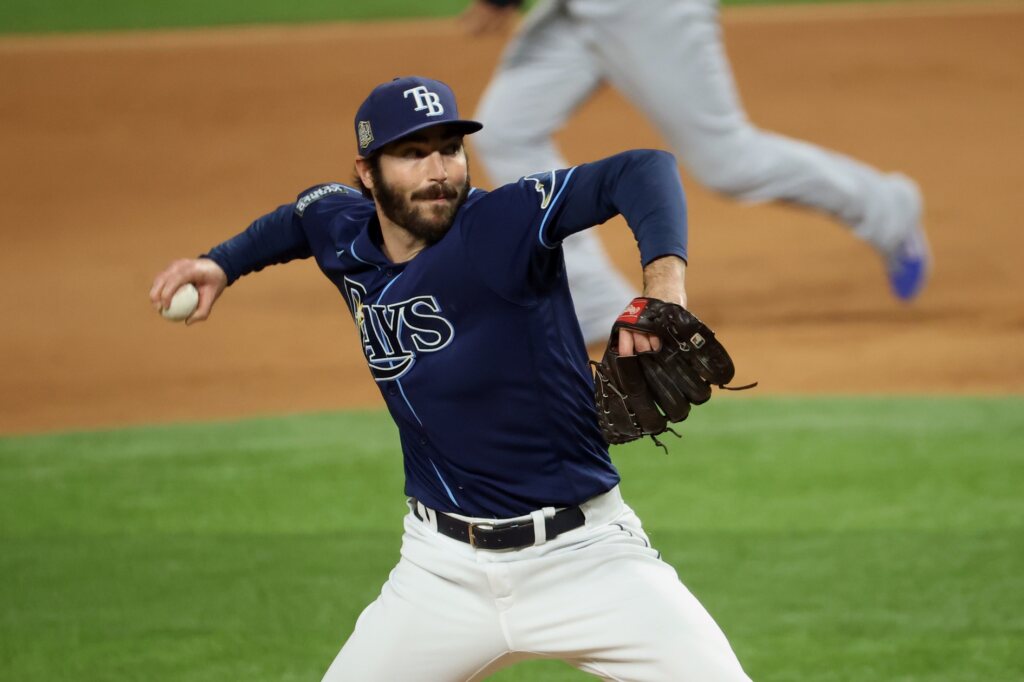 By CHUCKIE MAGGIO
To amend a mid-2000s Rochester Community Baseball marketing slogan, "Spend Time With a Wing, Before They're Pitching in the World Series."
Two former Rochester Red Wings were on the winning side of Saturday night's stunning World Series Game 4 in Arlington, including the victorious Tampa Bay Rays pitcher. Brett Phillips's single and Randy Arozarena's improbable winning run, complete with a stumble around third and two Los Angeles Dodgers fielding miscues, ensured there will be at least two more games in the best-of-seven series.
Rochester claims a trio of rostered players this Fall Classic (Aaron Slegers, who pitched in three games this playoffs, was left off Tampa's World Series roster). All three appeared in the late innings of Saturday's ballgame.
Seventh inning: 
Nick Anderson, who pitched in 39 games for the 2018 Red Wings and amassed an 8-2 record, entered the game with runners on second and third and one out, Tampa clinging to a 5-4 lead. Anderson was the winning pitcher in the Rays' Game 2 victory, allowing one run on one hit in 1.1 innings while second baseman Brandon Lowe's second home run of the night held up as the winning hit.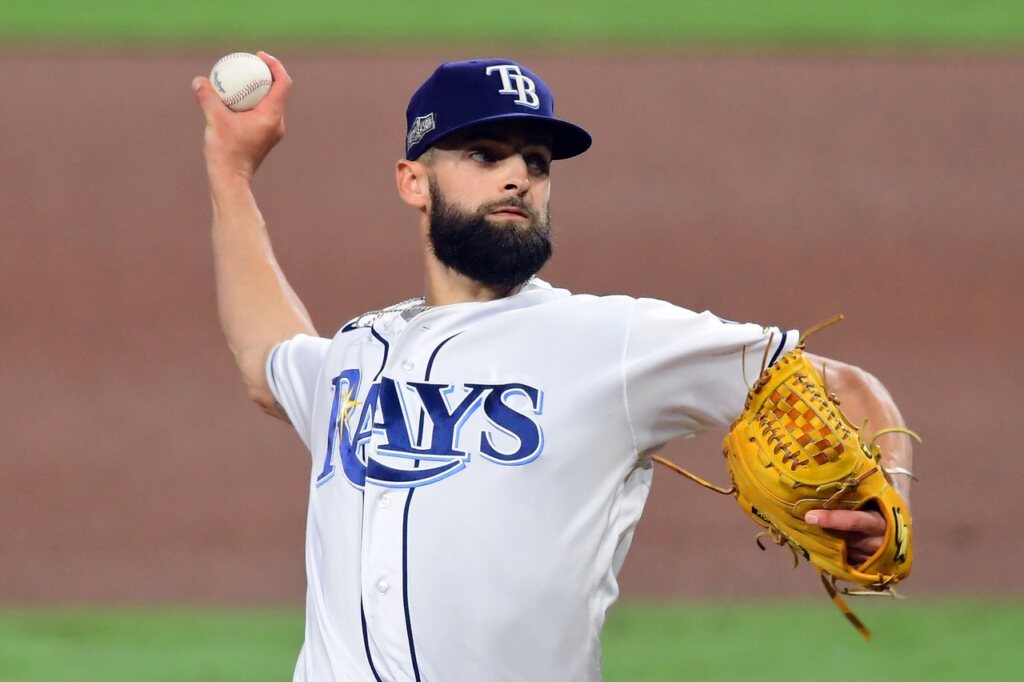 Anderson struck out Dodgers catcher Will Smith swinging on three pitches, his third punchout of the series. With first base open and A.J. Pollock on deck, manager Kevin Cash called for Anderson to intentionally walk Cody Bellinger. Dave Roberts inserted Joc Pederson from the bench to pinch-hit for Pollock.
Anderson fell behind Pederson 3-1 before throwing a fastball, down in the zone, on the fifth pitch of the at bat. Pederson hit a line drive into short right that popped off a shifting Lowe's glove and scored two runs, both inherited from previous pitcher Aaron Loup. Bellinger made the third out of the inning in a rundown between second and third base.
Tampa's Kevin Kiermaier quickly tied the game again in the bottom of the frame, launching a solo one-out homer to make it 6-6.
Eighth inning:
Cash sent Anderson back out for the eighth, but started warming John Curtiss, who appeared in 56 Red Wings games over two seasons (2017-18).
Dodgers outfielder Chris Taylor led off the inning with a double to center field, leading L.A. manager Dave Roberts's thoughts to manufacturing the go-ahead run. Kiké Hernandez failed to move Taylor over, popping a bunt to third baseman Joey Wendle, and Anderson retired Mookie Betts on a ground ball to short, but Corey Seager continued a scorching run with a go-ahead bloop single into shallow left-center field.
Seager's fourth hit and second RBI of the night pulled the Dodgers into the lead and ended one former Wing's night for another. Cash called Curtiss to secure the inning's final out.
Justin Turner, who was also sitting on three hits in four at bats, laced a single to left and advanced Seager to third. Curtiss stranded them on the corners by getting ahead of Max Muncy 0-2, then inducing a ground ball to second to end the inning.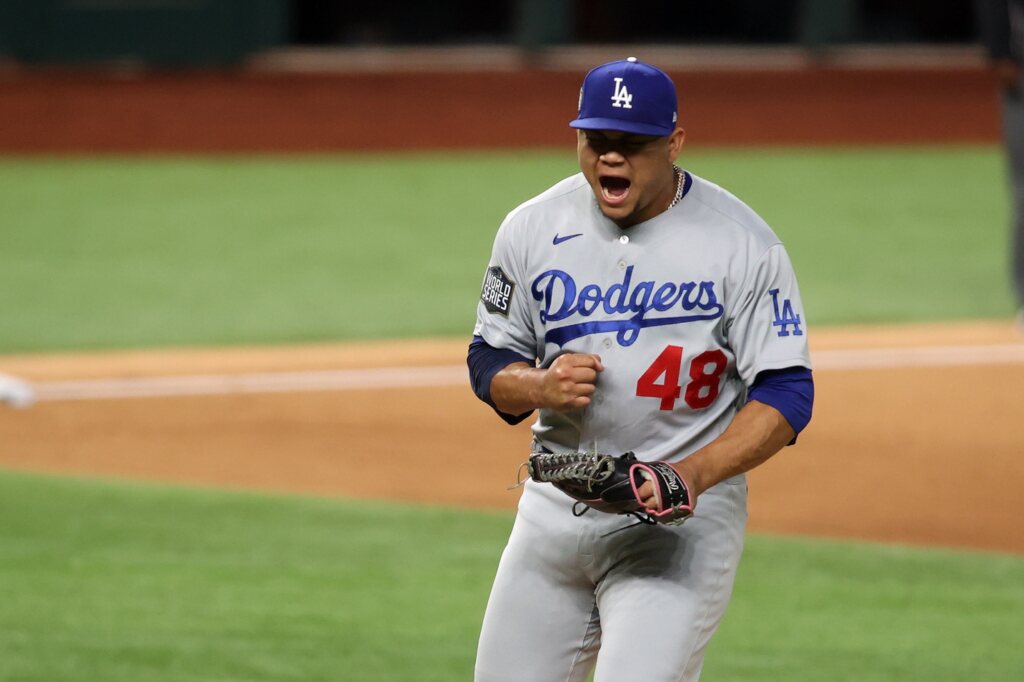 Brusdar Graterol, a Red Wing for all of five innings over four games in 2019 (with a 1-0 record), entered the bottom of the eighth for the Dodgers with a man on and two outs. Graterol, acquired by the Twins in February, allowed a single to Willy Adames but held the lead, forcing Hunter Renfroe to fly out to right. Closer Kenley Jansen pitched the ninth inning, ending Graterol's night after two batters.
Top of the ninth inning:
Curtiss needed just five pitches to set down Smith and Bellinger before Pederson hit a first-pitch single and Taylor watched the first two pitches of his plate appearance miss the strike zone. Curtiss recovered with the fastball, however, and Taylor flew out.
Six of Curtiss's nine pitches in the frame were fastballs; the other three were sliders.
The finale:
Los Angeles was an out away from acquiring a commanding 3-1 series lead, but counting outs in the playoffs is a dangerous game. Jansen wanted little part of Arozarena, who broke the record for home runs in a single postseason in the fourth, with lightly-used outfielder Brett Phillips on deck. Arozarena walked after a seven-pitch struggle, which featured just two definite strikes.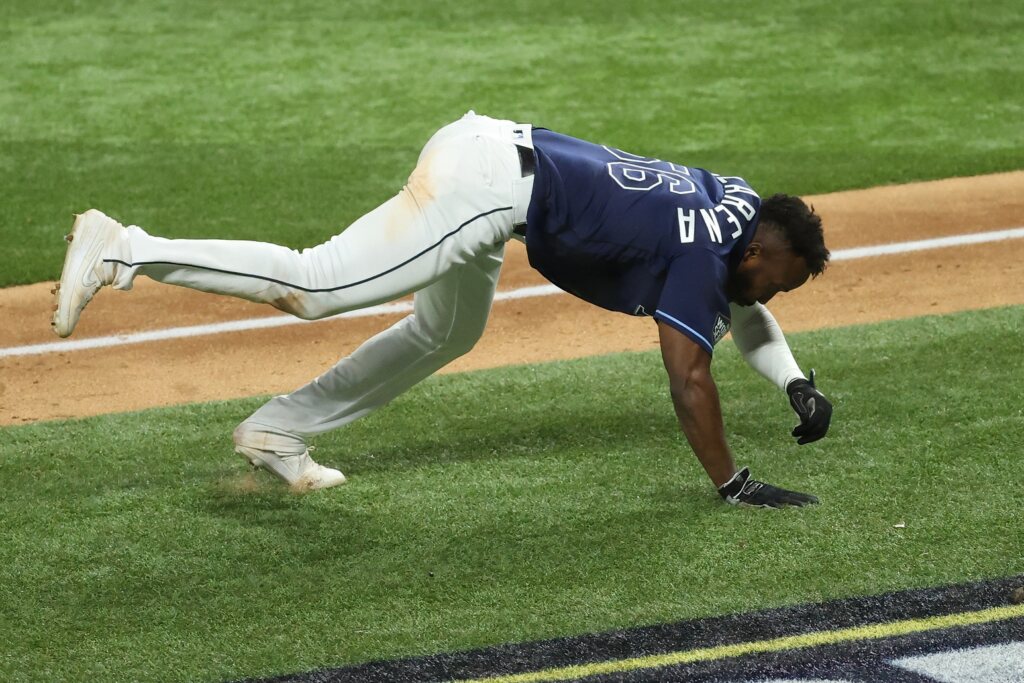 Phillips's last plate appearance was Oct. 7, a strikeout in Game 3 of the ALDS against New York. He faced a 1-2 count when he looped a Jensen cutter into right-center. Taylor, charging hard from deep center, failed to scoop the ball and eliminated a play on the game-tying run. He recovered, however, and fired a perfect relay throw to Muncy.
Arozarena, who never halted and attempted to score from first, lost his footing between third and home plate. Poised to be out by about 30 feet, he turned back toward third as Smith readied for Muncy's throw.
UNBELIEVABLE. 😱#WorldSeries pic.twitter.com/kkzidC2d95

— MLB (@MLB) October 25, 2020
In a twist of fate, Smith dropped the ball and Arozarena dove in head first, slapping the plate and tying the series in staggering fashion.
Curtiss's place in the box score shifted from reliever who kept the Dodgers at bay to the pitcher of record. He and Anderson are the first former Red Wings to earn the win in a World Series game since J.C. Romero won two games for the Philadelphia Phillies in 2008.
If their usage is any indication, Anderson, Curtiss and Graterol aren't done in this wild World Series.