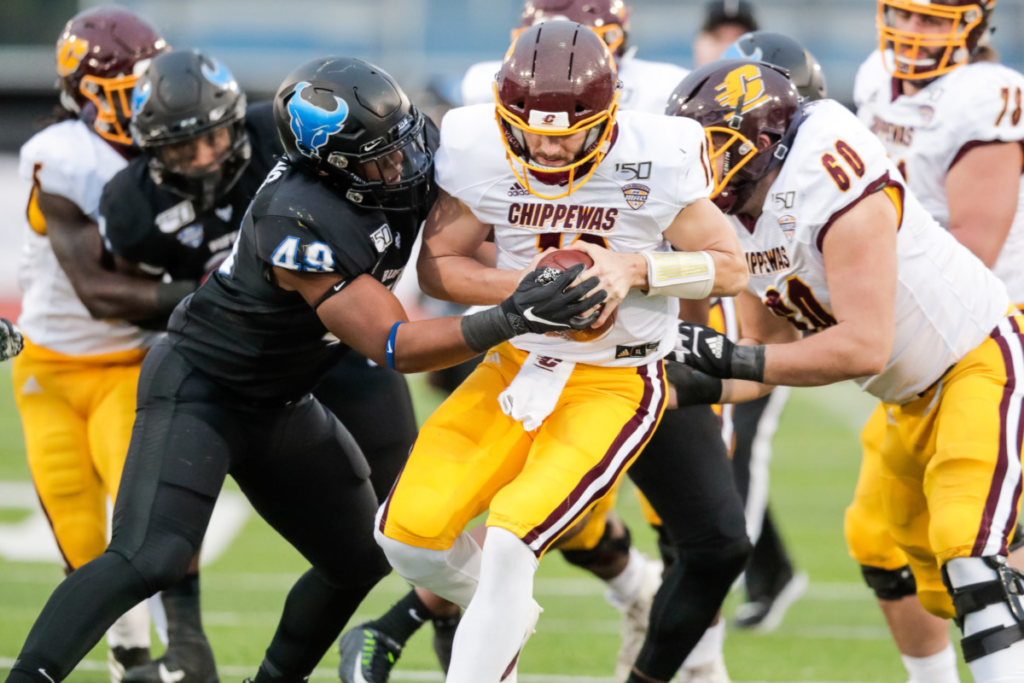 By JOHN LIKANJE
Taylor Riggins (Aquinas/Buffalo) was named to the Bednarik Award Watch List, Monday. The award is given to the most outstanding defensive player in college football.
Riggins transferred from the University of Massachusetts Amherst in 2017 and sat out that entire season as a redshirt freshman. He has played in 26 of the Bulls' 27 games between 2018 and 2019 and recorded 81 tackles, 13.5 sacks, three fumble recoveries and a forced fumble.
In 2019, Riggins posted 50 tackles, including a career-high seven on October 26th against Central Michigan. In the 43-20 victory, the 6-foot-2 defensive end had a pair of sacks for a combined 16-yard loss and a fumble recovery for six yards. Riggins' strong season earned him a spot on the All-MAC First Team.
Riggins starred on both sides of the ball at Aquinas. He played 22 of the L'il Irish's 34 games between 2013 and 2015. As a defensive end, Riggins compiled 56 tackles, 5.5 sacks and a fumble recovery. As a tailback, he recorded 84 carries for 670 rushing yards and 14 catches for 255 receiving yards.
Riggins' best game was on October 17, 2015 against Canisius (Monsignor Martin) when he had 14 carries for 144 rush yards and two catches for 14 more in a 42-14 victory.