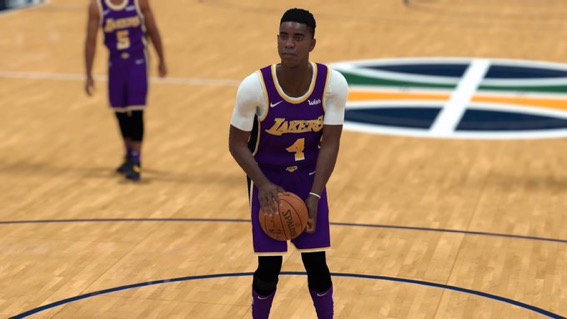 By BILLY HEYEN
East and UPrep didn't face off during the regular season, and because the two sectional champions were in different state classes, they weren't due to change that. But with the cancellation of the state tournament due to the coronavirus, both teams were left wondering what might've been.
To come up with some hypothetical answers, Pickin' Splinters simulated a game in NBA 2K19 between Section V's AA state representative UPrep and the Class A rep, East. The simulation featured the Eagles coming out on top, 81-63, in large part due to a huge second quarter run. Zechariah Harris-Scott led the virtual East squad with 36 points and 12 rebounds, while Kayshawn Ross' 24 paced the virtual Griffins.
MORE: Heyen: Sports have proven to us not to lose hope
Before we get into what we learned from the simulation, here's a quick look at the parameters:
The simulation took place on a Playstation 4 version of the video game NBA 2K19
Each team was given the game's minimum eight-man rotation
Ratings were created by Pickin' Splinters to best replicate each player's real-life impact on the floor
The game was simulated live with high-school length eight-minute quarters and NBA fouling rules
Substitutions and timeouts were controlled by the in-game computer
East's roster would play for the Los Angeles Lakers due to the purple and gold color scheme
UPrep's roster would play for the Utah Jazz due to a similar color scheme and the 'U' starting letter
East's roster would not include Justus Ross-Simmons, who was out for the second half of the season due to injury
'Best player in Rochester'
After what turned out to be East's final game of the regular season, Eagles head coach Darrell Barley said that Harris-Scott is "the best player in Rochester hands down, because he can do everything."
The virtual Harris-Scott was in control all Tuesday evening in NBA 2K19. He scored the Eagles' first bucket on a three-point play that started with a righty floater off glass. His computer-controlled character was obviously feeling it when he dribbled back about five feet to take (and make) a 3 late in the first quarter, too.
Harris-Scott beat everyone down the floor for a two-handed slam in the second quarter, and a late-half fadeaway gave him 16 at the break.
And @ScottZechariah answers right back in transition with the slam pic.twitter.com/pizVMTfxwI

— Billy Heyen (@BillyHeyen) March 25, 2020
East pulled away quickly in the third quarter thanks to more scoring from Harris-Scott, first on a pull-up jumper and then on another three-point play.
ZHS and1 pic.twitter.com/763qePDM8M

— Billy Heyen (@BillyHeyen) March 25, 2020
The Eagles' virtual head coach recognized that Harris-Scott needed to keep getting the ball out of a second-half timeout, too. UPrep had just closed to within 13, so the Eagles ran a pin-down screen for Harris-Scott.
Beyond the 3-point line on the right wing, Harris-Scott nailed the shot.
UPrep-East #NBA2K19 sim: Out of the timeout, East runs a pin-down for @ScottZechariah. He drains it and has 32. East up 73-57 with less than four minutes to play. @PickinSplinters pic.twitter.com/r9kmiAYY2Z

— Billy Heyen (@BillyHeyen) March 25, 2020
Harris-Scott scored the game's final bucket, a tomahawk righty slam to punctuate the victory.
If one simulated game of NBA 2K19 is any indication, Barley might've been right in his take on Rochester's best player. The virtual Harris-Scott finished with his 36 points on 15-of-25 from the floor, 2-of-3 from 3-point range and a perfect 4-of-4 from the foul line.
Game of runs
Players are fond of explaining away mid-game spurts by pointing out that basketball is a game of runs. The virtual hardwood was no exception on Tuesday night.
A Melvin Council Jr. layup put UPrep up 25-22 in the second quarter. From that point on, until nearly halftime, East went on a 17-2 run.
The middle of the run included two highlights from East's Clinique Jackson. He'd stepped into the starting lineup midseason when Ross-Simmons was knocked out for the season with an injury and immediately made his mark in a win at Leadership. 
The lefty showed off a serious virtual vertical leap on a lob from Kai McCullough to go up three points. Then the next time down the floor, Jackson stepped into a 3 at the top of the arc to go up six, and the game was never closer again.
Then Jackson hits a 3. 11-2 East run. pic.twitter.com/d45la6T7gf

— Billy Heyen (@BillyHeyen) March 25, 2020
Griffins keep dunking
What turned out to be UPrep's final game of the season was a sectional final victory over McQuaid. The Griffins got off to a high-flying start in that one, with Na'Zea Fowlks and then Ross both throwing down huge dunks early.
UPrep's best success in Tuesday night's simulation came in similar fashion. Early on, Fowlks found Ross on an alley-oop for two.
East-UPrep 2K19 simulation: Oh my! @nazeafowlks lob to @RossKayshawn alley-oop 👀 @PickinSplinters pic.twitter.com/USzJjf5Eop

— Billy Heyen (@BillyHeyen) March 25, 2020
In the second quarter, Council drove baseline for a right-handed slam and a temporary UPrep lead in the middle of East's big run.
Out of halftime, the first bucket came courtesy of Fowlks, who drove down the lane and threw down with two hands.
#heyynazzz https://t.co/rgKwBCJcvp

— Na'Zea J. Fowlks (@nazeafowlks) March 25, 2020
Brandon Moore Jr. went on to pick out Ross for another alley-oop in the second half, but the dunking alone wouldn't be enough.
UPrep-East #NBA2K19 sim: @RossKayshawn catches his second lob of the night, this one from Brandon Moore Jr. @PickinSplinters pic.twitter.com/mA9mAAn4n6

— Billy Heyen (@BillyHeyen) March 25, 2020
Virtual refs and coaches: So-so
Those proponents of referees letting players play in big games would've been thrilled at how the simulation was officiated. Two players, one on each team, were charged with three personal fouls, while no other player had more than one.
The UPrep virtual coaching left more to be desired. Council, the Griffins' star and acknowledged by multiple area coaches as one of Section V's best players, didn't even shoot for more than six minutes of game time to start the night. That's despite Council's overall in-game rating being five points higher than the next closest UPrep player.
Video game Melvin is starting to cook pic.twitter.com/uBXkWpB1Xs

— Billy Heyen (@BillyHeyen) March 25, 2020
Council got cooking in the second quarter, but again the Griffins went away from him too frequently. The real-life senior finished 8-of-13 from the floor, the only UPrep player to shoot better than 50 percent, but he only attempted 20 percent of the Griffins' field goals.
Unlike the virtual East coach, who drew up play after play for the hot Harris-Scott, UPrep's virtual coach too often left the ball in the hands of players not making the same impact. That really tells us nothing, other than leaving the simulation viewer wanting more in what could've been a classic shootout between Harris-Scott and Council.
Fastbreak fun
East won the game by 18 points, and nearly that whole margin could be explained by the virtual Eagles' 25-8 advantage in fastbreak points.
One quirk of NBA 2K19's computer play is a stagnancy in halfcourt offense. It's not that the teams don't run set plays – the computer players just tend to lack aggressiveness. That means that getting out and running can be the key to overcoming that simulated struggle.
In real life, UPrep gets out on the break as well as anyone. In Tuesday night's simulation, though, the Griffins rarely did so, in part because of a much more efficient virtual Eagles offense.
The simulated defenses don't always get set up perfectly in transition, either, which allowed for easy buckets like Harris-Scott's down low in the second quarter.
East takes lead back 26-25 on @ScottZechariah bucket. He's got 10. pic.twitter.com/62Ks570ezE

— Billy Heyen (@BillyHeyen) March 25, 2020
East-UPrep NBA 2K19 simulation highlights
Below are all the video highlights, in order, taken from Tuesday night's simulation of a hypothetical East-UPrep matchup.
@kaiMcCullough13 finishes a layup and forces a UPrep timeout in my simulation with East leading 7-2. pic.twitter.com/SBslBdjP3d

— Billy Heyen (@BillyHeyen) March 25, 2020
East-UPrep 2K19 simulation: Oh my! @nazeafowlks lob to @RossKayshawn alley-oop 👀 @PickinSplinters pic.twitter.com/USzJjf5Eop

— Billy Heyen (@BillyHeyen) March 25, 2020
He's right 👇 just stepped back outside the line to hit a 3, has 8 in the first. https://t.co/4zXtLIkM9E pic.twitter.com/IYockcRvot

— Billy Heyen (@BillyHeyen) March 25, 2020
UPrep-East #NBA2K19 sim: @Kaoribarley2 just lobbed to @FreddieBrock6 for two. East leads UPrep, 18-14, late first. @PickinSplinters pic.twitter.com/x08K95HBa6

— Billy Heyen (@BillyHeyen) March 25, 2020
Video game Melvin is starting to cook pic.twitter.com/uBXkWpB1Xs

— Billy Heyen (@BillyHeyen) March 25, 2020
UPrep-East #NBA2K19 sim: East leads UPrep 20-16 at the end of the first quarter.@FreddieBrock6 broke out a crossover and floater to end the first.

Council and Ross have 6 for UPrep. Harris-Scott has 8 for East. @PickinSplinters pic.twitter.com/jSvUDmxHv2

— Billy Heyen (@BillyHeyen) March 25, 2020
East takes lead back 26-25 on @ScottZechariah bucket. He's got 10. pic.twitter.com/62Ks570ezE

— Billy Heyen (@BillyHeyen) March 25, 2020
And @ScottZechariah answers right back in transition with the slam pic.twitter.com/pizVMTfxwI

— Billy Heyen (@BillyHeyen) March 25, 2020
Then Jackson hits a 3. 11-2 East run. pic.twitter.com/d45la6T7gf

— Billy Heyen (@BillyHeyen) March 25, 2020
UPrep-East #NBA2K19 sim: Fade-away gives @ScottZechariah 16 in the first half and East a 41-29 lead late in the second quarter. @PickinSplinters pic.twitter.com/wkJXazhb4l

— Billy Heyen (@BillyHeyen) March 25, 2020
UPrep-East #NBA2K19 sim: HALF: East 41, UPrep 31. Last bucket of the half is @RossKayshawn inside. @PickinSplinters

A 17-2 East run took the game over in the second quarter.

Harris-Scott has 16. Council Jr. has 12 for UPrep and Ross 10. pic.twitter.com/aritLNjoYS

— Billy Heyen (@BillyHeyen) March 25, 2020
UPrep-East #NBA2K19 sim: First play of the second half is a huge dunk for who else, @nazeafowlks. @PickinSplinters #roc pic.twitter.com/3F8BEdGZIu

— Billy Heyen (@BillyHeyen) March 25, 2020
ZHS and1 pic.twitter.com/763qePDM8M

— Billy Heyen (@BillyHeyen) March 25, 2020
UPrep-East #NBA2K19 sim: @BarleyDamani and-1 has East in total control in the third, up 57-39. @PickinSplinters pic.twitter.com/NcHxwZ5Ryz

— Billy Heyen (@BillyHeyen) March 25, 2020
UPrep-East #NBA2K19 sim: Another @ScottZechariah dunk, dish from @kaiMcCullough13 to the roller. @PickinSplinters pic.twitter.com/VAEvO1v3lb

— Billy Heyen (@BillyHeyen) March 25, 2020
Council to Ross, who has 18. UPrep trying to get back in it, down 15 now in the third. pic.twitter.com/ajc7LtnhDq

— Billy Heyen (@BillyHeyen) March 25, 2020
UPrep-East #NBA2K19 sim: East leads 63-48 after three. Ross found Edwards for the Griffins to close the quarter. @PickinSplinters

Harris-Scott is East's only guy in double figures with 27. Ross 18 and Council 14 for UPrep. pic.twitter.com/LAlLFEh6tP

— Billy Heyen (@BillyHeyen) March 25, 2020
UPrep-East #NBA2K19 sim: Council block leads to a transition bucket for Ross and UPrep is as close as it's been since halftime, down 67-55 with about six minutes left. @PickinSplinters pic.twitter.com/74gGotp6Es

— Billy Heyen (@BillyHeyen) March 25, 2020
UPrep-East #NBA2K19 sim: East timeout with 4:03 to play. Eagles leading Griffins 70-57. ZHS has 29. @PickinSplinters

Council just scored for UPrep. pic.twitter.com/WPZL8s8oyX

— Billy Heyen (@BillyHeyen) March 25, 2020
UPrep-East #NBA2K19 sim: Out of the timeout, East runs a pin-down for @ScottZechariah. He drains it and has 32. East up 73-57 with less than four minutes to play. @PickinSplinters pic.twitter.com/r9kmiAYY2Z

— Billy Heyen (@BillyHeyen) March 25, 2020
UPrep-East #2K19 sim: @FreddieBrock6 for 2 along the baseline. East leads 77-61 with 2:17 left, UPrep timeout. @PickinSplinters pic.twitter.com/0b03KvRMET

— Billy Heyen (@BillyHeyen) March 25, 2020
UPrep-East #NBA2K19 sim: FINAL: East 81, UPrep 63. @PickinSplinters @ScottZechariah punctuated the win with one final slam and finished with 36 points and 12 rebounds. #ROC pic.twitter.com/GY5sLhlkAa

— Billy Heyen (@BillyHeyen) March 25, 2020
Final scoring totals:
East: Zechariah Harris-Scott (36), Damani Barley (12), Clinique Jackson (11), Kai McCullough (8), Freddie Brock (8), Kaori Barley (4), Korey Ellis (2)
UPrep: Kayshawn Ross (24), Melvin Council Jr. (18), Na'Zea Fowlks (8), Christian Edwards (6), Brandon Moore Jr. (5), James Matthews II (2)
READ MORE: