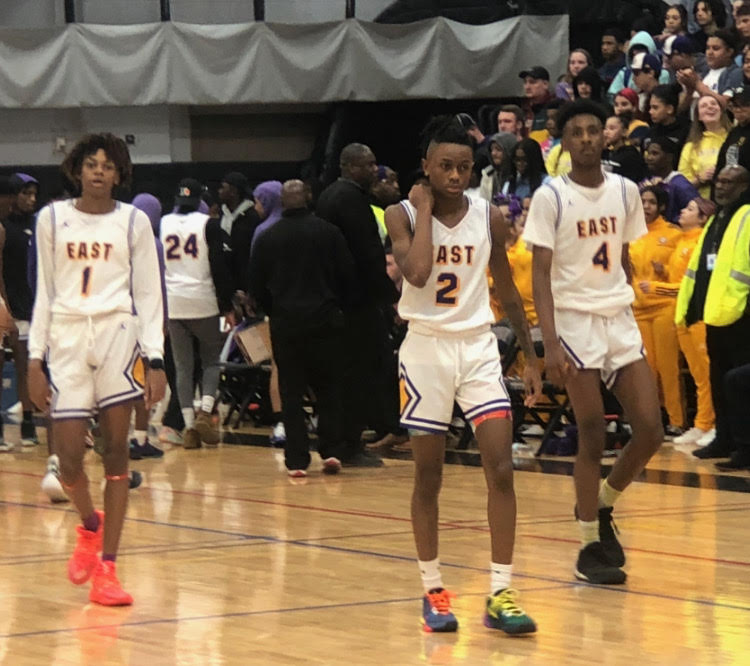 By BILLY HEYEN
ROCHESTER, N.Y. — Wednesday's fourth quarter began with a two-handed slam from East's Damani Barley. There wasn't anything remarkable about the play, but his father and head coach, Darrell, knows that his Eagles team plays better once it starts dunking. Minutes later, Damani proved his father right.
First, Damani Barley stepped back on the left wing to nail a 3. Then, he swished one from the right corner before Kai McCullough capped a trifecta of triples from the right wing. All of a sudden, East had gone from down a point to up 10.
"Whenever we get dunks, we play better," Darrell Barley said. "If we don't get those dunks, I don't know what's gonna happen."
Another for @BarleyDamani is followed by a triple from McCullough. 64-56 @eastepo on an 11-0 run. 2:34 left. @PickinSplinters pic.twitter.com/XgcwRV78rK

— Billy Heyen (@BillyHeyen) March 12, 2020
East used that fourth-quarter surge to pull away from Eastridge on Wednesday night and win, 71-64, in the Section V Class A regional qualifier. The win sends the Eagles to a Saturday meeting with Health Sciences in the Far West Regional, the state tournament's quarterfinal stage. East was led by 25 points from McCullough, 22 (and 12 rebounds) from Zechariah Harris-Scott and 15 from Damani Barley. 
"This is East High School," Darrell Barley said. "You're gonna be in some rumbles."
In a sold-out Edison Tech gymnasium, McCullough and Harris-Scott pushed East to an early advantage. First, McCullough sprinted after a loose ball before dishing to Barley for the opening bucket. Then it was Harris-Scott rattling off the next seven Eagles' points.
All three of Harris-Scott's opening field goals came off of driving spin moves, with one concluding in an and-1 and multiple ending with Harris-Scott flexing both his arms up toward his head.
"He's the best player in Rochester hands down, because he can do everything," Darrell Barley said.
Already 7 for @ScottZechariah and @Eastepo is up 9-5. @PickinSplinters pic.twitter.com/MwsIAeMQ5v

— Billy Heyen (@BillyHeyen) March 11, 2020
McCullough quickly followed that Harris-Scott spurt with six points of his own, first nailing a 3-pointer before finishing an and-1. East had jumped out to a 14-7 lead. By the end of the first half, McCullough had poured in a game-high 15 points.
"Usually after my first bucket," McCullough said he knew he had it going. "My guards look for me and I make that shot, that's when I flip on the switch and do what I gotta do for my team to win."
And1 for Kai McCullough after he just hit a 3, too. @EastEpo leads 14-7 with 1:26 left in the first. @PickinSplinters pic.twitter.com/ESUjEK7FGV

— Billy Heyen (@BillyHeyen) March 11, 2020
Poor shot selection and passing from East allowed the Lancers back in the game, with Eastridge senior Tony Arnold leading the comeback charge with 14 first-half points. After being doubled up early, Eastridge went into the locker room with a four-point lead.
East wasn't too worried, Harris-Scott said. The Eagles knew they were playing sloppy and just had to clean it up.
"(Barley) told us to come in here and play our game," Harris-Scott said.
Before his fourth-quarter dunk, Damani Barley hit one shot in the third quarter, a 3-pointer at the end of a 7-0 East run that opened the third and put the Eagles up three. They would remain in the lead through a dunk from Harris-Scott which he followed shortly after with a buzzer beater.
Third quarter buzzer beater for @ScottZechariah. @EastEpo leads Eastridge 46-42 after three. @PickinSplinters #ROC pic.twitter.com/ooE9UzDJsP

— Billy Heyen (@BillyHeyen) March 12, 2020
Eastridge took the advantage back briefly in the fourth on a Jalen Rose Hannah 3, but then East took over. Clinique Jackson scored through contact, Damani Barley hit his final two 3s and McCullough capped the 11-0 run. The Eagles, for the first time since the first quarter, had breathing room.
"Coach just told us knock down our shots and open up the lead so we could win," McCullough said.
That run allowed East to enjoy the closing seconds, with Harris-Scott demonstrating dance footwork to Washington while multiple Eagles' players encouraged the East fans to get louder. It'd been a relative drought since East last won a sectional title in 2014 behind Dontay Caruthers' high scoring totals, a year that the Eagles made the state final. With Caruthers in attendance Wednesday, East kept alive its chances of reaching those heights again.
When the final buzzer sounded, the first person to meet Harris-Scott was UPrep senior Kayshawn Ross, who'd attended the game as a spectator. The pair leaped into the air near the baseline for a chest bump. Both players' high school careers are one loss from being over, but each of them has extended their seasons for at least a few more days.
"I was just excited that we hit three back-to-back-to-back 3s to put us up that good lead," Harris-Scott said. "I was just too happy, I couldn't explain it."