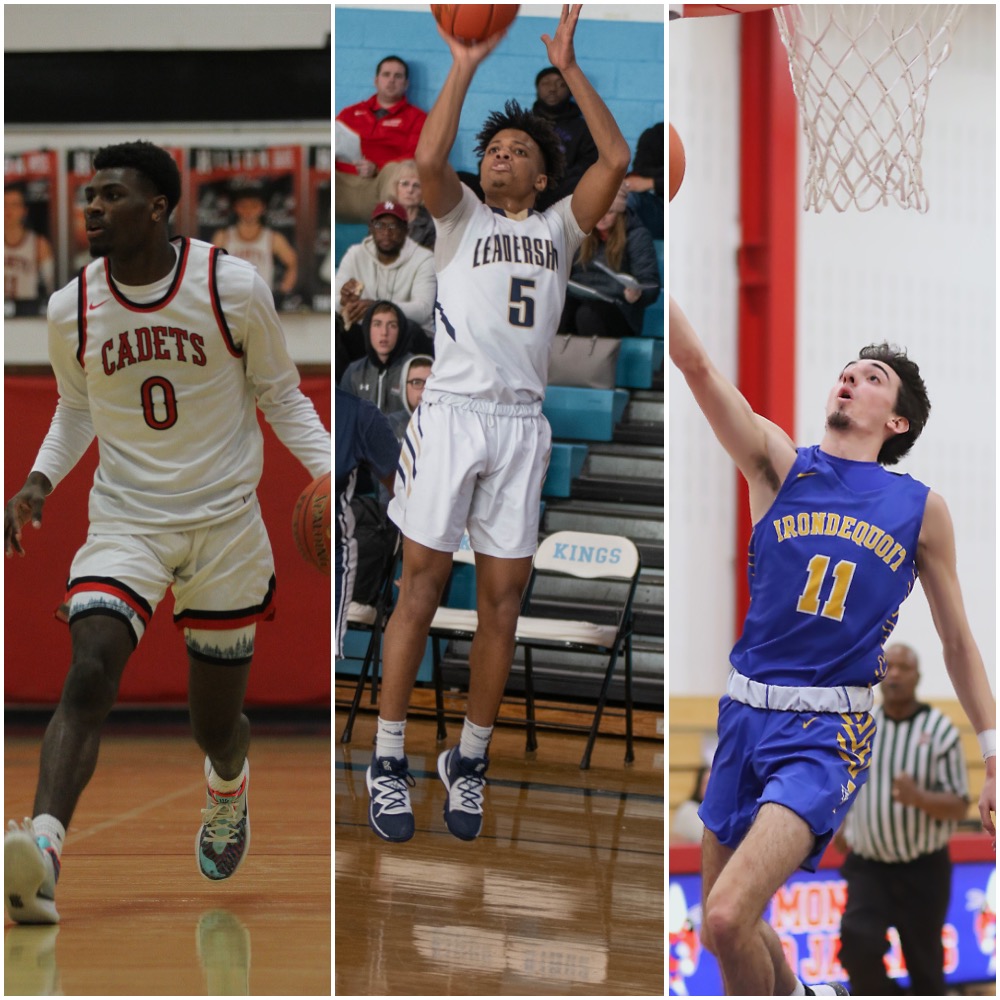 By BILLY HEYEN
There are few things more exciting in sports than when a basketball shot is in the air, to win the game, while the buzzer goes off. If it falls through, the kinetic flow of energy on the floor moves quickly from the shooter, who sprints off in some direction, to his teammates, who all take off after him, to the winning fans who jump up and down.
This season, three different game-winning buzzer beaters stand out — Hilton's Tah'Jae Hill against Eastridge, Leadership's Maurice McKinney at McQuaid and Irondequoit's Luke Melidona at Webster Thomas. They had their differences in distance and play design, but all three ended in the shooter mobbed by his teammates.
With sports on hiatus, this is a look back at those three buzzer beaters and the frenzies that ensued around them.
Hilton played Eastridge in the Cadets' Christmas tournament final, a matchup that pitted best friends Hill and Tony Arnold against each other. The Hilton senior Hill was only days away from announcing his commitment to play college basketball at Niagara University, and he scored seven quick points in his home gym. 
Hill had stood out among his peers even as a freshman playing varsity three years ago, and since then, he'd become one of Section V's most well-known players. He'd hit a league-winning buzzer beater at Fairport as a junior. He'd earned Division I offers in both basketball and football. But even for Hill, what came next was special.
Hill scored from everywhere that December night — a eurostep, floaters, pull-up jumpers, hop-steps in the lane, adding up to 49 points in all. There was only one problem: cramps.
Multiple times, Hill went to the ground dealing with his hips, hamstrings and calves "locking up." He'd never experienced cramps to that extent, he said afterward. But he just told himself "don't quit, don't give up." That attitude put Hilton in position for a game-winner at the end of a regulation, but a play designed for Hill didn't get to him due to a deflection.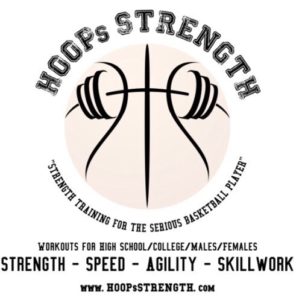 Hill charged to start overtime, but then he took over with a bucket off a steal, a floater and a game-tying lefty layup. That meant the Cadets could draw up a game-winning attempt for Hill. With his teammates cleared out of the way, Hill rose up near the right elbow. As he landed, the cramps came back and he fell to the ground. Then the ball dropped through the basket, and adrenaline took over.
"Times like this, I pray for times like this," Hill said that night. "Not too many people get these times. You've just got to enjoy it while it lasts and just go out with a bang."
TAHJAE HILL BALL GAME. @PickinSplinters @Hiltonhoops @HiltonCadets @iamtahjaehill @jml5798 pic.twitter.com/vGjSjZmMYm

— Billy Heyen (@BillyHeyen) December 29, 2019
Maurice McKinney Jr.'s father earned the nickname 'Big Shot Moose' when he played at Franklin, and this year's Leadership Academy point guard used to call himself 'Big Shot Moose Jr.', almost as a joke, he said. But there hadn't been a moment to claim that nickname for real.
McKinney felt like he'd had chances, especially in a sectional game as a sophomore when he was frustrated to not get the ball in a key spot. None would compare to the opportunity he got at McQuaid earlier this season. 
The Lions and Knights had already played once, in a game that combined for 200 points in a 105-95 Leadership win. The second meeting could've proved to be another defense-optional affair, but it wasn't, though, as two of Section V's best teams fought to prove their superiority.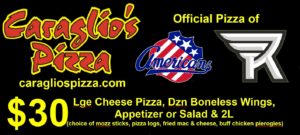 At one point in the first half, as McKinney caught the ball with space in the corner, a McQuaid parent along the baseline remarked: "Can't leave him open." McKinney nailed that shot to start his roll, getting to 13 points by halftime. After McQuaid led much of the first half, Leadership answered to lead most of the second half, and a tie game with the shot clock off set up the final play.
Everyone in the gym must've known that the ball would go to McKinney. Of course, that included the Knights, who denied an initial pass to the point guard as Leadership was forced to cycle the ball the other direction. As Ray Boyd drove along the baseline, it didn't seem there'd be enough time to get the ball back to McKinney. But a snap pass from Ja'Mez Aiken found McKinney at the top of the arc. 
One dribble left was all McKinney needed before pulling up. The buzzer sounded as the ball was in the air, en route to the game-winner that made McKinney's former joking into a real nickname. 
The celebrations from Leadership went on long enough that McQuaid staffers were asking the Lions to head to their locker room so they could turn the lights off, but the winners weren't in any hurry.
"Means a lot," McKinney said that night. "Because we came in this building knowing what we had to do to overcome, and we did it."
MO MCKINNEY CALLED GAME. @mo_Mckinney5

Leadership 89, McQuaid 86. @PickinSplinters

Mo had 25, McCullough had 30. @TrabsMatt @jml5798 pic.twitter.com/1vWMeprTEU

— Billy Heyen (@BillyHeyen) January 29, 2020
Irondequoit's Luke Melidona wasn't a stranger to buzzer beaters even before his Sportscenter Top-10 shot. He'd made "three or four" on the season, according to Eagles head coach Chris Cardon. He'd also scored a golden goal for Irondequoit's soccer team about 16 months earlier.
Luke. Melidona. Connects with 8:06 to go in the first overtime and @WIEagles knock off Arcadia pic.twitter.com/DmcqqdzwCA

— Paul Gotham (@PickinSplinters) October 19, 2018
The Eagles also weren't strangers to shooting from halfcourt. They normally end their Saturday practices with a competition from that distance with dollar store-level prizes for the winners. 
But in the third quarter at Webster Thomas, Melidona's nose began to bleed. Despite Irondequoit plugging that bleeding, its point guard did very little for the next handful of minutes. As the fourth quarter started, the media conversation along the baseline turned to whether Melidona would find his groove from earlier in the game.
First, Melidona began to key a comeback by setting up Nick Leonardo beyond the arc. Then it was Melidona himself with a righty floater with about a minute to play. 
It looked to all be for naught when the Titans' Dannie Palmer banked in a go-ahead shot with 1.8 seconds to play. As Irondequoit discussed what to do in its timeout huddle, the referees went to the table, where they shifted the clock to 2.7 seconds remaining, a 0.9 second addition that could've figured greatly into an Irondequoit miracle.
It actually didn't, though. As Melidona caught, dribbled once and heaved from beyond halfcourt, more than a second remained on the game clock. It expired right about when the ball dropped straight into the hoop. 
Afterward, some younger fans outside the Irondequoit locker room wanted to know who'd gotten video of the shot. One remarked: "Everyone got it." The shot made its way to No. 9 on SportsCenter's Top 10 plays, too.
LUKE MELIDONA WINS IT FROM BEYOND HALF COURT 55-53 @wieagles @rocdevo @itownhoops. @PickinSplinters pic.twitter.com/CKLNFi6BJr

— Billy Heyen (@BillyHeyen) February 8, 2020
READ MORE: