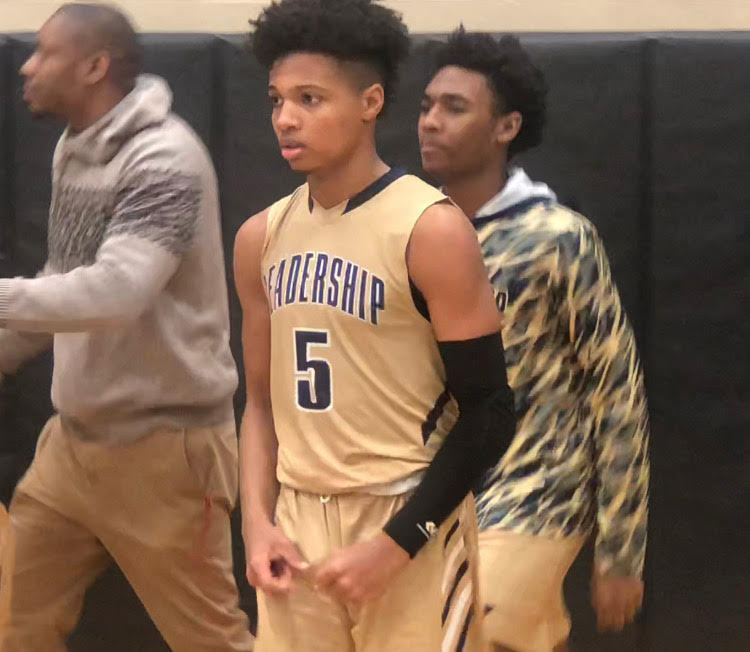 By BILLY HEYEN
ROCHESTER, N.Y. — The play Leadership drew up in its final timeout was diagnosed correctly by McQuaid. The Lions would have to improvise. One part of the plan came through, though: Maurice McKinney ended up with the basketball.
Ray Boyd drove baseline and kicked to Ja'Mez Aiken in the corner. Aiken swung the ball immediately to McKinney on the right wing. McKinney took one dribble left before rising up at the top of the arc. The buzzer sounded as the ball was in the air.
Money. Ballgame. Cue the celebration.
"I'm honestly just speechless right now," McKinney said. "Honestly. We fought hard. We did what we had to do. Overcame everything, man. I love my team."
MO MCKINNEY CALLED GAME. @mo_Mckinney5

Leadership 89, McQuaid 86. @PickinSplinters

Mo had 25, McCullough had 30. @TrabsMatt @jml5798 pic.twitter.com/1vWMeprTEU

— Billy Heyen (@BillyHeyen) January 29, 2020
The buzzer-beating 3-pointer from McKinney gave him 25 points in the game and pushed Leadership (12-2) past McQuaid (8-7) for an 89-86 win Tuesday night. The Lions were led in scoring by Shamir McCullough, who had 30 points. Each of Leadership's last two games came down to the final possession. Each time, the Lions won.
"I keep trying to tell our kids: It doesn't matter if we win by one or 100," said Leadership head coach William Broome. "A W is a W. When anybody looks at it, it's a W. And so, that's what we focus on."
When Leadership played McQuaid earlier this season, the Lions pulled out a 105-95 victory. Before Tuesday's game, Broome laughed and said "we'll see" if first to 100 would win the second installment. Early on, though, it seemed like the Knights had found answers for some of Leadership's best offense.
McQuaid slowed the game down and worked the ball around the perimeter as Leadership usually set up in a 3-2 zone. Reuben Daniel and Kobe Long operated at the foul line area, while Jermaine Taggart slashed and crashed the offensive glass. Long popped out at times to knock down timely triples while Taggart dominated the paint, and the Knights led 24-19 after one. 
Taggart with the first four, then @kobelong_3 scores and @mcquaidbball leads 6-2 early. @PickinSplinters pic.twitter.com/VR2LgVqg00

— Billy Heyen (@BillyHeyen) January 29, 2020
McKinney hit a 3-pointer from the left corner late in the first quarter that seemed to get him going, because he quickly reeled off a three-point play, a couple of free throws and a right wing 3-pointer in the second quarter. McCullough joined in the scoring, with each getting to 13 points by halftime, and Leadership closed an 11-point deficit to four by the break.
"(McCullough's) comfortable now in who he is," Broome said. "And he's just hooping."
Strong and-1 for @ShamirMcCullou1 midway through the second. @PickinSplinters pic.twitter.com/4blBtsUoHr

— Billy Heyen (@BillyHeyen) January 29, 2020
Leadership leapfrogged the Knights and expanded the advantage to as much as seven points in the third quarter, but Taggart willed McQuaid back into it with 10 of his 28 in that frame. It would be back-and-forth the rest of the way, with a Long layup putting the Knights up 74-73 with 4:19 to play.
The Lions scored the next six points — four from McKinney, two from Aiken — to go up five, but then McQuaid pulled back ahead by the time a minute remained thanks to a putback from Taggart and two tap-ins from Daniel. When McCullough went to the line for two shots with less than a minute to play, he knocked them both in to put Leadership up a point.
"Shamir steps up when it's big," McKinney said. "He stepped up today, and that's what he does. He steps up."
McQuaid's Joe Cairns was fouled and made one-of-two free throws to tie the game at 86. The Lions advanced the ball over halfcourt before calling a timeout with 16.5 seconds to play. Broome drew up a play that Leadership had run a couple times against UPrep in the Lions' last contest, Broome said. McCullough was meant to get the ball to McKinney at the top of the key and let him go to work.
Instead, that initial pass to McKinney was shut off. McCullough had to go the other way, with Boyd and Aiken eventually cycling the ball to McKinney. At one point in the first half, Aiken had been subbed out and raised his arms into the air before hanging his head as he walked to sit down without slapping hands with anyone. But in Tuesday's final moments, the ball barely hit his hands before he swung it to McKinney. McCullough knew what would come next.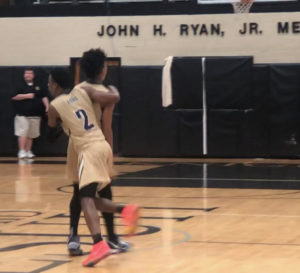 "I trust (McKinney)," McCullough said. "That's my boy. We do this in practice all the time. We work together. I've got 100 percent faith in him. When he's got the ball, last shot, I'm just backing off, letting him seal the deal."
When the shot fell, McKinney sprinted to the opposite end of McQuaid's gym. McCullough leaped on his back before the rest of the Lions mobbed their star point guard. 
Moments later, McKinney worked his way back into the stands behind the Leadership bench to receive more congratulations and a few hugs. McKinney isn't one to show a lot of emotion during games, but postgame Tuesday, a few tears came to his eyes. 
"Means a lot," McKinney said. "Because we came in this building knowing what we had to do to overcome, and we did it."