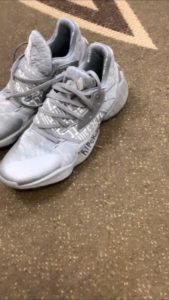 By CHUCKIE MAGGIO
Before Alejandro Vasquez left the St. Bonaventure locker room for practice on Monday, he inscribed a message on his shoes with a black Sharpie.
"RIP Kobe," the freshman wrote, placing a heart in between, before snapping a pic for his Instagram story.
Vasquez and his teammates were among the millions of people grieving the tragic loss of NBA legend Kobe Bryant, his 13-year-old daughter Gianna and seven other victims in a helicopter crash in Calabasas, Calif. on Sunday. The helicopter was headed to the Bryant-founded Mamba Sports Academy in Thousand Oaks for an Amateur Athletic Union basketball game, where Kobe would coach Gianna's team as part of a tournament.
"(He had a) great impact," Vasquez said. "I just loved his passion for the game, his drive, the way he took basketball so serious. It just made me want to get better as a player… Off the court, too. He was a good leader, just showed you how to be a good role model as a man and a basketball player…
"It just felt like I knew him, but I really didn't. That's how much of an impact he had on society and everybody in the basketball world… I was sad, man. Hurt. Just because of him, plus his daughter too. That's what made it worse. A disaster."
Bryant was sophomore guard Jaren English's all-time favorite player. English learned the news while watching the Bona women's game, when a spectator came up and told him and Kyle Lofton. "I swear I didn't believe it," English recalled.
When ESPN aired Bryant's iconic farewell game against the Utah Jazz on Monday night, English tuned in.
"Kobe was by far my favorite player. He'll always be my favorite player. Nobody compares to him," English remarked. "He's the GOAT (Greatest Of All Time) in my eyes. I didn't watch Michael Jordan that much. I saw Kobe with my own eyes; that's the only GOAT I know. He taught me a lot. (Monday) night I was able to watch the 60-point game again and it was really bringing tears to my eyes watching him just do what he does best."
Other Bona players offered their own tributes on social media. Kyle Lofton, who as a Putnam Science Academy point guard donned the No. 8 Bryant wore from 1996-2006, took to Instagram to say thank you. Dom Welch said the death of Bryant "hurts my heart and soul" and reminisced on Kobe-LeBron debates he had with his friends in the school cafeteria.
The Bonnies play Fordham at Rose Hill Gymnasium on Wednesday night, their first game since one of the most shocking deaths of their lifetimes. There will likely be more tributes to the Black Mamba as they play the sport he loved.
"(His death) really helped me realize that right now, it's just kind of borrowed time," English commented. "You never know when your name is called or when your time is up, so you have to cherish every moment, live in the moment to the fullest extent. Gigi was 13; she didn't get to live her life yet…
"Time is promised to nobody and every moment counts. Soon as that happened I ran over and hugged my mom, told her I love her, called my brother and told him I loved him. Life's too short to be mad and sad. You've gotta smile through the pain, just keep going."