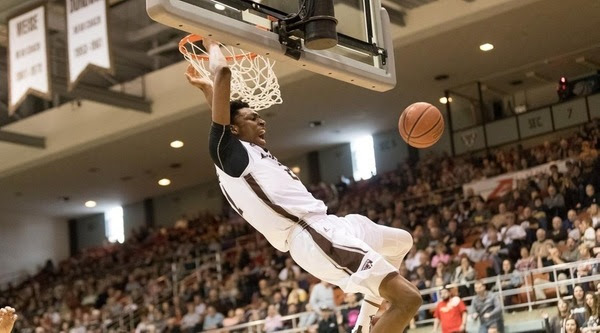 By CHUCKIE MAGGIO
The St. Bonaventure men's basketball team got in a slight groove against San Diego in its Boca Beach Classic opener on Sunday night, which meant a few things.
First, it meant big minutes for Kyle Lofton, Jaren English and Osun Osunniyi, who were on the bench for a combined eight minutes. If you weren't in foul trouble, which hampered the Bonnies in a 10-foul first half, and you were effective, which the Bonnies were as they shot nearly 50 percent from the field, coach Mark Schmidt was riding with you. 
Secondly, it meant Osunniyi was having a game-altering impact.
Osunniyi totaled his second double-double in two games since his return from injury and made his way into every statistical category besides three-point shooting and technical fouls. Bonaventure followed the big man's lead to earn a 70-61 victory and a spot in the tournament championship against host Florida Atlantic at 8 p.m. Monday.
Takeaways from a victory that improved Bona's record to 3-4:
Player of the Game: Osun Osunniyi, St. Bonaventure. Osunniyi got the start after coming off the bench last Tuesday against Mercer and stuffed the stat sheet to the tune of 15 points, 10 rebounds (four offensive boards), six blocks, two assists and a steal. He matched his 15-point outing against Mercer and blocked four more shots. The assists marked his eighth multi-assist performance in 37 career games. Once again, the big man made a big difference on both ends. 
Honorable mention: Jaren English, St. Bonaventure (12 points, four rebounds, three steals), Dominick Welch, St. Bonaventure (16 points, 4-for-6 three-point, six rebounds)
Stat of the Game: St. Bonaventure reached 70 points for just the second time all season, due in large part to seven made three-pointers. SBU is now 2-1 when it makes seven or more three-pointers, the wins coming over Rutgers and San Diego and the loss coming at the hands of Siena.
Stretch of the Game: The Bonnies were only up by two points when English's dunk with 9:55 remaining keyed a 9-3 run in a 2:05 span. Though the Toreros would cut the advantage to three on multiple occasions over the next seven minutes, Welch and the Bonnies had answers. Welch scored eight points, including two threes, over the last 9:15.
Quote of the Game: "We've got a long way to go… the young guys are gonna be up and down," Schmidt told WPIG in his postgame interview. "The veteran guys need to do what they need to do. I thought Kyle had a good floor game. We're getting better."