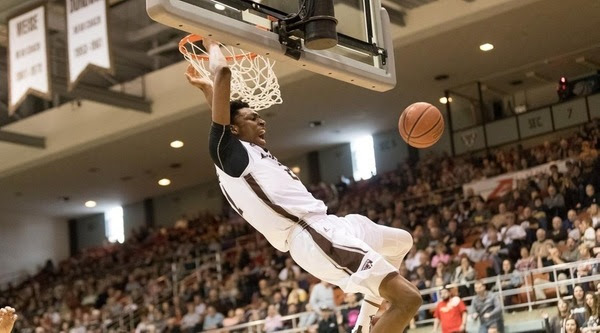 By CHUCKIE MAGGIO
Osun Osunniyi's unannounced return made a very pronounced difference.
Osunniyi was the most impactful player in his first game back from a bruised knee that sidelined him for four games. He led all scorers and rebounders as St. Bonaventure defeated Mercer 56-51 to improve its record to 2-4.
Takeaways from Bona's first win in the United States this season:
Player of the Game: Osun Osunniyi, St. Bonaventure. Osunniyi scored 15 points, more than he scored in all but two individual games last season (18 at George Washington, 16 against Fordham). He also corralled 12 rebounds for his seventh career double-double. 
Osunniyi played 30 minutes, blocked two shots and made seven of his eight free throw attempts. His comeback also marked Bonaventure's first rebounding advantage since the Vermont loss on Nov. 9. 
Honorable mention: Ethan Stair, Mercer (13 points, 11 rebounds)
Stat of the Game: The Bonnies made 16 of their 19 free throw attempts (84.2 percent), while Mercer made just five of 11 (45.5 percent). The Bonnies are shooting 79 percent (79 of 100) from the free throw line this season.
Stretch of the Game: Mercer entered Tuesday's contest averaging 80 points a game. SBU made it clear that threshold would not be met when it held the Bears without a field goal from the 15:35 mark to the 2:14 mark of the first half. The Bonnies outscored the Bears 22-7 over that stretch, recovering from a 12-2 hole to start the game.
Quote of the Game: "Defensively he just brings a different dimension; we have a rim protector now…" Bona coach Mark Schmidt said of Osunniyi. "He affects the defensive end so much, and he scored inside for us, and that's what we need."