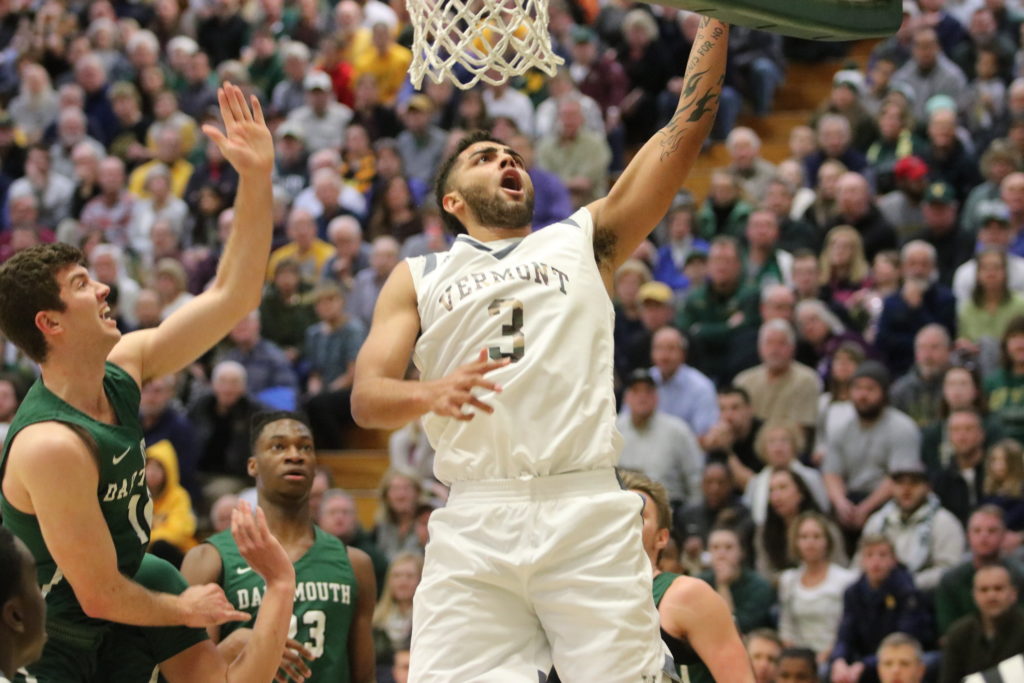 By CHUCKIE MAGGIO
ST. BONAVENTURE — Dominick Welch rose and fired, hoping to bring the Reilly Center faithful to their feet and shave three points off St. Bonaventure's deficit. A swish from behind the arc would bring the Bonnies within a point with 1:46 remaining and mitigate a forgettable shooting night.
The look was great, but the result summarized Bonaventure's entire night. The ball was halfway down before rimming out, into the arms of Vermont guard Ben Shungu.
"AWHHHHHHH," the crowd groaned, letting out frustration after watching yet another deep attempt miss the mark by the slightest of margins. The Catamounts held on to win 61-59, while Bonaventure dropped to 0-2.
SBU did a satisfactory job on reigning America East Player of the Year Anthony Lamb, holding the senior to 15 points on 3-of-12 field goal shooting, including seven misses in seven attempts from three-point range. The Bonnies outrebounded the Catamounts 44-41, held them to 35.4 percent field goal shooting and an unsightly 3-of-20 mark from three, swiped nine steals and committed three fewer turnovers. They got 10 points from freshman Justin Winston, 11 points from senior Amadi Ikpeze and a double-double (13 points, 11 rebounds) from Welch.
Ikpeze scored in double figures for the second consecutive game, the first time he's done that in his career. After losing 25 pounds in the offseason, the Amherst, N.Y. native is the pleasant surprise in an 0-2 start.
But all of those positive, encouraging statistics couldn't loosen the metaphorical lid that's been on Bonaventure's basket through the first two games. Bona made just four of its 27 three-point attempts, putting the team at a 15 percent clip (7-of-46) from behind the arc after two games.
Men's basketball teams combined to make just 18 of their 88 three-point attempts at the Reilly Center this week. While the new, FIBA-regulation three-point line could be attributed to that drought, the change was just over an inch.
"It's basketball," Bonnies coach Mark Schmidt said. "We've gotta get into the gym and work at it, work harder at it. We had some shots that went in and out, but that's basketball. We've gotta go in and continue to work. You can't get frustrated; that's the way it goes. I say it all the time, offense is fickle; jump shots are fickle. Sometimes they go in, sometimes they don't. But you've gotta earn the right to make them. We've gotta go back and we've gotta live in the gym the next four or five months."
While the Bonnies certainly improved on their performance in the season-opening loss to Ohio, they still showed signs of youth. Take the end of the first half, for example, when they passed the ball around and didn't even get a shot off. Or the 25 fouls they committed, which led to Vermont making 24 free throws.
No one fouled out of the game, but Schmidt was especially miffed at some of the fouls the Bonnies took, calling them "dumb plays."
"Sometimes when you get blocked out, sometimes you have to live for another day and run back," he elaborated. "We made some dumb fouls, going over people's backs, that put them at the line and probably gave them eight to 10 free points by just making unintelligent decisions."
Vermont made five free throws in a 12-0 run from the 10:48 mark of the second half to 7:44 remaining that saw them not only recover the lead but build a double-digit advantage. Bonaventure missed four shots and committed a turnover during that stint.
Lamb didn't go for 42 like he did last year against the Bonnies. His 15-point output was his lowest since last season's regular season finale. However, the Rochester native had considerably more help than he did for most of that contest last December. Everett Duncan joined Lamb in double figures with 14, also converting nine free throws. Forward Ryan Davis scored eight points, grabbed six rebounds and recorded two steals. Shungu and Stef Smith chipped in seven points apiece. Shungu also dished out four assists.
"I think my biggest role isn't even as a scorer on this team," Lamb assessed. "I know the importance of having so many young guys and so many guys that haven't been in our system as many times, knowing that this is a crazy place to play. Not everybody's been in the same situations and have played in so many games like that, like I have. So I know that the biggest thing I can do is stay calm.
"Regardless of how many points I score or what I'm doing out there, just trying to really stay calm the while time and keep an even-keel. When they look at me and see me and I'm still solid, I'm not folding, I'm not getting over-excited or anything, I'm just staying level-headed the whole time, they know that they're gonna be fine, too."
Friday night concluded Bonaventure's current three-game series contract with Vermont. It was also the last time Lamb played against the Bonnies in his college career.
The last three meetings between the schools, where Lamb has been a constant, were decided by a combined 10 points. He almost pushed SBU's NCAA at-large hopes to the brink at the Blue Cross Arena in Rochester before breaking through in each of the last two years.
Lamb enjoyed the atmosphere, being jeered all night. Bonaventure fans will enjoy never playing him again.
"Every game has literally been down to the wire," Lamb noted. "I'm grateful that I've had the opportunity… St. Bonaventure's given me the opportunity to play in Rochester and then play so close to home. Just being able to see all my family and to let them be able to share in my college experience has been a wonderful opportunity. It's awesome that every game has been this close and this exciting, and we've been able to come out on top in two of them. I'm just blessed."