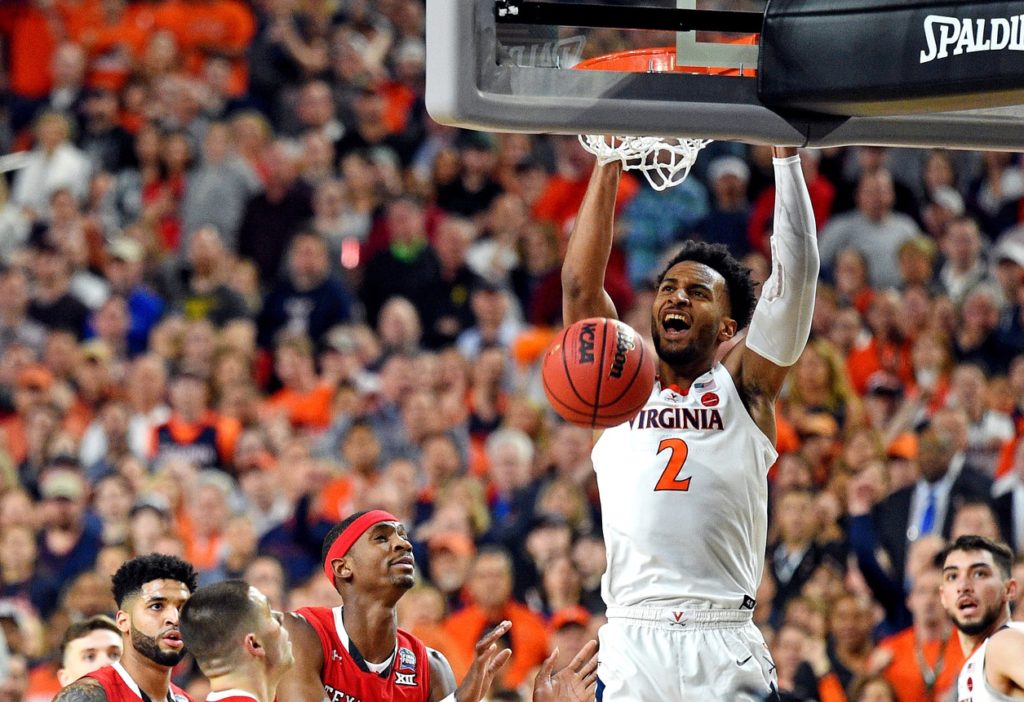 By BILLY HEYEN
Syracuse hosts No. 11 Virginia on Wednesday night in the Carrier Dome to open the new season. As part of the ACC's expanded 20-game conference schedule, the Orange get to start the campaign against the defending national champions. Last year, a second-half 3-point barrage from the Cavaliers dealt the knockout punch to SU in March.
Both teams have new looks this season, as each lost the majority of their 2018-19 starters. UVA will represent the second-highest ranked team Syracuse has faced to open a season in program history. Here's a preview of Virginia ahead of SU's opener.
How to watch Syracuse vs. Virginia
Syracuse and Virginia tip off at 9 p.m. on Wednesday, Nov. 6 and will be televised on ACC Network.
All-time record
Virginia leads the all-time series, 7-5; the first meeting was in 1984, and the most recent was in March.
TOP 5 STORYLINES FOR SYRACUSE'S SEASON
Last time they played
Syracuse led Virginia at halftime in March in the Carrier Dome. Then the Cavaliers came out of the halftime break scorching hot and won by 26, 79-53. Kyle Guy, De'Andre Hunter and Ty Jerome (all of whom were drafted to the NBA) combined to shoot 18-of-23 from 3-point land. Hunter also locked down SU's Tyus Battle in the second half.
Mamadi Diakite, the top returning player for Virginia, scored nine points with five rebounds and four blocks in the Cavaliers' win. Elijah Hughes and Buddy Boeheim each scored 11 points for Syracuse.
How Syracuse beats Virginia
When a team plays Virginia, the first step is handling the packline defense that the Cavaliers run so well. UVA opponents rarely find openings in the lane. If Syracuse is to find offensive success, it won't necessarily need to penetrate all the way to the rim, but there'll need to be enough dribble success to create open looks from the perimeter. SU's best offensive option in this game will probably be the 3-point shot (that'll be true often this season). The only way to get those open 3s will be for Jalen Carey, Elijah Hughes and the rest of the Orange's perimeter players to first work their way inside.
On the defensive end, Syracuse has to limit Virginia on its 3-point shots. A lot is different from a year ago. With no Guy, Hunter or Jerome, the Cavaliers' offense shouldn't be as potent in game one. But Kihei Clark, Braxton Key and Jay Huff all come back as experienced returners who can shoot the 3-ball. Add in Mamadi Diakite and you've got four players who will surely be ready to attack SU's 2-3 zone. Weeks to prepare for Jim Boeheim's defense can only help Tony Bennett's team. So the Orange will have to overcome that preparation and talent to limit UVA 3-point makes, which were the biggest weapon Virginia brought to the Dome last season.
The third and final key for Syracuse winning Wednesday will come at the center position, where the Orange will have to slow down Diakite and Huff. Both are gifted offensive players and rebounders, so the SU big men will have to defend effectively and then clean up the defensive glass. If Syracuse is dominated inside early on, it'll set up Virginia to get open 3s later and probably lead to too many points for SU to overcome against the packline defense.
Syracuse X-Factor
Jalen Carey: Against the packline man-to-man defense of Virginia, Syracuse will need to find some success penetrating to create easier buckets. The player most likely to break down an opponent off the dribble is Carey. SU will need him to make plays off the bounce, especially to free up the Orange's strong 3-point shooting.
Virginia X-factor
Jay Huff: The 7-foot-1 center poses a dual threat, able to finish near the rim and shoot the 3-ball. The Cavaliers should be able to use him anywhere they want against SU's 2-3 zone, meaning Syracuse will have to always stay aware of where he is. His length will also pose problems for an Orange team that struggles at times on the defensive glass.
Predictions: Syracuse vs. Virginia
Charlie DiSturco: Virginia 65, Syracuse 58
A young Syracuse team will have its first opportunity to not only show what they're capable of, but to face one of NCAA's best teams in Virginia. This will not be like last year's matchup inside the Carrier Dome where the Cavaliers shot lights out en route to a blowout victory. Expect a more defense-heavy bout between two teams still finding their identities, having lost a lot of talent from last season. The Orange will have the home crowd on its side, but Virginia will prove to be too much for an SU team tasked with replacing four starters.
Billy Heyen: Virginia 72, Syracuse 64
There's always going to be a little bit of randomness in a season opener, so the usual game changers of 3-point shooting and offensive rebounding can have even more of an effect than usual. It's just a little too early to trust that this new-look Syracuse team can score against a Virginia defense that we know will be very good, and the Cavaliers have enough talent back from their national title team to handle SU's 2-3 zone, too. This should be an exciting game to open the season with the Orange staying in it, but in the end, the defending national champions will hand Syracuse a season-opening loss.