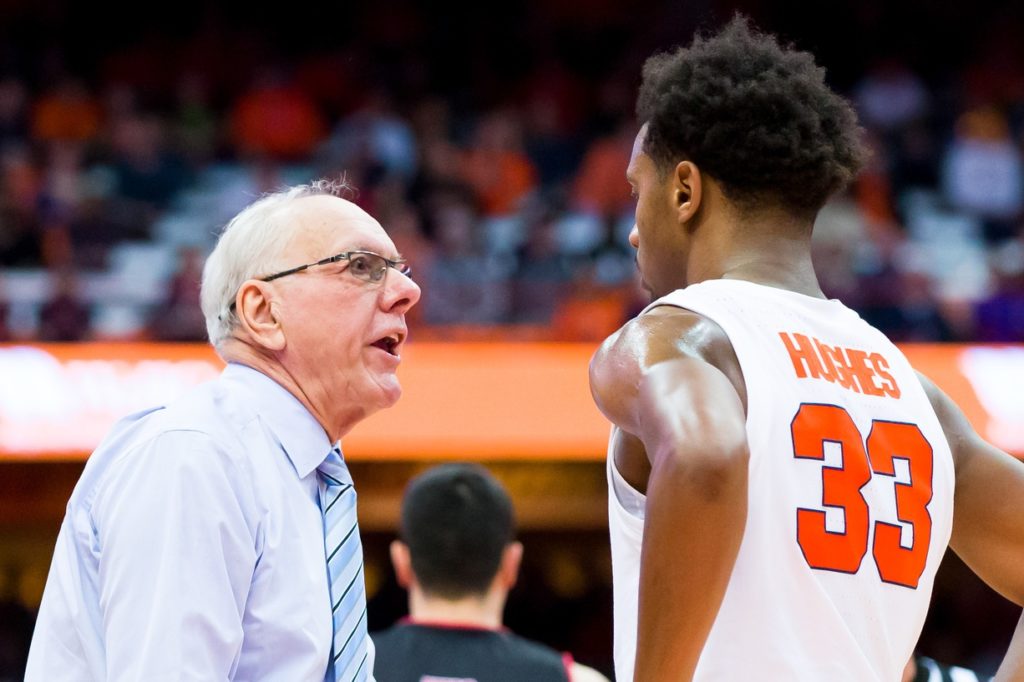 By CHARLIE DISTRUCO and BILLY HEYEN
With so much change for Syracuse entering the 2019-20 season, there are plenty of storylines to follow. New starters, players with increased roles, a new style of play. All the unknown makes this one of the more unpredictable SU seasons in recent memory.
Before the Orange tip off against the defending national champion Virginia Cavaliers on Nov. 6, Pickin' Splinters' Charlie DiSturco and Billy Heyen bring you the five storylines we'll be watching as the season goes on.
Elijah Hughes' emergence as top option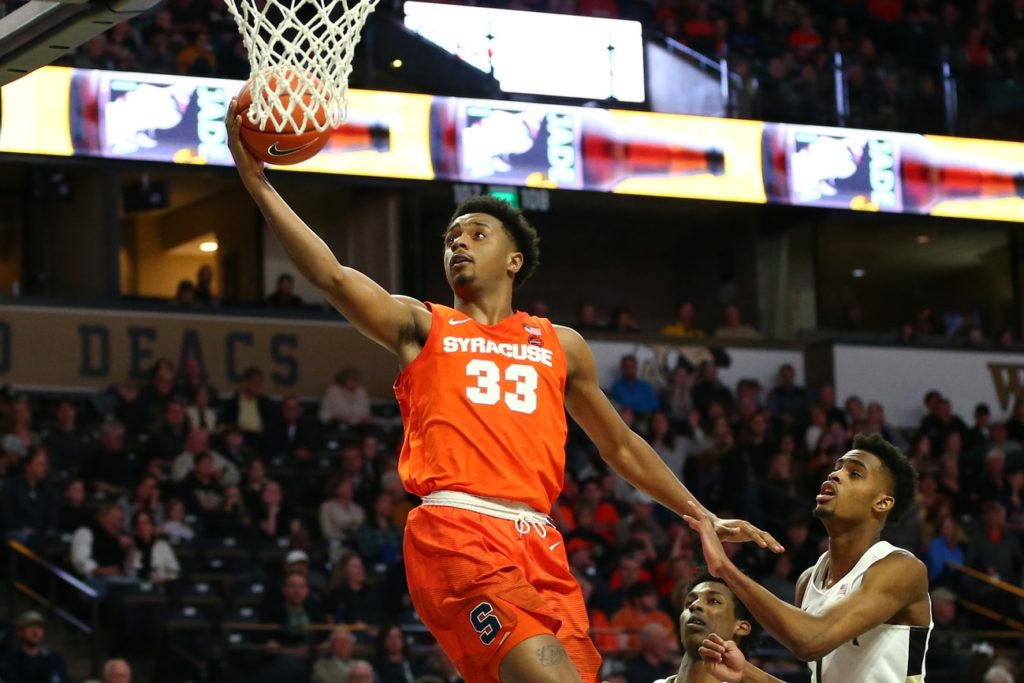 Hughes had been talked up two years ago as the transfer from East Carolina lighting it up in practice. Last season, we got to see his shooting range, athleticism and defensive instincts on full display in a secondary offensive role. Hughes averaged 13.7 points per game, including 36.9 percent from beyond the arc.
Now, this is Hughes' team. Tyus Battle and Oshae Brissett, the others expected to carry a scoring burden a year ago, are both gone to professional basketball. Hughes is the only returning regular starter. Many things will determine the success of this Syracuse team, but on a base level, the Orange will go as Hughes does.
To increase his scoring average while maintaining some efficiency, Hughes will need to successfully attack off the bounce, something that didn't happen much in 2018-19. If the two preseason exhibitions are any indication, Hughes' handle is tighter and more forays into the paint could be in his future. For Syracuse to reach the NCAA Tournament this season, it probably needs Hughes to be among the 10 best players in the ACC. He's capable, but a lot is riding on him delivering this season. — Billy Heyen
READ MORE: Our Syracuse Season Predictions
Jalen Carey's consistency at point guard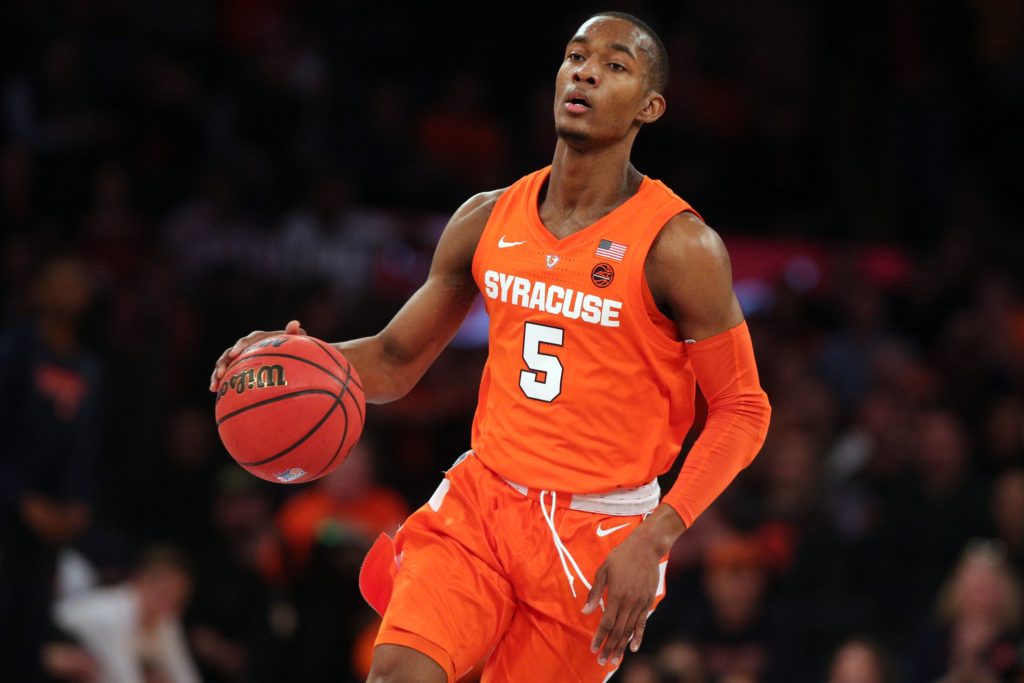 The preseason hype surrounding Jalen Carey entering his freshman year centered around his scoring ability and explosiveness. While he showed flashes of that – like his 26-point performance against Connecticut – Carey dealt with turnover problems and shooting woes often. He struggled to adjust to the fast-paced nature that is college basketball, going from one of the first options off the bench to battling for limited minutes.
Carey finished with 3.5 points, 1.0 assist and 1.6 turnovers in 12.2 minutes per game last season. His success from the field came few and far between, too (39.2 percent from field, 17.4 percent from 3).
With Frank Howard and Tyus Battle no longer around to carry the burden of the point guard duties, Carey will be relied on heavily, especially with such a young roster. He is one of the few capable ball handlers on the team and will slide into a starting role alongside Buddy Boeheim in the backcourt.
If Carey can reduce his turnover numbers and push in transition effectively, the sophomore has the potential to become one of the ACC's better point guards. His shot still needs plenty of improvement, but his athleticism and ability to drive will make up for the lack of a complete jumper.
Syracuse's offense was often criticized for its stagnant nature and inability to create shots at times last year. Carey has the opportunity to change that. He's surrounded by capable 3-point shooters, even more so than last year, allowing for the potential of a dynamic Orange offense. If his struggles continue, however, another rollercoaster of a season is in store. — Charlie DiSturco
How Syracuse fills a large hole in the paint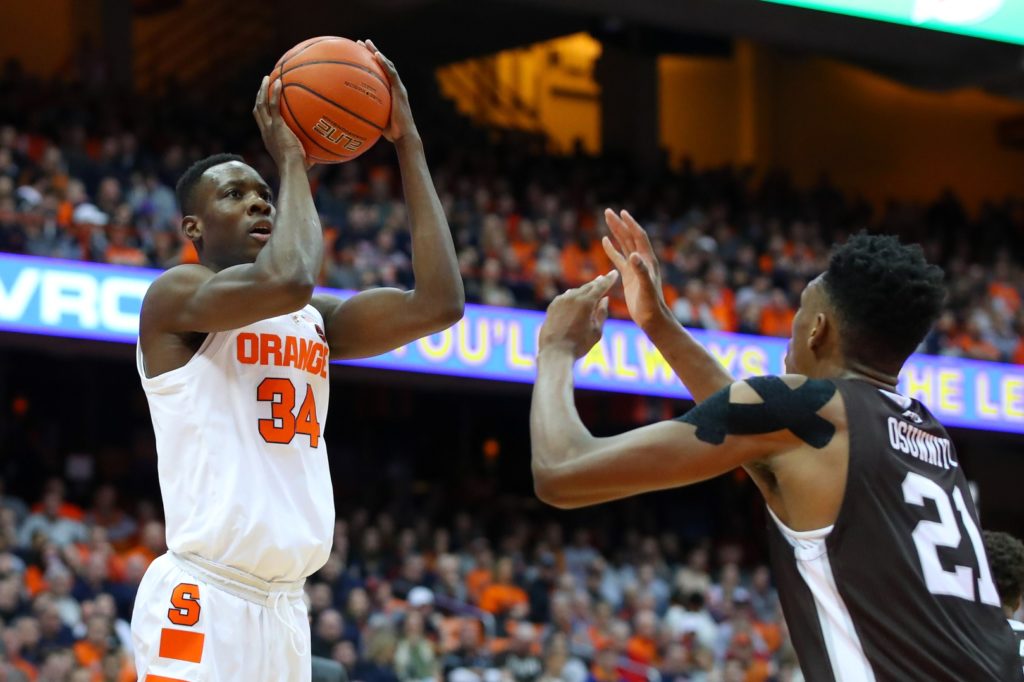 Paschal Chukwu's departure leaves Syracuse with a big defensive hole in the middle of the 2-3 zone. The 7-foot-2 center often deterred opposing offenses from working the ball inside the paint and helped provide much-needed relief on the boards. Tack on Oshae Brissett's ability to work inside on offense and his physicality around the rim, and there's a hole inside for the Orange.
Marek Dolezaj has proven to be a smart player but even head coach Jim Boeheim himself said the Slovakian forward struggles with the physicality inside the paint. Bourama Sidibe has the length, but there were often lapses defensively for the big man in 2018-19. Incoming freshman Quincy Guerrier will fill a similar role to Brissett — It's just a matter of how dominant the Canadian can be in his freshman season. Robert Braswell should see an increased role while Jesse Edwards and John Bol Ajak, both freshmen centers, will rarely see any playing time, at least early on, because of their rawness.
If Sidibe can focus on improving his defensive ability, he provides a significant boost offensively compared to Chukwu. Dolezaj will likely continue to help spread the defense thin with his shot and passing ability, but it'll be interesting to see whether or not he plays the center position in a small-ball lineup – and if he does, if he can handle the opposing bigs. There's potential for Syracuse to not miss a beat inside, but only time will tell if the SU bigs can replicate what Brissett and Chukwu brought to the table a season ago. — C.D.
Syracuse's reliance on the 3-point shot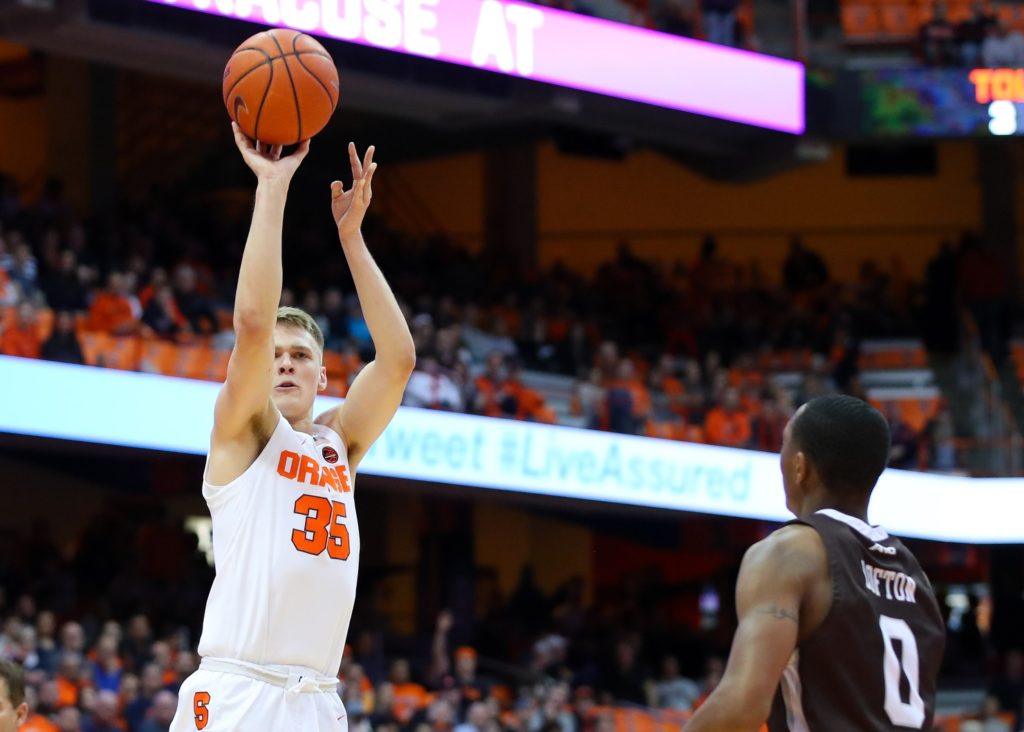 Hughes isn't the only shooter. He'll be joined in the starting lineup by Buddy Boeheim, who's had his shooting form compared to NBA sharpshoot Klay Thompson by former SU shooting great Gerry McNamara. Freshman power forward Quincy Guerrier is expected so stretch it out to the 3-point arc, as well. And there'll be firepower off the bench from freshmen guards Joe Girard III and Brycen Goodine, at least one of whom should find himself in the regular rotation.
Unlike last season, when the staple of Tyus Battle and Oshae Brissett's games was isolation ball and working in the midrange, this Syracuse team can put as many as four good shooters on the floor at a time (and that's not counting Marek Dolezaj, the lanky Slovakian who showed an improved stroke in a small sample size last season). While just exhibitions, SU combined for 25 3s in its two preseason contests, hitting at least 10 in both. The Orange hit double-digit 3s in 10-of-34 games a year ago.
This will surely be one of Syracuse fans' favorite things to love and hate this season. When the shots are falling, the Dome will be yelling "Shoot" every time someone is open. The days they're clanking off the rim, there'll surely be grumbles about working the ball inside and disregarding new-school basketball. The reality is, this is a Syracuse team better suited to embrace the 3-ball than any Orange group in recent memory and maybe ever. How well SU shoots from deep will play a huge factor in how deep the Orange can go in the postseason. — B.H.
New starting 5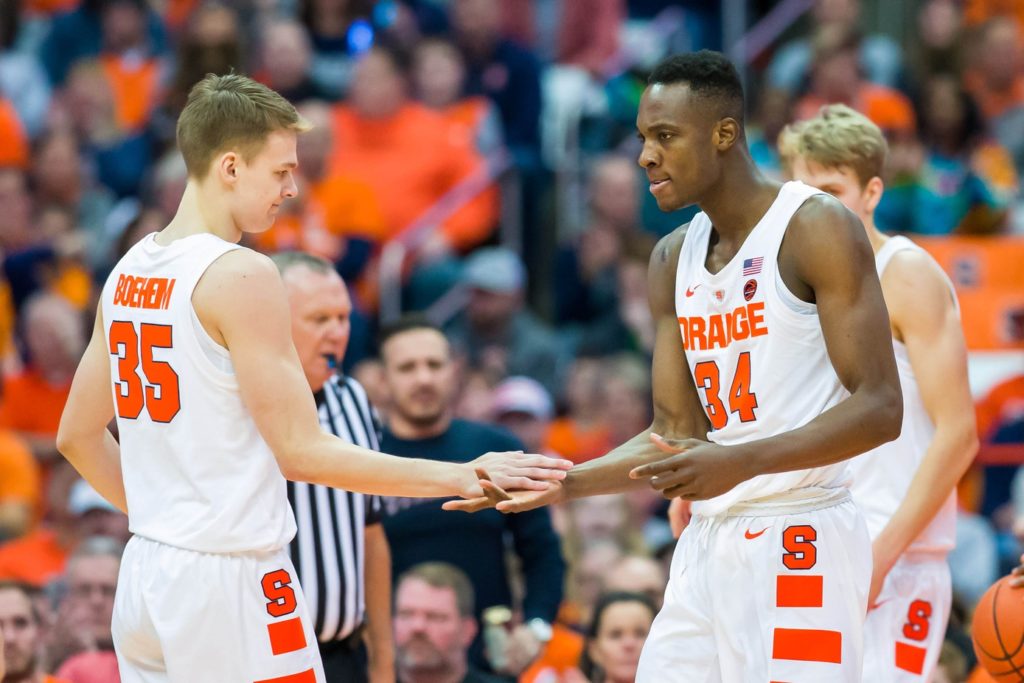 Battle, Brissett, Frank Howard and Paschal Chukwu are all gone. Hughes returns having started every one of Syracuse's games last season, while Buddy Boeheim, Jalen Carey and Dolezaj all return having started on a few occasions in 2018-19.
If the exhibition games are the proper indication, Syracuse will send out Carey, Buddy, Hughes, Quincy Guerrier and Bourama Sidibe for the opening tip on Nov. 6. That's two sophomore guards, a freshman power forward and a junior center who's played sparingly in his first two seasons, along with Hughes. Unlike last season, when a healthy starting lineup was pretty straightforward, there could be some tinkering this year.
SU head coach Jim Boeheim isn't inclined to start Dolezaj at center, although he did it a few times last year. That doesn't mean Dolezaj won't play the most minutes at the 5 this season. Goodine and Girard could make impacts off the bench, and if Carey struggled, one could take his point guard job. Guerrier is highly touted but also unproven, and Boeheim could choose to run Dolezaj or Robert Braswell at the 4 if needed. There are also two freshmen centers, Jesse Edwards and John Bol Ajak, who could make cases to start over Sidibe as the season wears on.
The starting lineup itself isn't overly important as much as it represents the unknown of this Syracuse season. Of course things will go better the sooner SU can nail down an optimal starting five, but how Boeheim breaks down his rotation in general will make the biggest difference in this inexperienced Syracuse team's season outcome. — B.H.