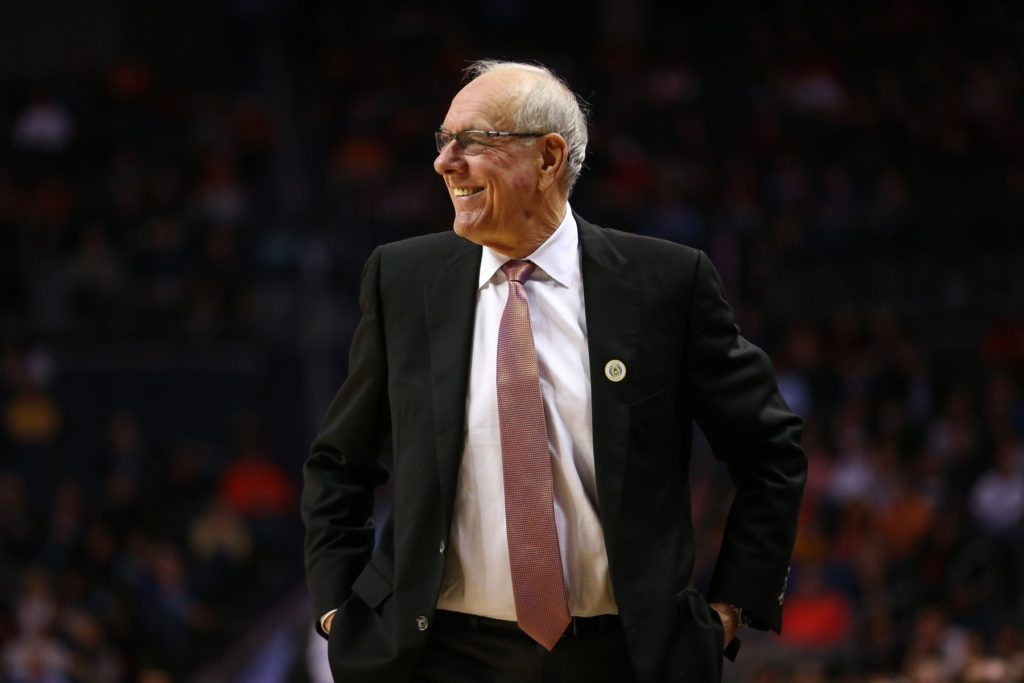 By CHARLIE DISTURCO and BILLY HEYEN
Syracuse began last season ranked, but that didn't stop the Orange from losing four nonconference games. The 2018-19 season was filled with those kinds of ups-and-downs: A loss at home to Georgia Tech followed by a win at No. 1 Duke two days later. For the first time in a while, SU entered Selection Sunday safer than the bubble.
With the 2019-20 season getting underway Wednesday against the defending national champion Virginia Cavaliers, last season tells us almost nothing. Syracuse has to replace four spots in the starting lineup and has five freshmen on the roster. Tyus Battle, Oshae Brissett, Frank Howard and Paschal Chukwu are all gone. It's a season that could go remarkably well or historically poorly.
Charlie DiSturco and Billy Heyen both covered last year's Syracuse season as beat writers for The Daily Orange. Here are their predictions for the 2019-20 season.
Charlie DiSturco
Regular Season Record: 20-11
Where season ends: NCAA Tournament first round
This Syracuse team is definitely capable of making a deep run if everything clicks. But there's so many new faces that the Orange will likely struggle out of the gate, hit a groove, then battle through the gauntlet that is the Atlantic Coast Conference and into the NCAA Tournament. But like last year, they'll be unable to come away with a win in the Round of 64. If I had to project a seed for SU, it'd be a No. 10 seed (maybe play-in at No. 11). For fun, let's say their season ends with a loss against No. 7 seed Washington and Mike Hopkins.
MVP: Elijah Hughes
This really isn't a surprise. There's no Tyus Battle or Oshae Brissett, leaving the former East Carolina transfer Hughes with the keys to the offense. Hughes is the only returning starter from a season ago and arguably the best 3-point shooter on the roster. Tack on his athleticism and defense, and there's no question Hughes is the star.
Bold prediction: Brycen Goodine works way into starting lineup
When Goodine committed to Syracuse, his name was not inside ESPN's Top 100 and he was a relatively unfamiliar prospect. Fast forward a year and the 6-foot-3 guard ranked No. 77 and enters the season among the best sharpshooters on SU's roster. There's a lot to love about Goodine, who'll open the year off the bench behind Jalen Carey and Buddy Boeheim. Expect him to start out strong and, if one of the two starters struggle, work his way into a starting role by season's end.
Syracuse reaches its ceiling if: Freshmen live up to potential
Quincy Guerrier will be immediately inserted in the starting lineup and Brycen Goodine provides critical assistance off the bench. Add in Joe Girard III's shooting prowess and this trio will make an impact right away for an Orange roster that lost four starters from a season ago. Guerrier sets up as a potential NBA prospect that can stretch the floor and both Goodine and Girard III are reliable 3-point shooters. If all three live up to expectations — or even exceed them — Syracuse could be a dangerous team come March.
Syracuse struggles the most if: Jalen Carey remains stagnant in sophomore year
When Frank Howard missed time with injury to start last season, Jalen Carey was given first crack at filling the senior point guard's shoes. But he quickly struggled to adjust to the fast-paced nature of college basketball, with turnovers becoming a consistent problem for the former Top-40 prospect. Carey is athletic and explosive but lacks a consistent 3-point shot and often plays too fast for himself. If he fixes that as the full-time starter this season, Syracuse will have no problem pushing transition and being a solid offense. But if he struggles once again, this offense might not be able to deal with full-court pressure and will be susceptible to plenty of surprising losses.
READ MORE: St. Bonaventure's preseason stats to know
Billy Heyen
Regular Season Record: 21-10
Where season ends: NCAA Tournament second round
You want specifics? Syracuse will make the NCAA Tournament as a No. 10 seed and beat No. 7 seed Oklahoma in the first round. The season will end at the hands of the No. 2 seed Florida Gators and Virginia Tech-transfer Kerry Blackshear Jr, who's shown already in his career he can crush the Orange as a distributor from the paint against the 2-3 zone.
MVP: Elijah Hughes
This isn't hard, but Hughes is expected to be this year's Tyus Battle. It was Battle who saved SU in multiple 2018-19 games that could've been losses. With Hughes the only returning regular starter for the Orange, all eyes will be on him. I expect him to deliver much more often than not. If exhibition games count for anything, Hughes has obviously been Syracuse's best player on the floor in its two preseason contests.
Bold prediction: Joe Girard III leads Syracuse in scoring in an ACC upset
Overall, playing time could be sparse for New York state's all-time leading high-school scorer. But he'll probably have his moments off the bench, and the number of ranked ACC teams mean that there'll be plenty of chances at an upset. I'm predicting he'll get red hot in one of those games – we all know he can shoot – scoring a team-high 20-plus points en route to a resume-boosting win.
Syracuse reaches its ceiling if: The center position is reliable
Paschal Chukwu graduated, and say what you want about the 7-foot-2 center, but he was a deterrent in the middle of SU's 2-3 zone. The defensive presence inside will be much less for Syracuse unless freshman Jesse Edwards proves ready for college basketball right away. The Orange will likely end up relying on Marek Dolezaj at the 5 a lot, and he'll have to defend well enough to keep his offensive talents on the floor.
Syracuse struggles the most if: It can't shoot consistently
This SU team may rely on the 3-point shot more than any Orange team, maybe ever. And as they say: Live by the 3, die by the 3. The potential for monster nights is there with so many 3-point attempts, but if they aren't falling, there might not be enough other options in this offense to save itself. We'll find out early on if Hughes and Buddy Boeheim have improved off the dribble enough to make this more than a let-it-fly offense – if they have, that could be the Orange's saving grace in games the shots are off.