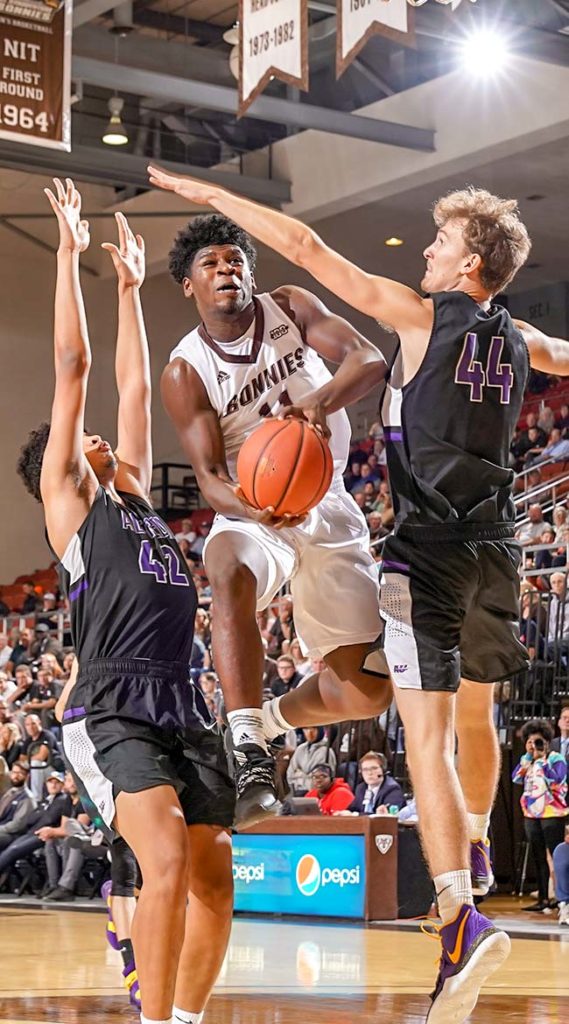 By CHUCKIE MAGGIO
Alejandro Vasquez offered the most accurate representation of St. Bonaventure's newcomers' collective performance during Wednesday night's 90-45 exhibition win over Alfred.
The Queens, N.Y. native got the start in his first appearance in front of the Reilly Center faithful and fired away, leading the Bonnies with six shot attempts in the first half. He missed four of those tries and was off on both three-point attempts. The Bonnies missed all 11 three-point attempts in the first 20 minutes and played at a frenetic pace that led to eight turnovers and just a 13-point locker room lead against the Division III Saxons.
Vasquez, along with fellow first-year Bonnies Robert Carpenter, Matt Johnson and Bobby Planutis, overcame any butterflies that were in his system to lead Bonaventure to a second half blowout.
Vasquez collected 14 points in the second, including a highlight-reel three-pointer after he crossed over a Saxon defender, to bring his game total to a team-leading 20. He shot 50 percent overall, 7-of-14, as well as tallying two assists and two steals. The Bonnies shot 52 percent from the field in the second, turned the ball over just three more times and rolled to a 45-point victory.
Takeaways from the first look at the 2019-20 Bonnies:
Player of the Game: Alejandro Vasquez, St. Bonaventure. Vasquez not only electrified the Reilly Center and his own bench, he displayed an energy and durability that's going to serve him well in his Bonaventure career; only Dominick Welch played more minutes than Vasquez's 27. The freshman only committed one foul and one turnover in a fantastic preseason showing.
Honorable mention: Bobby Planutis, St. Bonaventure (11 points, 5-of-7 shooting, four rebounds), Robert Carpenter, St. Bonaventure (10 points, 5-of-7 shooting, nine rebounds), Matt Johnson, St. Bonaventure (nine points, eight assists)
Stat of the Game: Kyle Lofton and Osun Osunniyi watched most of the game from the bench, playing just 29 combined minutes ahead of Tuesday's season opener against Ohio.
Stretch of the Game: After an Alfred layup cut Bonaventure's lead to 38-27 with 18:16 remaining, the Bonnies ripped off a 28-9 run over the next nine minutes to take a commanding 30-point lead.
Quote of the Game: "You always wanna win," Bonnies coach Mark Schmidt commented in his postgame radio interview with Gary Nease and Don Scholla on WPIG. "I was always told when you keep score, no matter if you're playing cards or whatever, you always play to win. So you want to win, but at the same time it's always important to get the young guys confidence, get them used to this environment, first time under the lights. We're gonna need two or three of those guys to play for us, so it's a big key."
Note: Junior college transfer Jaren English did not play and is reportedly out four to six weeks with a hand injury, according to The BonaVenture's Mike Hogan.