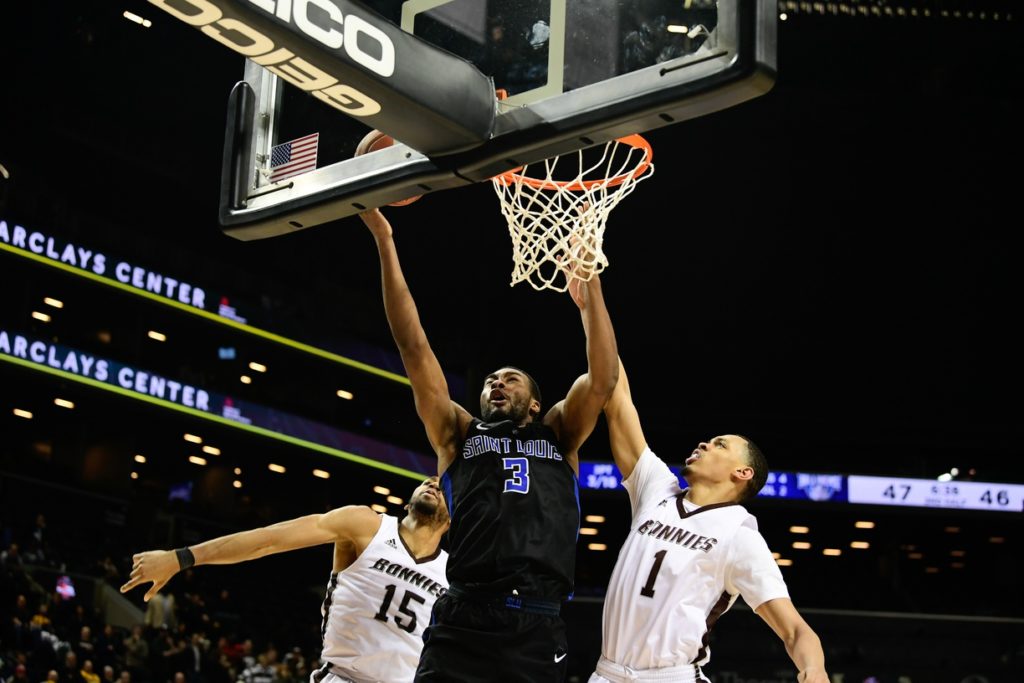 By CHUCKIE MAGGIO
St. Bonaventure basketball fans who want to check out Dominick Welch's rapping talents are provided with a friendly disclaimer in his Soundcloud ode to teammate Osun Osunniyi.
"I don't even gotta say this/But Bonnies please don't play this/I don't know how you'll take it/But baby we don't fake it."
Welch, who picked up the hobby in his prep year at the SPIRE Institute, played a pivotal role in Bonaventure's 2019 turnaround. After missing nine non-conference games with a broken toe, the 6-foot-5 Buffalo native was the team's best three-point threat in Atlantic 10 play before breaking out with 12 points and seven rebounds a game in the A-10 Tournament.
"Last year we had a drought/But something came about/They was talking down/They ain't have no faith/But we earned that sh-t/The start of something new/Y'all don't got no clue/What we about to do."
Dissing your own fanbase on a track is a bold move, but "Domo D" (Welch's rap alias) has mended fences with Bona Nation; he called them "the best fans in college basketball hands down" in May.
"They listened to it a little bit, started to spread it around," Welch recalled. "I've got a couple people out here."
Mark Schmidt and the St. Bonaventure coaching staff invested significant time drawing Welch to SBU, through a high school career at Cheektowaga that ended with him scoring more points than anyone in Western New York history and a prep season at SPIRE that only confirmed Bona's interest.
Schmidt spoke uncharacteristically highly of his star freshmen last year. "I'm lucky to be able to coach them… They're special players," he said after last year's A-10 Tournament quarterfinal victory over George Mason, when Welch buried six three-pointers to help dispatch the Patriots. On the Marching to Madness podcast with Blake Lovell and Ken Cross earlier this month, Schmidt called Welch "one of our biggest surprises" and expressed the desire to see him increase his scoring average to 12 or 13 points a contest.
"If he wasn't our best player at the end of the year, he was one of the top three guys," Schmidt commented. "He can really shoot the ball… He's learned the system, he understands the whole defensive part of it and he's gonna be a big key. Him shooting 36 percent (from three), hopefully he can shoot over 40 percent… That's the next step in his development.
"He was just a jump shooter. Now he's worked on his ball-handling and can take guys off the dribble a little bit. I think he's gonna surprise some people. He's really made strides through last season and he's had a great offseason."
Bonaventure averaged just 6.1 three-point makes a game last year, tied for 309th out of 353 Division I teams. Welch made nearly a third of those. He understands his role in the offense and the need to be more prolific from deep.
"I'm glad I can carry over my game from last year and just evolve it even more," Welch assessed. "Just try to be more consistent with my jumper, and that's pretty much it."
The Bonnies lost 25 points a game when Courtney Stockard and LaDarien Griffin graduated in May, making the potential five-point increase in Welch's production more of an expectation than an added bonus.
Stockard got a first-hand look at Welch's development last year when they matched up in the Reilly Center. Stockard joked that the reason Welch improved so much after being sidelined was "him having to guard me and me guarding him in practice."
"My lockdown defense got him better," Stockard cracked from Finland. "Nah but for real though, Dom really knows how to play the game the right way and works hard, has a pretty high IQ and good feel for the game… He's always active, moves well without the ball and always crashes the glass."
Welch made 43 threes in 2018-19, but one of his misses kept him thinking over the long offseason.
Before Nelson Kaputo's three-pointer failed to find bottom on Bonaventure's last shot in the A-10 championship, Welch had an open three of his own. Curling off a cross screen with Kyle Lofton that lost his defender, he received a Kaputo pass on the wing and hoisted the shot, which missed off the front iron. He corralled his own rebound after a few deflections but Lofton's ensuing layup missed the mark, leaving the Bonnies in desperation mode on the last possession.
Welch posted the play on his Instagram story in July. On an app where users notoriously mask the negative aspects of their lives by providing glowing, filtered images of their successes and crowning moments, Welch didn't shy away from reliving one of his worst.
"Motivation!" the caption read. "Won't happen again."
"I feel like we finished strong last year," Welch explained. "It didn't end the way we wanted it to, but I just feel like all the returners coming back, we've just gotta bring the confidence that we had from last year over to this season and try to get the new guys involved with us."
The sophomore's next Bonaventure basketball song is yet to be written.