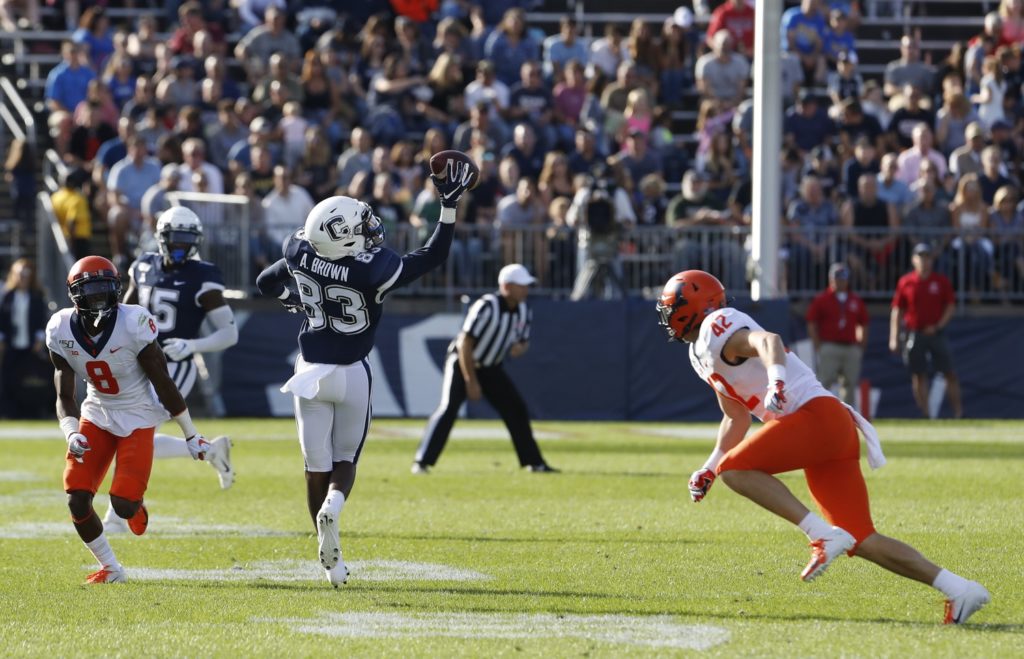 By BILLY HEYEN
Ardell Brown told Trib Live in January that he never imagined he'd play at the Division I level. Not only is he wearing a D-I uniform now, though – the former Bishop Kearney and Seton Hill star is filling the highlight reels.
Brown caught three passes for 52 yards Saturday for Connecticut in a loss to Houston, including one that could be in the conversation for catch of the season.
On a pass down the right sideline, Brown was shadowed by multiple defenders. Brown cut in front of the cornerback defending him and knocked the ball up in the air before stumbling over his defender. He never lost sight of the ball, and he deflected it toward his hands with his left leg. It took another slight bobble before Brown was able to secure it.
Doing the ESPNU broadcast as color commentator was Rene Ingoglia, a star at Bishop Kearney in the early '90s. After another play was run, Ingoglia threw in a one-liner: "Must've been that great high school he went to."
Amidst a tough season for UConn, Brown has caught at least one pass in every game he's played. He's got 19 catches for 228 yards and a touchdown across six games in total.
Against Illinois earlier in the season, in his Division I debut, Brown made a remarkable one-handed catch on a ball thrown behind him while absorbing a big hit.
Three weeks later, Brown caught his first Division I touchdown. It came against nationally ranked UCF as Brown shook off his defender on a corner route.
Out of high school, Brown was lightly recruited as an undersized receiver. He ended up at Division II Seton Hill, where he starred for three seasons while missing the 2017 campaign due to injury. Brown holds Seton Hill's all-time marks for catches, receiving yards and receiving touchdowns.
As a high school senior in 2014-15 at BK, Brown was second-team All-Greater Rochester. The Kings won the Section V Class D title that season, and Brown was named first-team All-State. Brown was also the starting point guard for BK's basketball team.