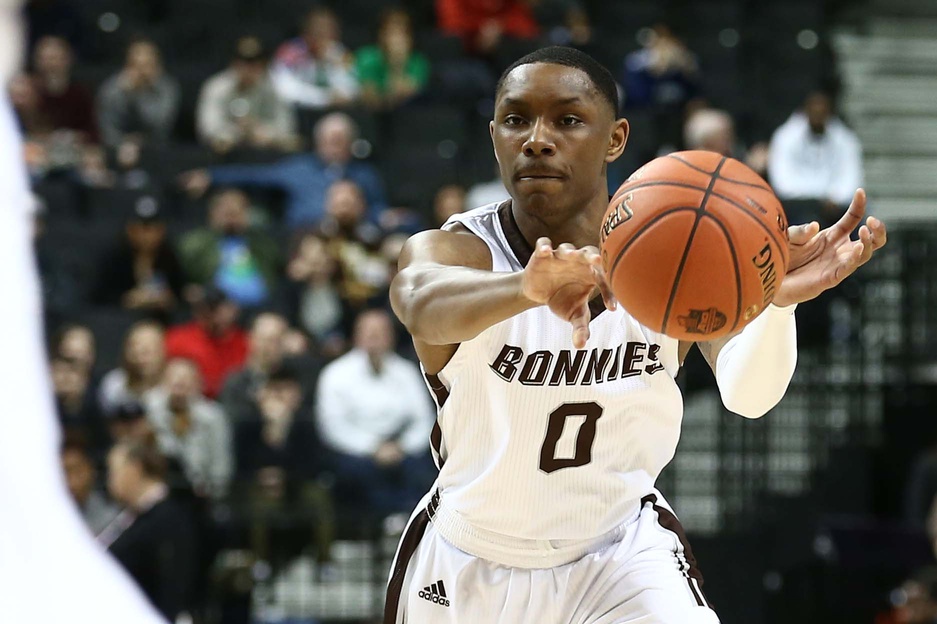 By CHUCKIE MAGGIO
The St. Bonaventure Bonnies tip off exactly two weeks from Wednesday when they host the Alfred Saxons in an exhibition game at the Reilly Center. The "Two Week Warning" means it's high time for another Stats and Facts article to kick off the season.
Here's a grab bag of 12 stats and facts about the St. Bonaventure program and its players:
1. St. Bonaventure has won double-digit conference games in each of the last five seasons. That's the longest active streak in the Atlantic 10 as well as the longest (and only) streak in program history.
2. This is the 100th season of St. Bonaventure basketball. Duquesne is Bonaventure's most common opponent (117 meetings). Of the teams the Bonnies have played at least 20 times, they have the best win percentage against Franciscan rival Siena (.781, 25-7) and the worst win percentage against former A-10 foe Temple (.121, 7-51).
3. St. Bonaventure has the tallest roster in the A-10 this year, with an average height of 78.1 inches. With two 6-foot-10 centers in Amadi Ikpeze and Osun Osunniyi and 6-foot-3 representing the shortest listed height on the squad (Kyle Lofton and Alejandro Vasquez), SBU is nearly a full inch taller on average than last season. George Washington is the second-tallest team (77.9 inches), while George Mason is the shortest (75.7 inches).
4. Phil Martelli's departure from St. Joseph's makes Mark Schmidt the second-longest tenured Atlantic 10 coach, behind only Richmond coach Chris Mooney. This is Schmidt's 13th year at Bonaventure, Mooney's 15th with the Spiders.
5. Schmidt is three wins away from passing former La Salle coach John Giannini for the sixth most victories all-time as an A-10 coach. Schmidt, who has 210 wins as Bonnies coach, passed John Calipari (193 wins at UMass) for seventh last season. Schmidt passed Giannini for sixth all-time in conference wins (107 and 100, respectively) last season.
6. The Bonnies allowed just 63.1 points per game last season, tied with the 1957-58 team for the sixth-fewest in school history. SBU ranked 18th in scoring defense in the country in 2018-19.
7. SBU's longest current A-10 win streak is against UMass (seven games). Its longest conference losing streak is against Dayton (four games).
8. St. Bonaventure has won 59 true road games this decade. The Bonnies won 67 road games in the 1990s and 2000s combined.
9. Kyle Lofton in Bonaventure wins: 15.3 points per game, 48.2 percent field goal shooting, 40.3 percent shooting from three.
Kyle Lofton in Bonaventure losses: 13.4 points per game, 40.3 percent field goal shooting, 22.9 percent shooting from three.
10. The only Bona player since 2010 to hit more three-pointers in an A-10 Tournament game than Dom Welch, who hit six threes against George Mason: Matt Mobley, who holds the single-game record with nine.
11. Amadi Ikpeze scored double-figure points just once last year, down from four times in 2017-18. The Bonnies are 4-1 when Ikpeze scores 10 or more points.
12. Osun Osunniyi needs to average 66 blocked shots a year to break Caswell Cyrus's career school record of 289. Osunniyi swatted 92 shots last season.