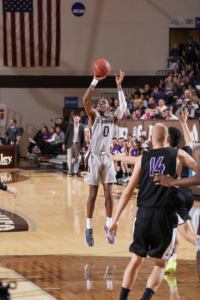 By CHUCKIE MAGGIO
The Davidson Wildcats and St. Bonaventure Bonnies are expected to be legitimate Atlantic 10 contenders this season. They also happen to have two of the most formidable duos in mid-major college basketball.
The Wildcats feature an experienced guard duo, while Bonaventure has a young, guard and big man one-two punch. This disparity poses an interesting (to me, at least) hypothetical:
You're coaching an NCAA Tournament caliber team. Which duo would you rather have: Jon-Axel Gudmundsson and Kellan Grady for one year or Kyle Lofton and Osun Osunniyi for the next three?
NCAA.com analyst Andy Katz released a significantly early NCAA Tournament bracket on Tuesday. Katz listed Davidson as a seven-seed and VCU as a nine, while St. Bonaventure and Dayton are "under consideration."
The Wildcats appear poised to make a run to March Madness for the third time in six years and hope to follow Gudmundsson and Grady to the Sweet 16 and beyond. Lofton and Osunniyi, A-10 All-Rookie members last year, are the two biggest reasons the Bonnies could be in the mix.
Lofton and Osunniyi, floor general and paint comptroller, have NBA upside that has Bona Nation buzzing about the next three seasons. Lofton averaged 21.5 points and five assists in the two games that pushed Bonaventure to the A-10 final in March, while Osunniyi was sixth in the nation in total blocks.
Gudmundsson, the 2018 A-10 Player of the Year, ranked third in the league scoring and fifth in both rebounds and assists as a junior. He racked up a triple double at Rhode Island on Feb. 22, with 20 points, 10 rebounds and 10 assists. Grady, now a junior, joined Gudmundsson on the A-10 First Team after being the league runner-up in points. Grady also happens to dominate the Bonnies, averaging 26 points and shooting 54 percent from three.
A lethal backcourt like the one Davidson coach Bob McKillop has enjoyed doesn't come around often. But Lofton and Osunniyi have three years ahead of them, play for one of the best developmental coaching staffs in college hoops and could both land on all-conference teams in 2020.
All things considered, who are you taking?