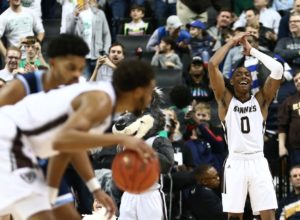 By CHUCKIE MAGGIO 
If the Atlantic 10 plays its cards right, it has a burgeoning basketball tradition on its hands.
The St. Bonaventure Bonnies and Davidson Wildcats are scheduled to meet on a Friday night as part of the A-10's deal with ESPN for a third consecutive season, the league announced in today's schedule release. The game is set for Feb. 14, Valentine's Day, at 7 in the Reilly Center.
The Davidson matchup is one of five the Bonnies will play on the league's three major networks- ESPN2, CBS Sports Network and NBC Sports Network. The other opponents: VCU on Jan. 18 (CBS Sports), Dayton on Jan. 22 (CBS Sports), Duquesne on Feb. 8 (NBC Sports) and Richmond on Feb. 22 (NBC Sports).
The national exposure Bonaventure perennially receives in conference will provide some excitement for fans disappointed by SBU's underwhelming non-conference slate. Bona fans took particular umbrage at the announcement of a Dec. 14 meeting with the Division II Gannon Knights. St. Bonaventure did not respond to a request for comment.
Even before non-league opponents were announced, serious NCAA Tournament at-large contention appeared to be a year away for this group. While the Bonnies certainly have the talent to return to the A-10 final, they have one upperclassman who has played at the D-I level. Brooklyn is the path to March Madness in 2019-20, while an at-large should be the target in 2020-21.
This doesn't excuse a November and December that leaves some to be desired. It just explains my rationale for prioritizing A-10 games in this countdown of the 10 best games on Bonaventure's full schedule.
10. St. Bonaventure at Buffalo, Dec. 30. Nate Oats is gone, as are four of the five leading scorers from the best team in UB history. The Bonnies should be favored over the new-look Bulls, but Buffalo will have two months to play together and form an identity under new coach Jim Whitesell. The game's timing, the day before New Year's Eve, will lead to an impressive crowd and a continuation of last year's no-holds-barred trash talk. Bona would love nothing more than a statement win to regain series bragging rights.
9. St. Bonaventure v.s. Ohio, Nov. 5. The Bonnies haven't won a season opener by more than 10 points since 2014; they've lost the last two. The Ohio Bobcats only won six Mid-American Conference (MAC) games last year and lost three of their top four scorers to transfer or graduation. Rochester-area fans may be familiar with incoming freshman Miles Brown, the Northstar Christian Academy star who finished his high school career as Section V's all-time leading scorer. But Bonaventure has the edge and will aim for an impressive start to the season.
8. St. Bonaventure v.s. Rutgers, Nov. 16 (Toronto). St. Bonaventure gets a primetime slot north of the border for its only game against a power five conference opponent this season. A win over one of the Big 10's laughingstocks wouldn't be anything to write home about, but the bright lights of Scotiabank Arena make this contest appealing. NBA scouts are likely to stick around after Washington-Tennessee to catch a glimpse of Kyle Lofton and Osun Osunniyi, so this is an important outing for the sophomores.
7. St. Bonaventure v.s. Vermont, Nov. 8. The Bonnies and Catamounts have produced thrillers the last two years: an 81-79 Bonnies win in 2017 followed by an 83-76 Vermont victory in double overtime in 2018. What does 2019 have in store? UVM is still loaded, with all-around talent Anthony Lamb heading up the front court while skilled three-point artists Stef Smith and Everett Duncan also return for another year (or two, in Smith's case). Vermont will visit the Reilly Center for the first time since 2015 for this rubber match.
6. St. Bonaventure v.s. Hofstra, Dec. 7. Bona welcomes a thorn in its side to share in its centennial celebration. Hofstra coach Joe Mihalich carries a 9-6 record against SBU dating back to his tenure at Niagara. Like the Bonnies, the Pride were a game away from the NCAA Tournament last year. Mihalich's up-tempo offense ranked seventh in the NCAA in scoring but lost 28-point-per-game producer Justin Wright-Foreman to graduation this offseason. Former Bonnie Tareq Coburn is expected to supplement some of the lost scoring as he makes his return to the Reilly Center. Coburn, who transferred from Bonaventure after his freshman season, averaged 8.4 points a game last season. How many buckets will he get with Naismith Hall of Famer Bob Lanier and the 1970 SBU Final Four team in attendance?
5. St. Bonaventure v.s. George Mason, Feb. 1. Last year, Bona hosted Mason and gave Mark Schmidt his program record 203rd win. This year, the Patriots have a bevy of returners, including Justin Kier, Jordan Miller and Ian Boyd. A program that did not live up to high (big dance) expectations a year ago will seek redemption in the RC.
4. St. Bonaventure v.s. Davidson, Feb. 14. Putting a Friday night showcase at No. 4 will raise some eyebrows, but Davidson will jockey for the regular season championship and still has superstar Kellan Grady, who the Bonnies have never figured out for a full 40 minutes. The Wildcats should be favored, and this shouldn't be a direct seeding battle, but if the Bonnies have improved enough to maintain momentum this time they have a great chance to win. Bonaventure dominated the first half of last year's home game.
3. St. Bonaventure at Saint Louis, March 7. No one in Bona land is forgetting the A-10 title game any time soon, especially the players. Not only is this the regular season finale, it's a textbook revenge game for Lofton, Osunniyi, Dominick Welch and the rest of the brown and white. The Billikens lost a lot from last year's championship team but are a dangerous squad at Chaifetz Arena. This is the third straight year Bona and SLU will meet to cap the regular season.
2. St. Bonaventure v.s. Rhode Island, Jan. 25. The Bonnies and Rams have a late-season A-10 Tournament rematch of their own. Rhody is a popular pick to finish fourth in the conference standings, while most have Bona pegged on the outside looking in. Bonaventure gets the home game, with no return trip to Kingston, so this could be an incredibly important day for tournament seeding. URI returns its top four scorers, including Jeff Dowtin and Cyril Langevine.
1. St. Bonaventure at Dayton, Jan. 22. The Rhode Island game might be more important, but the Dayton game is fascinating. Lofton, Osunniyi, Welch, Obi Toppin, Jalen Crutcher and Trey Landers playing on the same court is a treat A-10 fans shouldn't take for granted, and if last year's double overtime result is any indication, this won't be a run-of-the-mill Wednesday night ballgame.