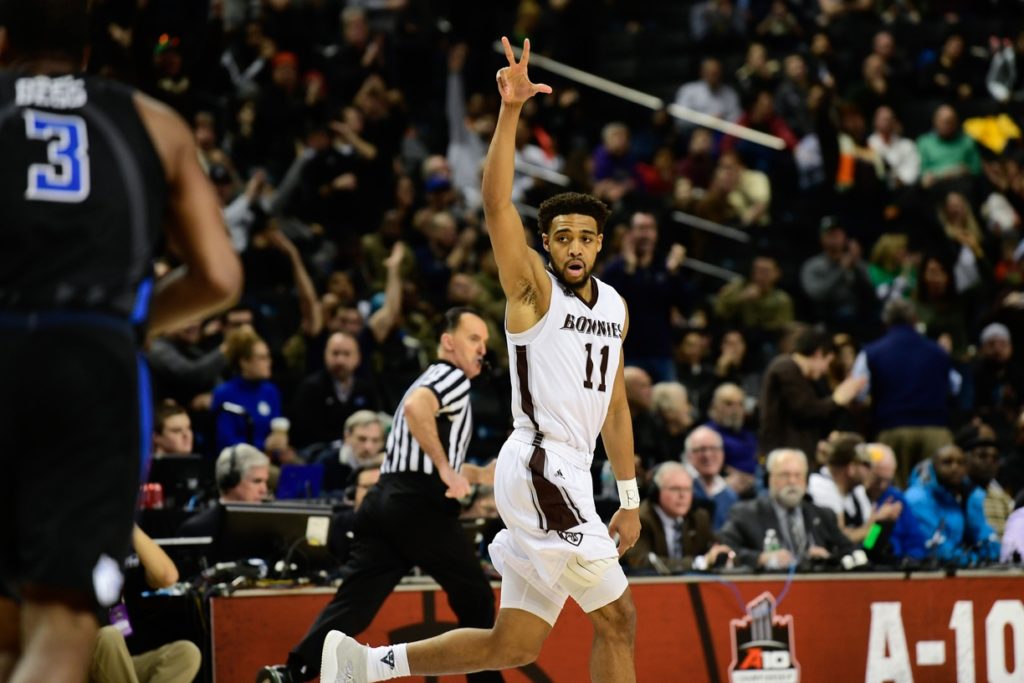 By CHUCKIE MAGGIO
A manic Monday for St. Bonaventure news calls for a Bonnies notebook to recap all the happenings. Here's what you may have missed today.
Five Bona alums agree to new pro deals in five-day span: It's pro basketball signing season for St. Bonaventure alumni.
Jaylen Adams is back in an NBA organization, agreeing to an exhibit 10 training camp contract with the Milwaukee Bucks on Friday. Adams, the sixth leading scorer in Bonaventure history, played in 34 games for the Atlanta Hawks last season after Atlanta converted his two-way contract to a full NBA deal in February. The deal included a partial guarantee for next season, but Adams was waived during Summer League. If Adams does not make Bucks' roster out of camp, he will have the option to play for their Wisconsin Herd G-League affiliate.
Demitrius Conger is returning to Spain after signing a two-year contract with Liga ACB team Real Betis last Wednesday. Conger, who ranked second in scoring and rebounding on SBU's 2012 Atlantic 10 championship team, played 13 games for Liga ACB team Joventut Badalona in the 2017-18 season. The Brooklyn native has also played in the Dominican Republic, Italy, Greece, Belgium, Australia, France and Jerusalem.
Youssou Ndoye is switching French teams, signing a one-year deal with Nanterre 92 of the Pro A league on Sunday. Ndoye played the last three seasons with JL Bourg-en-Bresse, winning the 2017 Pro B championship. He averaged 13.4 points, a league-best 8.3 rebounds and 1.3 blocks a contest in 2018-19. Ndoye opened his professional career with the NBA G-League's Austin Spurs after being named to the All-Atlantic 10 third team and All-Defensive Team as a senior at St. Bonaventure.
Andrew Nicholson signed with the Guangzhou Loong Lions of the Chinese Basketball Association on Friday, his third CBA team. Nicholson played with the Fujian Sturgeons last year, averaging 26.9 points and nine rebounds a game, after starting his CBA career with the Guangdong Southern Tigers in 2017-18. The 2012 A-10 Tournament Most Outstanding Player is also still cashing checks from a team he never played for; the five-year NBA veteran is due $2.8 million a year from the Portland Trail Blazers until 2024. The Blazers traded Allen Crabbe to the Nets for Nicholson in 2017, waived Nicholson and used the stretch provision to evenly spread his contract over seven years.
Courtney Stockard is Finland-bound and will play for Korisliiga club Lahti Basketball to begin his pro career, it was announced today. Stockard, who missed his first two seasons at St. Bonaventure due to foot injuries, averaged 14.2 points on 44 percent shooting over the past two seasons. The St. Louis native solidified his spot in Bona lore with 26 points in SBU's NCAA First Four victory over UCLA in 2018. Along with Adams and Matt Mobley, he also helped the Bonnies become the first Division I team in 20 years to have three 30-point scorers in the same game in that year's triple overtime thriller against Davidson.
Other Bonnies who inked contracts earlier this summer: LaDarien Griffin (Norrkoping Dolphins, Sweden), Matt Mobley (Elan Bearnais, France) and Dion Wright (Cherkasy Monkeys, Ukraine).
Bonnies get night game in Toronto: The James Naismith Classic has announced start times for its Nov. 16 tripleheader in Toronto. St. Bonaventure will face Rutgers in the third game of the tripleheader, which will start at approximately 7:30 after the conclusion of the Tennessee Volunteers-Washington Huskies contest. The Buffalo Bulls and Harvard Crimson meet at 2:30 to kick off the action.
The primetime slot is a pleasant surprise for Bonnies fans, as the Vols and Huskies each won a game in last year's NCAA Tournament and are both big dance contenders again. Rochester-area Bonaventure attendees may show up early to catch that contest, as Rochester natives Nahziah Carter and Isaiah Stewart will hit the court for the Huskies. Broadcast information for the games at Scotiabank Center will be released at a later date.
"When we started to build this field of teams, we wanted to have a mix of schools that had national relevance, either current or past players from the Toronto region and schools that were located close enough to travel fans to Toronto," Naismith Hall of Fame Vice President of Basketball Operations Greg Procino told me in June. "We feel like we found that right mix of schools to launch the first year of the event and St. Bonaventure checks multiple boxes factored into the invitation process for the first year event."
Phillips throws complete game one-hitter: A stray sixth inning single was the only thing barring Aaron Phillips from a perfect game on Sunday afternoon. The 2017 A-10 Pitcher of the Year and San Francisco Giants ninth round pick pitched a one-hit complete game shutout in Class A Advanced San Jose's 4-0 victory over Inland Empire, striking out eight and retiring the last 12 batters after Gleyvin Pineda's hit to lead off the sixth ended the perfecto bid. Phillips improved his season record to 8-7 and lowered his earned run average to 4.28.
Phillips, who was called up to Triple-A Sacramento for a spot start in July, would have been the second Bona alumnus to throw a perfect game in the last two years. Connor Grey threw the first perfect game in Arizona Diamondbacks minor league history on Sept. 1, 2017. The 22-year-old Phillips will likely pursue that feat again before his playing career is done.