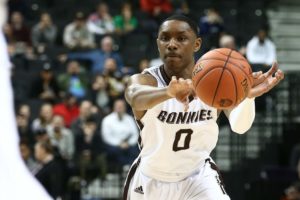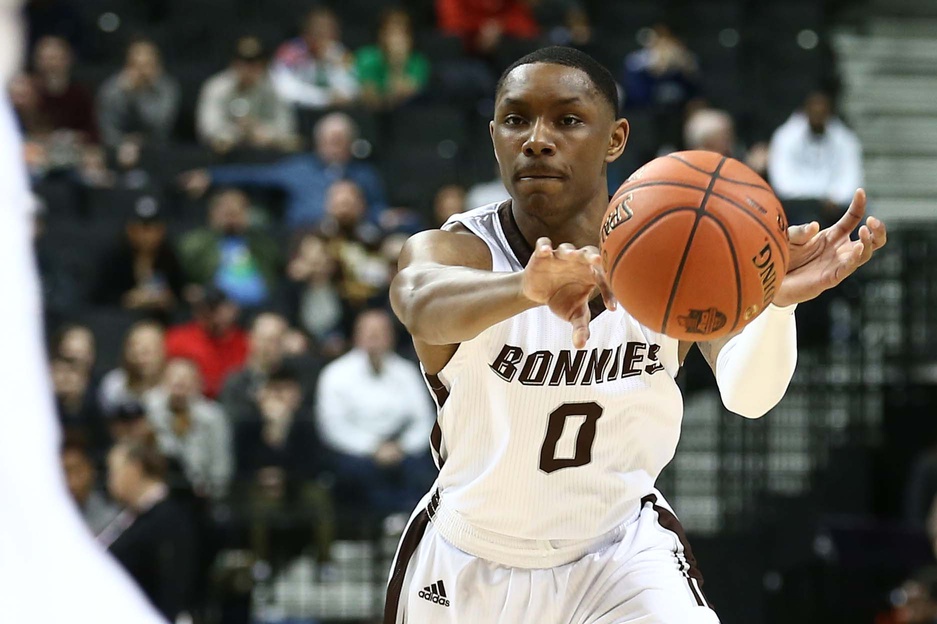 By CHUCKIE MAGGIO
The St. Bonaventure community's passion for its basketball team is no secret. Bonnies fans comprise one of the most ardent visiting fan bases in college basketball. SBU was the most-watched Atlantic 10 team on NBC Sports Network in the 2015-16 season. When ESPN writer Myron Metcalf ranked the Reilly Center the sixth most difficult venue in the conference in July 2016, Bona supporters were so angry that they stuffed the "ballot box" on the ensuing fan vote until the RC placed first.
Social media is no different, as Bonaventure fans are rabid on Twitter. In-season, they virtually watch games together via a massive stream of retweets, trash talk and opinions. During the offseason, they fill the summer void with more trash talk, schedule and recruiting rumors, and more recent The Basketball Tournament alumni discussion.
A-10 fan account A10 Talk, which has amassed 8,202 followers since joining Twitter in 2012, has interacted with the self-proclaimed "cult" more than almost anyone. A couple years ago the account tried a little experiment:
Over time, I've realized St. Bonaventure fans have an incredibly overwhelming Twitter presence. Here is an experiment. Just curious.

— A10 Talk (@A10Talk) March 5, 2017
Bona's runaway hardly surprised the profile's contributors. A-10 Talk's second most popular post in the past year according to Twitter analytics site Social Bearing listed the reasons to be scared to face the brown and white in the A-10 Tournament. Its third most popular tweet was a Mark Schmidt quote about how passionate Bonaventure's fans are. Those posts only trailed the official seeding for Brooklyn.
Post content about the Bonnies and their base will eat it up. A-10 Talk has embraced that strategy.
"If I had to guess I would say at least one-third of our total followers are Bonnies fans," A-10 Talk contributor Joel Revo commented. "Not only are they are large part of our follower base, but they make their presence felt on twitter too. Most articles and tweets get between 10 and 30 likes. But when you post any (literally any) Bona content you can expect north of 75 likes. No matter the post, you can expect a Bona diehard to comment 'Go Bonas!' or 'Keep sleeping on us!'
"When I see news about a new recruit visiting Olean or a player that Schmidt has interest in, I'll check out his Twitter and usually find that there are already 10 to 20 Bonnies fans following him (sometimes Woj). Not only do they interact with us on Twitter, but roaming around at the A10 Tournament I often have Bonnies fans come up to me talking about our Twitter presence or to ask if we saw when they tweeted at us. Our experience covering the A10 wouldn't be the same without them."
A-10 Talk is the overarching league account where the Bonnies like to congregate, but there are no shortage of SBU-specific accounts posting content on a regular basis. They include the Bona Blog, run by former student manager Ian Nolan; Bona Commenter, SBU's eccentric answer to Barstool Sports personality PFT Commenter; the Brown Cult, a student-led fan account; Osun Block Tracker, an account dedicated to keeping count of center Osun Osunniyi's swats; and SBUnfurled, a one-man digital content factory that has quickly endeared itself to Bona Nation.
SBUnfurled, run by Bona alum Derek Howard, is perhaps most well-known as the A-10 2K creator. Howard has created the entire league on custom teams on his PlayStation, updating his rosters with each signed newcomer.
This phenomenon illustrates the evolution of technology as well as anything. The standard mid-2000s press release on the Bona athletics website used to be the lone accompaniment to an athlete signing. Now over 2,000 people have same-day access to an impressively accurate virtual likeness of the newest Bonnie. If they have a PS4, they can also play with their favorite players.
"I can share cool projects I used to do for my own enjoyment with a large number of fans," Howard explained.
Created players are just one piece of the SBUnfurled Twitter arsenal. Howard shares designs, like the logos Bonaventure is using for its centennial season celebration, and photoshops, like this gem, consistently. He is also leading the push to get Bonaventure into The Basketball Tournament next summer; he's even designed uniforms for the occasion.
"I'd say (Twitter)'s been great for me… I can get instant feedback and interact with fans and players to gauge what they like and don't like," Howard said. "Also, it's great for dunking on uncreative fans of opposing teams (UB, VCU, etc.) who respond with super unfunny or uninteresting comments."
From the James Demery deleted tweet incident before St. Joe's visited the Reilly Center in 2017, to Nate Oats's subtweet of SBU after UB's win last December, and a multitude of moments in between, Bona Twitter often finds itself in the center of the entertainment basketball fans need in the dead of winter or dog days of summer.
"Social media is immensely important to the public image of our programs," St. Bonaventure Director of Athletic Communications Scott Eddy remarked. "Not only is it a valuable resource for our fans and alumni, social media also offers the rest of the world a window into our programs. Every day, someone new is being introduced to the program because of social media. We're able to capture the attention of so many more people who might not ordinarily have a reason to follow what we're doing.
"Coach Schmidt, his staff and the student-athletes of the past decade have made Bonaventure basketball a national brand. It's our job to spread that message to as many folks as possible through our social channels – whether that be to the media, potential recruits or reinforcing the pride with our fan base."
The players definitely keep an eye on the goings-on of the social network, too; 2019 alumnus LaDarien Griffin enjoyed his four-year perspective of the madness.
"No filter, no feelings," Griffin said with a laugh. "If you aren't with them you're the enemy. They will argue with any college about how great their team is.
"It's also like a big brother-little brother relationship. The fans can talk about us and how bad we play, but the second someone that isn't a Bona fan says something about us they rip that fan apart showing no mercy or chill."
The Bonnies are never a lock to make the NCAA Tournament, nor are they always a lock to have a sterling record. No matter what happens on the court, however, Bona Twitter is a lock for some comedy and drama over the four-month season.