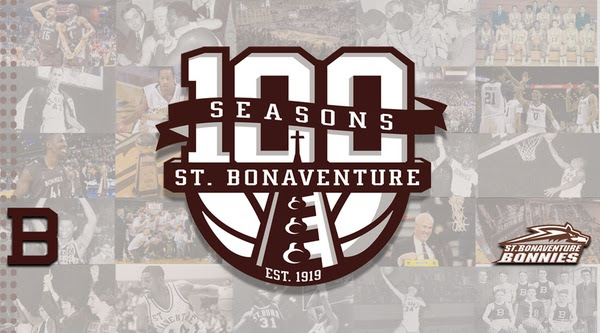 By CHUCKIE MAGGIO
For quite possibly the first time since I've met him, I don't "envy" my pal Mike Vaccaro.
Vaccaro, a 1989 St. Bonaventure University graduate who has been one of my greatest sportswriting mentors, can encapsulate a moment and turn a phrase as well as anyone. I know I'm not the only Jandoli School of Communication alumnus who has tried, futilely, to write at the level of the New York Post's lead sports columnist. He is simply one of the best to ever do it.
But Vac, along with my former bosses J.P. Butler and Chuck Pollock of the Olean Times Herald and St. Bonaventure basketball play-by-play announcer Gary Nease, has the difficult task of selecting 20 players for St. Bonaventure men's basketball's All-Time Team in conjunction with the program's centennial season. There is also a fan vote, which will be weighted as one ballot in the final tally.
Evaluating 100 years of basketball history to recognize just 20 players as the cream of the crop is an incredible challenge, and while those four panelists are well equipped, at least 14 members of the St. Bonaventure Athletics Hall of Fame are guaranteed to be left off the team along with countless other key contributors. It's only fitting that a Bonaventure basketball topic will include a few snubs.
Take the 60-man ballot on SBU's website, for example. Michael Davenport is Bona's all-time games played leader and didn't make the cut. Neither did Harry Moore, who is 16th in school history in scoring and made an All-Atlantic 10 team all three seasons he played (although recent legal trouble may have affected his case). Other notable omissions who rank in the top 50 in school history in points: David Messiah Capers and Matthew Wright.
At first glance, here are my 20 (alphabetical order): Jaylen Adams, Earl Belcher, J.R. Bremer, Bill Butler, Fred Crawford, Matt Gantt, Marques Green, Glenn Hagan, Essie Hollis, Mark Jones, Bill Kalbaugh, Bob Lanier, Barry Mungar, Ken Murray, Andrew Nicholson, Glenn Price, Greg Sanders, Sam Stith, Tom Stith and Tim Winn.
That ballot leaves off Miles Aiken, who averaged over 23 points a game for the brown and white; Caswell Cyrus, one of the greatest defensive standouts to ever play for SBU; George Carter, who averaged 19 points a game while grabbing the fifth most rebounds in school history; Greg Gary, a starter on the 1970 Final Four team who led the team in scoring and rebounding in the first post-Lanier season; Delmar Harrod, a top 25 scorer in program history who ranks third in the record books in field goal percentage; Paul Hoffman, a starter on the Final Four team who graduated as the seventh-leading scorer in Bona history; Whitey Martin, an Associated Press All-America Honorable Mention in 1961 and the co-captain of that year's NCAA Tournament team; and David Vanterpool, who led the Bonnies to the 1995 NIT and is eight all-time in assists, just to name a few.
Once you have mastered the official ballot and have selected your 20 best players to wear an SBU uni, try your hand at an all-time starting lineup. Spoiler alert: you are going to leave out someone who would make hundreds of other Division I alumni fives. My attempt yesterday:
Guard- Jaylen Adams
Guard- Fred Crawford
Forward- Greg Sanders
Forward- Tom Stith
Center- Bob Lanier
No Andrew Nicholson, no Marques Green, no Essie Hollis, no Matt Gantt and no Earl Belcher. Each generation of Bona Nation had a gripe about someone I would relegate to the bench, and most were legitimate. After all, you need to carry significant credentials to supplant Andrew Nicholson, the best player on the team that brought the brown and white back to the NCAA Tournament for the first time since the school fell into shambles. Tom Stith, a two-time All-America First Team selection who finished second in the nation with 31.5 points a game in 1960 and was picked second overall in the 1961 NBA Draft, fit the bill.
The hypothetical lineup would be small, as Stith was 6-foot-5, not a power forward, but with a future NBA Hall of Famer in the middle and dominant scorers at all five positions, Bonaventure would be just fine.
"So hard to compare different eras… so many greats," a Twitter user replied to me, which is spot-on. Unless you took in SBU's dominant play at the Olean Armory and are still on campus to see Kyle Lofton lead the current team onto the Reilly Center court, you lack important perspective when comparing the cagers of the 1950s and early '60s with 21st century ballplayers.
Without a time machine to witness the decades of hoops we weren't around for, we're left with stats, recollections from those who were there and the bit of favoritism or bias we give to the players we watched in person. Lists like these start more debates than they end, but with a centennial of history, that's a great problem for Bonnies fans to have. Newer fans get to learn about the players of yesteryear, while more experienced fans get to reminisce. That's what a celebration like this is all about.
If an all-time list is easy to make, how historic is your program in the first place?