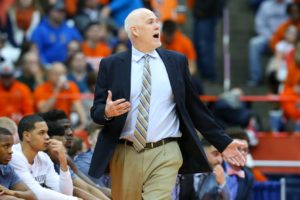 By CHUCKIE MAGGIO
The NCAA's upcoming Final Four weekend serves two major purposes. For four teams, it's an opportunity to compete on the sport's biggest stage for the opportunity to be crowned national champion. For the other 349 Division I teams, it serves as an offseason kickoff.
With the National Association of Basketball Coaches (NABC) holding its annual convention during championship weekend, most college coaches attend the Final Four every year to network with their peers.
After the confetti falls on Monday night, the offseason will officially begin. For teams like St. Bonaventure that didn't participate in a postseason tournament, however, the countdown to 2019-20 began two weeks ago. There are five stages to every Bonnies basketball offseason, one of which may already be complete.
Note: These are stages, not chronological steps. Some of these may overlap, while some of them may occur out of order. Here's a guide to each one.
Stage 1: The coaching carousel. This stage, as it pertains to Bona, looks to be very brief this year. Unlike spring 2018, when head coach Mark Schmidt met with Pittsburgh about its coaching vacancy and assistant Dave Moore took the head coaching job at the University of West Georgia, the current staff figures to stay intact for 2019-20. Associate head coach Steve Curran was mentioned as a candidate for the Niagara position, but the Purple Eagles zeroed in on 36-year-old Patrick Beilein, son of Michigan coach John.
The "carousel" is a trying time for Bonnies fans, as Schmidt has been linked to high-major jobs like Boston College and Pitt, but the program has retained the winningest coach in its history for 11 offseasons now.
Stage 2: Recruiting season. Rumors really start flying when recruiting season rolls around. The latest involves graduate transfer Nate Sestina, the 6-foot-9 Bucknell star who appeared in two NCAA Tournaments with the Bison.
Sestina hails from Emporium, Pa. and went to Cameron County High School, 50 miles away from St. Bonaventure. A former AAU teammate of Schmidt's sons, he posted a 15-point, 16-rebound double-double in the team's season-opening win over the Bonnies at the Reilly Center this past November. When he decided to play his last season elsewhere, earning a Master's while competing for a Bonaventure team prepared to win now was a natural fit to outside observers.
Then Sestina scheduled a visit to college hoops blue blood Kentucky through Wednesday. With the big man on campus, coach John Calipari inked what UK is calling a "lifetime contract" on Monday.
"If it goes well, clicks and I get signs from God- I've got to pray on it; I've been doing that a lot lately," Sestina told The Daily Item last week. "It just depends on the visit. I'll take the time I need to make the right decision."
If Sestina decides he's meant to be part of Big Blue Nation, Bona fans can take solace in the fact that other than last year, the brown and white have won without the big-name targets. Dominick Welch and Osun Osunniyi were rare high-profile signees, but the under-the-radar commitments are often very impactful.
Kyle Lofton made his commitment the night before the Bonnies started Atlantic 10 Tournament play last year. About a year later, Lofton would be named to the A-10 All-Rookie Team. Neither Lofton, nor Jaylen Adams, nor Andrew Nicholson were rated higher than two-star recruits and none of them had high-major interest. At this point, Bonnies fans trust in Schmidt's recruiting prowess.
Stage 3: RC pickup season. When players get to campus for summer semester they commence frequent pickup games, games local fans enjoy stopping by the Reilly Center to watch. This stage doesn't carry significant value but fans revel in providing out-of-towners with first-hand accounts of how each player looked. Former Bona players occasionally visit to get some offseason runs in, which is fun for the SBU program.
Stage 4: Schedule season. Similar to recruiting, big names will be bandied about when Bonaventure is in the process of creating its non-conference schedule. The triumvirate of Schmidt, athletic director Tim Kenney and director of basketball operations Matt Pappano will be working the phones in this period, having conversations with power conference schools, mid-majors and low-majors alike to map out a balanced and competitive November and December slate.
Bonaventure has played at least one major conference school (defined as a team from the ACC, Big 10, Big 12, Pac-12, SEC or Big East) every season under Schmidt. Expect another marquee matchup in 2019, though it may take until late July to be announced.
We know five definite games on SBU's non-league schedule: home v.s. Vermont, home v.s. Niagara, at Canisius, at Buffalo, at Siena. That leaves seven or eight games to schedule before it's time for more scheduling fun with the A-10 schedule release, where Bonaventure will have its share of nationally televised games per usual.
Stage 5: Preseason. Besides the annual injury concerns, the preseason is an exciting time for the Bonnies. An open practice allows fans to get a sense of the new-look team while the program's on-campus Media Day paves the way for entertaining features about the newcomers and veterans. A-10 Media Day garners the most attention, of course, as media members and coaches elicit debate with their rankings of the teams and players.
The best part of preseason? The five stages are almost over and basketball season is back.