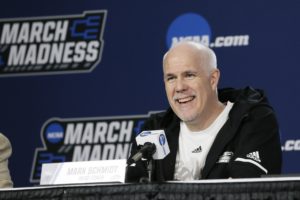 By CHUCKIE MAGGIO
Forgive St. Bonaventure Bonnies fans if they aren't rushing to fill out their brackets this year.
After all, it's only been three days since the Bonnies were on the wrong end of a red, white and blue confetti shower after being a mere seven minutes away from cutting down the nets in Brooklyn. The No. 13 seed in the East Region, and a trip to San Jose to face Virginia Tech, would have been theirs had they finished the job, making Sunday's conclusion one of the all-time Bona heartbreaks.
The final shot will be viewed thousands of times for years to come, as will Courtney Stockard's fifth and disqualifying foul, a form of self-torture only die-hard sports fans inflict upon themselves. Bona had a chance to go to back-to-back NCAA Tournaments for the first time in program history. Instead, the team's next game action is at least 228 days away.
Once the sting wears off, however, the SBU community can take solace in the fact that as long as Mark Schmidt is their coach, the team will always find a way to matter.
Every winter. For the rest of his time in Olean.
The last two Bonaventure classes to finish their senior seasons now share the program wins record as the 2014-2018 group's 86 victories were matched over the weekend by the Stockard, LaDarien Griffin, Nelson Kaputo trio. Jaylen Adams and Idris Taqqee were on an 18-win team as freshmen. The current Bonnies reached 18 wins against Rhode Island on Semifinal Saturday.
Schmidt's teams are nothing if not consistent winners. The culture he has built doesn't accept anything less.
The challenge now falls on the class of 2022 to tie or eclipse the 86 benchmark. Kyle Lofton, Osun Osunniyi, Dominick Welch, Alpha Okoli and Mount St. Mary's transfer Bobby Planutis have to average about 23 wins over the next three years.
Lofton and Osunniyi were arguably two of the league's top three freshmen this year, while Welch was a breakout scorer in March. Okoli's defensive chops were on display for 12 valuable minutes in the Davidson game at the Reilly Center, while he showed a promising shooting touch against Georgia State in the Cayman Islands Classic. Planutis, a 6-foot-8 forward from Hazelton, Pa. made 33 of his 67 three-point attempts during his freshman season at Mount St. Mary's before coach Jamion Christian left for Siena.
Four-star (ESPN) small forward Justin Winston and junior college transfer guard Matt Johnson are already committed to enter the fold next season, while Schmidt has already hit the recruiting trail and made an in-home visit to meet with 6-foot-3 guard Caleb Burgess in North Carolina. The Bonnies have plans to get back to the Atlantic 10 championship as soon as possible.
"We've got a good group. The future's bright," Schmidt remarked on Sunday. "We've gotta bring in some more guys, but they're a talented group of guys that are gonna continue to get better."
A return trip to the NCAA Tournament was improbable after the Bonnies lost Jaylen Adams, Matt Mobley and Idris Taqqee to graduation. There will be an adjustment period again in the fall after saying goodbye to Courtney Stockard and LaDarien Griffin as well as Nelson Kaputo. But with the staff's recruiting prowess and elite record of player development, SBU will still be playing meaningful basketball in March. Expect the Bonnies to have a better non-conference as well.
"I hope they win; they're good enough," Griffin said. "Those guys, they're gonna work, they're gonna use this as motivation. As long as that group stays together, they're gonna be special and I'm gonna be rooting for them from wherever I'm at."