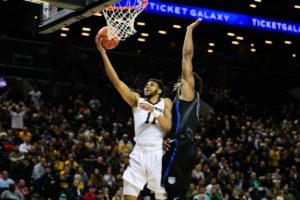 By CHUCKIE MAGGIO
BROOKLYN — The scenario plays out in hundreds of backyards and playgrounds in this country, every young ballplayer's dream: one shot, with time about to expire, to win a championship.
Nelson Kaputo found himself in that exact situation in the Atlantic 10 Championship Game. Down two, the St. Bonaventure senior caught a Kyle Lofton pass in front of the Bonaventure bench and attempted a corner three-pointer for the win, his second shot attempt all tournament.
The shot was on line until it caught back rim and was corralled by Saint Louis freshman Fred Thatch Jr., who sprinted to half court and tossed the ball in celebration. The Billikens won 55-53 to advance to the NCAA Tournament. St. Bonaventure's season is over.
"We were playing to win," Bona coach Mark Schmidt commented.
Schmidt noted that Kaputo was disappointed in the locker room, as any player would be. But rather than a three-point try that refused to go down, the 19 minutes and 57 seconds preceding the shot were the primary reason Bona is not going dancing.
The Bonnies ripped off a 16-4 run before the first timeout, making six of their first 10 shots. Saint Louis did not make a field goal until there was 11:43 remaining in the first half, putting them in an early 18-7 deficit. Osun Osunniyi had three blocks in the first five minutes but was also charged for his second personal foul at the 13:46 mark, resulting in SBU losing its best rim protector until the 6:36 mark. The freshman big only returned for about four minutes before picking up his third foul. He would only block one more shot the rest of the contest.
Despite missing Osunniyi for 10 minutes and Courtney Stockard for nine, Bona maintained a 34-25 halftime lead. Jalen Poyser and Amadi Ikpeze each gave the Bonnies four points and two rebounds in 11 and 10 first-half minutes, respectively. SBU shot just under 40 percent, made four three-pointers and outrebounded SLU by four in the first 20 minutes. The Billikens were held to 28 percent shooting (nine of 32) and made just one of their 10 three-point attempts in the same period.
"I thought we played extremely well in the first half," Schmidt assessed. "Both offensively and defensively. We rebounded the ball well."
Around the 12:35 mark of the second half, momentum turned swiftly. Bona was in the midst of a four-minute scoreless spell, while SLU's was a half-minute longer.
After Tramaine Isabell made a layup off a Dion Wiley offensive rebound to cut SBU's lead to 41-35, Wiley stole the ball from LaDarien Griffin. Wiley missed a three-pointer but Billiken sophomore Jordan Goodwin grabbed an offensive rebound and got a second chance layup to bring SLU within four. Stockard missed a three-point attempt and Wiley made his on the other end.
Stockard splashed an important three on the next possession, but Bona wouldn't sink another field goal for over seven minutes. By the time the St. Louis native snapped a 14-4 Billikens run with a layup, the Bonnies were down six with 3:13 remaining.
"It wasn't an effort thing," Schmidt remarked. "They are a good defensive halfcourt defensive team. They couldn't get much in the open court so we were attacking them five-on-five, and it's hard; French is back there blocking shots. So that was, from a physical standpoint, it was defensively, they got into us and did a good job of getting into the gaps… and part of it was that physicality."
Osunniyi made two free throws with 1:16 left to bring Bonaventure within four, but the team needed a miracle minute to come back- and almost got one. The Billikens failed to inbound the ball with 1:14 left, throwing it out of bounds. Griffin was about to attempt a contested layup under the basket when he was whistled for a travel, forcing SBU to foul.
Thatch Jr. made the first free throw but missed the second. Stockard swished a three-pointer on the next possession to make it a two-point game with 56 ticks on the clock.
SLU's biggest weakness, free throws, threatened to end its season when Javon Bess missed the front end of a one-and-one and SBU called a timeout at the 45-second mark to draw up a play. Dominick Welch missed a three-point look out of the huddle but corralled his own miss. Lofton missed a layup but Saint Louis touched the ball before it went out of bounds, setting up an SBU inbound from the baseline.
Griffin caught the inbounds pass in traffic and swung the ball to Osunniyi, who tried to hand it off to Lofton but could not complete the transfer cleanly. Lofton saved a turnover and drove to the left elbow before finding an open Kaputo for the game-winning attempt. The rebound caromed off a tip to Thatch Jr., who was surrounded by teammates as he sprinted away from any last-ditch Bona foul.
"With Courtney out, I thought if we went to overtime it would be difficult for us to win," Schmidt said. "So we were trying to win it… It's just the way it goes. Some jumpshots don't go in."
Stockard led all scorers with 22 points while Griffin registered his second double-double of the weekend with 10 points and 11 rebounds. Freshmen Lofton and Welch combined to make just three of their 16 field goals.
Goodwin led SLU with a double-double, 16 points on 7-of-15 shooting and 14 rebounds. Bess was the only other Billiken in double-figures, posting 11 points.
Billikens fans were deliriously happy, heading to the tournament despite an underwhelming regular season. SLU became the first teams since VCU in 2015 to win the A-10 without the benefit of a double bye.
For the Bonnies and their fans, the loss stung. Stockard, Griffin and Kaputo were a basket away from a repeat trip to the NCAA Tournament in their final go-around.
"We didn't really talk," Griffin said. "We'll probably talk about it more later, but probably in this moment, we just let it sink in and we talk about it behind closed doors."
"If someone, when I woke up this morning, called me and said, 'You're going to have a shot to win the Atlantic 10 championship, you going to take it?' I (would've) said absolutely," Schmidt said. "So we were right there."