By CHUCKIE MAGGIO
BROOKLYN — The traditional freshman-senior roles were reversed during the last media timeout of the first half of St. Bonaventure's Atlantic 10 Tournament semifinal against Rhode Island on Saturday, and with good reason.
Courtney Stockard and LaDarien Griffin hadn't made field goals yet, a slump that had the Bonnies facing a 29-17 deficit with 3:14 remaining until halftime. Kyle Lofton, SBU's freshman point guard, was leading the team with 11 points.
After receiving guidance and encouragement from the veterans all season, it was time for the young standout to speak up.
"I told them, 'This isn't gonna be your last game of the season,'" Lofton said.
Those words were lofty, as Bonaventure had missed 19 of its 25 shots to that point and was relying on Lofton to keep them afloat. But Lofton was prophetic as SBU ripped off a 13-0 run to close the half, then had a lead three minutes into the second.
By the game's final media timeout, the Bonnies had built a 14-point lead that would balloon to 21 less than two minutes later. Bona outscored the Rams 41-22 in the second stanza to earn a 68-51 victory. The Bonnies will play Saint Louis at 1 p.m. on Sunday.
"(Rhode Island) came after us," Bonnies coach Mark Schmidt said. "For the first 10 minutes we didn't play very well. They had a lot to do with it. We were a little bit nervous… but give our guys credit. They persevered, they fought through it.
"It's a microcosm of our year… Things weren't going well and we had a lot of adversity with injuries and so forth. The kids never felt bad, never got down. They kept on working, and that's what we did today. You're down 24-12… things aren't going well and we've got a young team. It's easy for them just to lay down and say it's not our day, but we found a way."
The 13-0 run in the last 3:56, which Schmidt called "critical," shifted the energy in the building. The typically boisterous Bonaventure contingent finally had something to cheer about, and the fans roared as Dominick Welch drilled two three-pointers, Griffin found his way onto the score sheet with a layup, Stockard made a couple free throws and the Rams went 0-for-3 with with two turnovers.
SBU's burst improved its paltry field goal percentage to 29 percent, a mark that would increase to just under 40 percent after a 12-of-22 second. After shooting 41 percent in the first, Rhody was the team who couldn't buy a bucket in the second, missing 18 of its 25 attempts. Bona was outrebounded by four in the first half but dominated the glass the rest of the way, grabbing 19 boards to URI's six.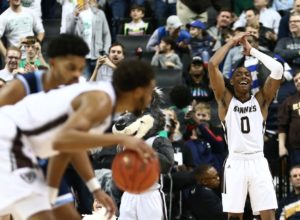 Osunniyi had five offensive rebounds in the second to up his game total to seven and his overall rebounding total to 11. The 10 points he contributed garnered his second double-double in the last five games.
"I just told my teammates, we've gotta worry about defense," Lofton recalled. "Shots are eventually gonna fall, basketball's a game of runs, so eventually our run will come, and the crowd also gave us good momentum at the end."
Mark Schmidt's "trifecta," which could become the basis of a best-selling coaching DVD if Bonaventure finishes the job and wins it all on Sunday, was once again the winning formula. The Bonnies defended, even moreso in the latter stages than the beginning. With the improved defense came improved rebounding, a trend reminiscent of the regular season finale against Saint Louis. Thirdly, they committed just nine turnovers, their second straight game with fewer than 10 turnovers.
The Bonnies improved to 15-0 when they allow fewer than 60 points, a fact that has defined their turnaround from the worst non-conference record of the Schmidt era. After falling to 4-10 on Jan. 6 by losing at George Mason, Bona has gone 14-5 and allowed just 60 points per game.
"It's the best defensive team that we've had since I've been the coach," Schmidt said. "They sit down, they guard, they do a good job on the ball. Osun does a really good job of being a rim protector. We're connected, we're committed at the other end and for the most part we're disciplined… to be able to outrebound Rhode Island is a testament to our guys.
"It's a mindset, and we're not a great offensive team; we haven't been a great offensive team all season. But the staple, the kids have figured out that in order for us to win we have to defend. They've taken that and run with it."
St. Bonaventure will go into the championship game with one major advantage over Saint Louis: 40 fewer minutes of play this weekend. Bona defeated SLU last Saturday to earn the double bye, forcing the Billikens to defeat Richmond on Thursday, Dayton on Friday and Davidson on Saturday.
Only two teams have won the A-10 Tournament without the benefit of a double bye: Xavier in 2006 and VCU in 2015. Travis Ford's team will hope to replicate the 67-44 shocker it pulled off against Davidson in the semis.
Bonaventure has never appeared in back-to-back NCAA Tournaments. According to Stockard, one of the reasons the 2018-19 edition has a chance to make program history is the team chemistry. That chemistry was evident after the handshake line, when the Bonnies met near the bench before running, full-speed, to the locker room.
The origin of the postgame sprint is attributed to either Lofton or Osunniyi. "It might be a Putnam thing, I don't know," Stockard said with a laugh.
"That's the main goal: we want to go out there and have fun," Stockard said. "Obviously we want to win, but everyone starts playing basketball just because it's fun.
"It's no pressure; just go out there and do what you've been doing your whole life. Go out there and have fun and try to get a win."